Access Information from One Place
Get everything you need in a matter of clicks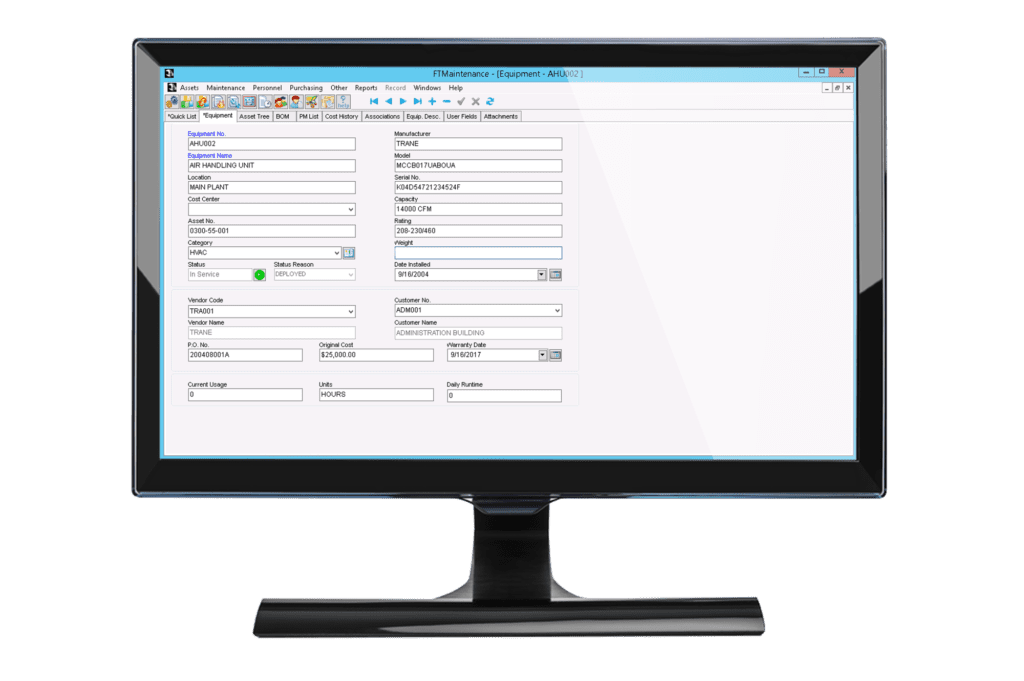 Centralized Maintenance Management
Whether you're planning future projects or responding to an emergency, having timely, readily available information is critical. FTMaintenance tracks all data about your maintenance assets in a single system.
Create a shared source of knowledge about your maintenance operations
Eliminate redundant data entry and reduce inconsistencies
Visualize the relationships between your maintenance resources
Easily link and view maintenance and safety documentation
Proactively Schedule Maintenance Activities
Plan repairs in advance on a schedule that works for everyone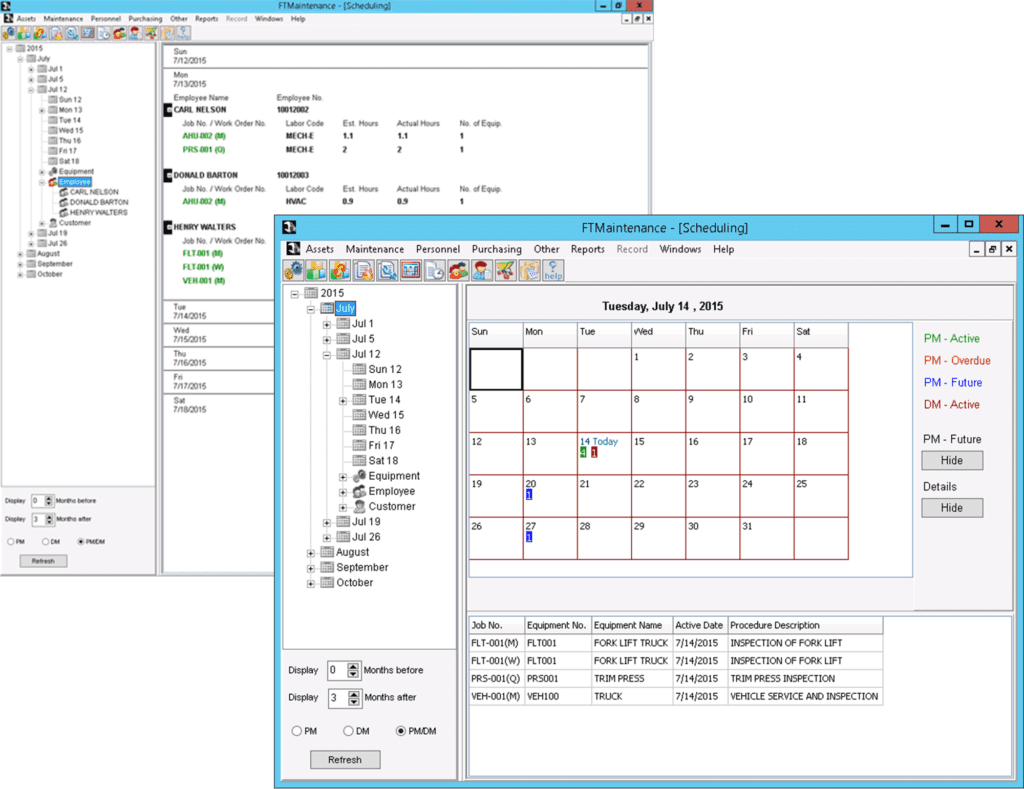 Maintenance Planning
FTMaintenance provides robust scheduling tools that allow you to plan maintenance in accordance with manufacturer guidelines, and ensure that the appropriate equipment, parts, and people are available.
View all active and upcoming work on a color-coded maintenance calendar
Schedule preventive maintenance based on date or equipment runtime
Share the maintenance calendar with other departments to coordinate schedules
Quickly react to unplanned downtime with corrective maintenance
Execute Your Maintenance Plan
Assign job responsibilities, set due dates, and keep things on track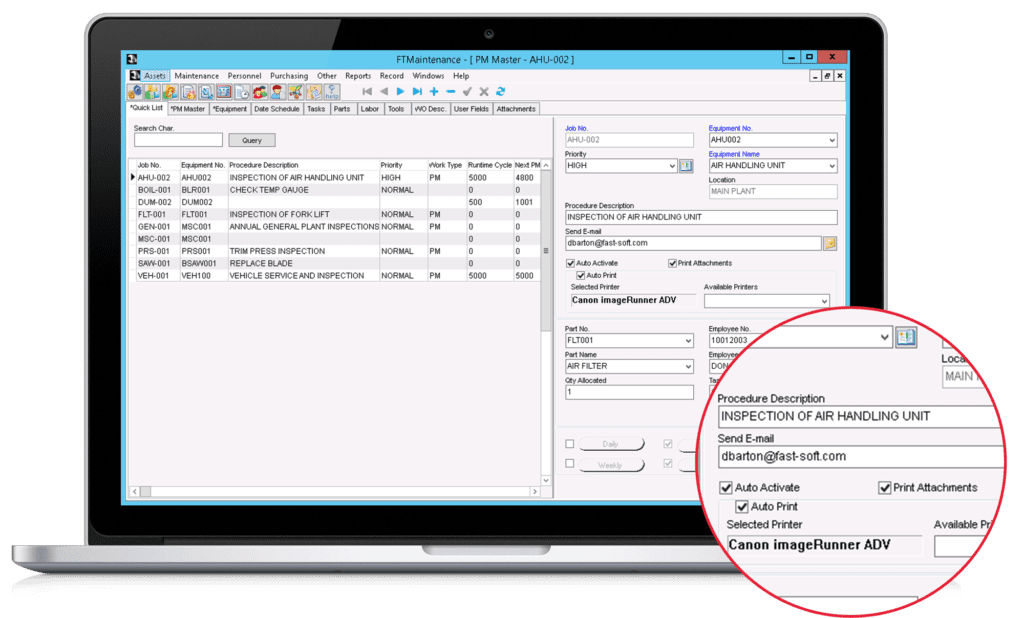 Automatic Work Order Activation and Processing
FTMaintenance automates your daily and weekly work order management responsibilities. Automated features ensure that employees stay busy and always know what's next.
Automatically generate and distribute preventive maintenance work orders on a preset time and date
Quickly notify team members of new work orders through automatic emails and printing
Standardize and speed up work order closure with step-by-step instructions
Capture the Details
Document past maintenance activities to streamline future repairs
Work Order History
Having an extensive service history is vital for improving maintenance operations. FTMaintenance tracks key information about your completed maintenance work, which can be referenced later to help you perfect your master maintenance program.
Automatically build a preventive and corrective maintenance log
Know exactly what was done, who did it, and when maintenance was performed
Require fields to collect the exact information you need
Stay on Budget
Control expenditures while meeting maintenance expectations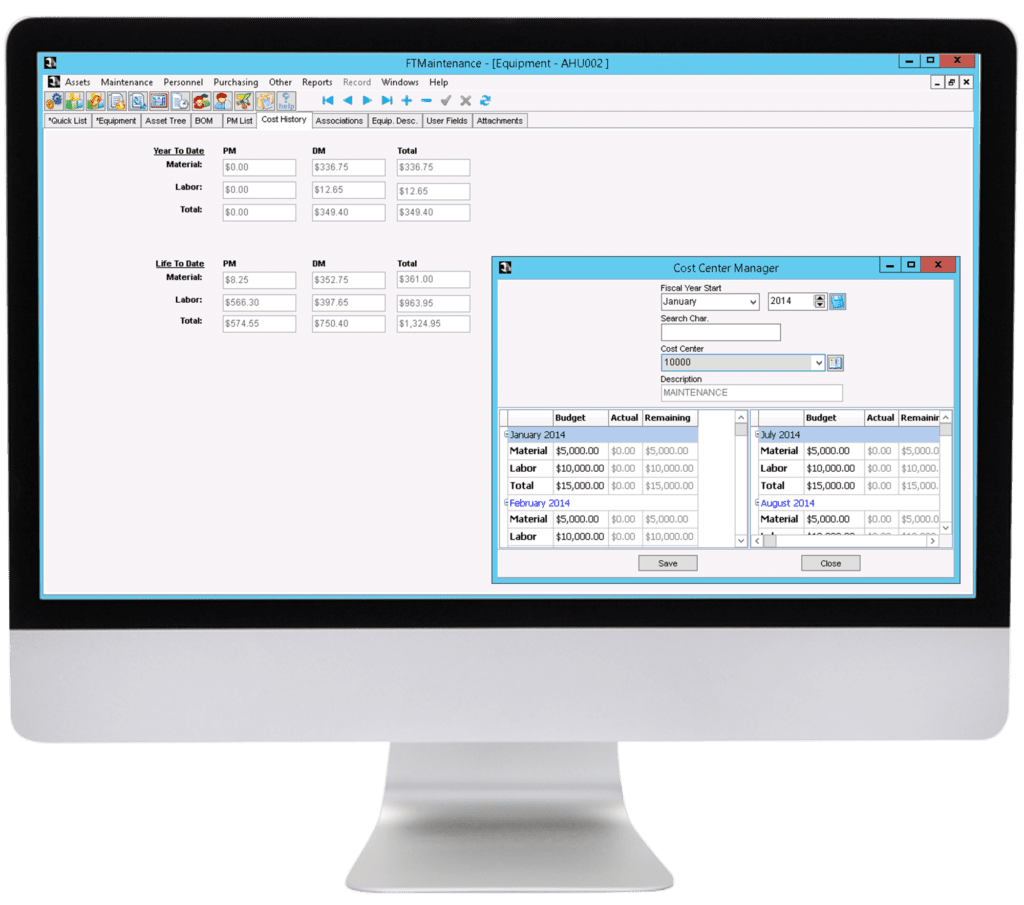 Maintenance Cost Tracking
The maintenance department is tasked with finding new ways to reduce operations costs. FTMaintenance makes it easy to track and calculate maintenance costs, helping you identify areas of improvement.
Automatically track inventory and labor expenses
View and share cost center performance
Plan maintenance activities around remaining capital
Generate cost history reports
Request a Demo of FTMaintenance CMMS
Complete the form and we will contact you to schedule your live demonstration of FTMaintenance CMMS.
*
Required Fields