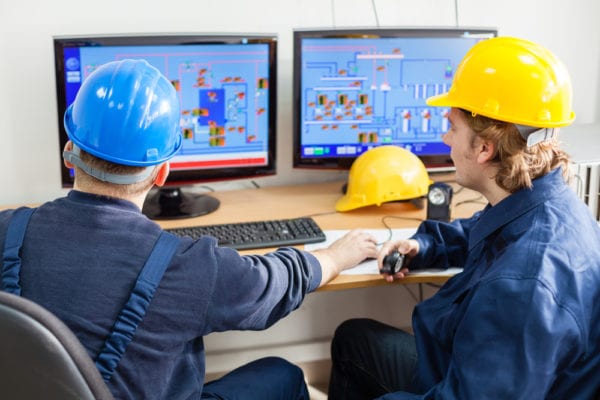 When equipment unexpectedly fails in a manufacturing environment, maintenance staff is immediately placed "on the spot." Equipment failure creates unplanned downtime where production completely stops. Although achieving zero unplanned downtime is nearly impossible, reducing unplanned downtime is a top objective for a maintenance department. Because unplanned downtime impacts the entire organization, understanding the true cost of downtime will help the organization make better business decisions.
Factors that Impact the Cost of Unplanned Downtime
80% of companies experience unplanned downtime each year. According to research conducted by Aberdeen, the average cost of unplanned downtime in large corporations per hour is $260,000! The average equipment outage time is as long as 4 hours. With such large dollar amounts at stake, there needs to be a way for companies to significantly reduce unplanned downtime.
Unplanned downtime affects more than the loss of direct production from machines. Organizations must take into account the costly effects of unplanned downtime on the maintenance department, production, sales, employees, and other areas. When added together, the cost of downtime is considerable.
Cost of Downtime Factors Explained
Increased maintenance department costs – When equipment unexpectedly breaks down, maintenance staff have to respond immediately. This forces the maintenance department to rearrange priorities. Preventive maintenance plans often suffer in this process, which results in an increase in future equipment failures and more downtime.
Employees affected by downtime – It's not only maintenance employees who are affected by downtime. Production staff who cannot perform their jobs because equipment is down still need to be paid or they will lose work hours. A serious breakdown may require additional staff to be scheduled, overtime to be paid, or outside help from a vendor or specialist.
Fixed organization costs – The fixed cost to maintain the organization and production infrastructure continue to mount even when no product is produced.
Lost revenue – Your entire organization is impacted when no or reduced revenue is made while a machine is down. The more hours the machine is down, the more significant this impact becomes. Money made on each part or product after production costs is reduced significantly.
Intangible Costs of Unplanned Downtime
The total cost of unplanned downtime goes beyond numbers the loss of production which can be easily calculated. Other factors include loss of credibility and reputation with customers, stress on employees, and lack of process improvement.
The loss of credibility and reputation with customers occurs when the organization fails to deliver products on time. When customers no longer believe in the company, they will look elsewhere for products to fulfill their needs. Stress comes from employees worrying about how to make up for the unplanned downtime, which can lead to rash decisions and easily avoidable mistakes. When the team is worried about putting out fires, it leaves little time to improve maintenance processes. While these things are not easily measured in exact numbers, they can increase the total cost of downtime.
What Organizations Do to Reduce Unplanned Downtime
There are a number of ways organizations strive to reduce downtime. These strategies include:
These things can be done more quickly and accurately when supported by CMMS software.
Reduce Unplanned Downtime with a CMMS
One way to reduce unplanned downtime is through CMMS software. A CMMS assists you with creating a preventive maintenance program, as well as implementing and documenting preventive maintenance activities. Supporting an efficient, rigorous preventive maintenance plan to meet today's industry standards may not be possible without a CMMS.
Using a CMMS to manage MRO inventory assures parts are on hand when a breakdown does occur so that the equipment can be repaired as soon as possible. There are also ways to measure equipment performance, providing clues as to when to perform preventive maintenance, which also reduces downtime and extends asset life.
FTMaintenance Helps You Reduce Unplanned Downtime
FTMaintenance is industry-leading CMMS software that will help your organization reduce unplanned downtime. You can schedule preventive maintenance tasks ahead of time directly in the CMMS, choosing daily, weekly, monthly, seasonal, or any other frequency. In addition to focusing on preventive maintenance, you can also inventory and assets, and generate maintenance reports. Request a demo today to learn more about how FTMaintenance can help you reduce downtime on your critical assets.