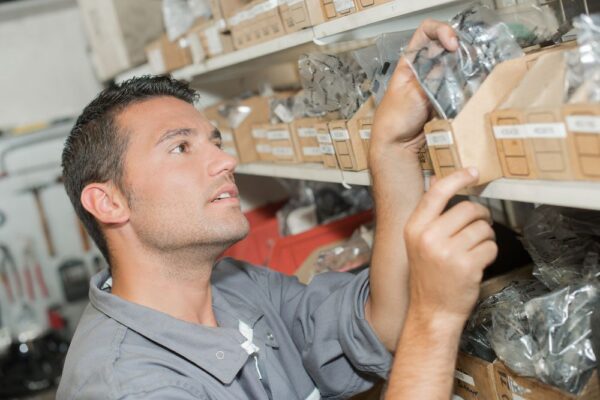 What is a Bill of Materials?
In a maintenance context, a bill of materials (BOM) is a formal, structured list of parts and their respective quantities that make up a specific component or asset. It can be thought of as a recipe of sorts. A BOM acts as a centralized point of reference for determining the parts that comprise a piece of equipment.
Bills of materials vary in complexity depending on an organization's level of asset management. At the most basic level is a pseudo-bill of materials, which lists critical spares and common replacement parts. The next level in complexity is a maintenance bill of materials, which includes all parts that the maintenance team is realistically expected to repair and/or replace during an asset's lifetime. Asset-intensive organizations or organizations with robust asset management requirements may use an equipment bill of materials (EBOM), which lists every part and material that makes up an asset.
Importance of a Bill of Materials
Imagine cooking a meal without a recipe. You will need to travel to the fridge, cabinet, or pantry every time an ingredient is needed. Worse yet, you may not have the items you need on hand, causing you to go without, find a substitution, or make a trip to the grocery store.
The scenario above is analogous to performing maintenance. Bills of materials support high-quality, efficient asset maintenance. Identifying the parts required to maintain assets before maintenance begins helps organizations determine whether they have what they need to execute maintenance work. In addition, BOMs support MRO inventory management activities by ensuring the correct parts (and quantities) are available.
Organizations that do not use bills of materials are prone to unnecessary downtime, incorrect inventory purchases, incorrect part assignment on work orders, and other costly mistakes.
What Should be Included on a Bill of Materials?
The information included on a BOM is specific to an organization's maintenance process. In general, a bill of materials includes the following information:
Part name
Part number
Description of the part
Quantity
Unit price
Vendor name
Vendor part number
Bill of Materials Example
Below is a representation of a multi-level BOM. It shows the relationship between an asset, its related subassemblies, and parts/components in a parent-child hierarchical view.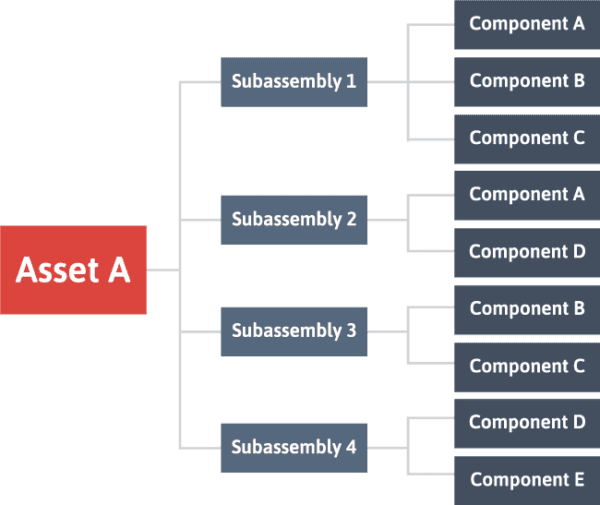 Depending on the system used, a bill of materials may be presented in a single-level or nested list in a tabular format (i.e., arranged in a table with rows and columns).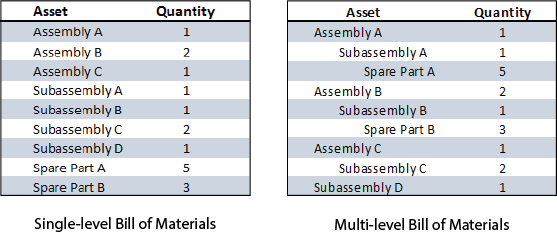 Who Uses a Bill of Materials?
A bill of materials has many end users. Maintenance planners use a BOM to help determine what parts to buy or what parts may be needed in the future. BOMs help stockroom employees know which parts belong to a particular asset. Maintenance technicians utilize a BOM to identify the parts to retrieve from a stockroom, or if parts are unavailable, who to call to order replacements. Because many different stakeholders will use the bill of materials, it is important to keep it up to date and periodically review it to ensure its accuracy.
Benefits of a Bill of Materials
The benefits of using a bill of materials for maintenance are widespread. In general, it helps you better visualize how your assets and parts are related. Below are some benefits a BOM provides:
Reduced downtime: Technicians can refer to the BOM to quickly identify parts needed to complete repairs.
Simplified procurement and purchasing: Less research is required to identify what parts need to be reordered. Part numbers are readily available when creating requisitions and purchase orders.
Optimized maintenance scheduling: A BOM ensures that all of the correct parts are available for upcoming maintenance work.
Fewer incorrect inventory purchases: Since there is less opportunity for guesswork, fewer mistakes are made when reordering parts.
Streamlined inventory holdings: If not being used elsewhere, parts belonging to decommissioned assets can be removed from the stockroom, reducing the carrying cost of storing unneeded spare parts.
Bill of Materials Software
For maintenance teams, BOM creation and management is best done in computerized maintenance management system (CMMS) software. A CMMS automatically generates a bill of materials based on the parts used on work orders. Because the CMMS stores asset and MRO inventory in a single database, users can access robust part information in just a few clicks. When it comes time to reorder parts, inventory staff can view purchasing and vendor information from right within the software.
Effectively Manage Bills of Materials with FTMaintenance CMMS
Bills of materials help organizations build relationships between assets and their related parts, providing many benefits for managing maintenance operations. FTMaintenance Select provides a single platform for managing spare part inventories, including the ability to create asset-specific parts lists. Request a demo today to learn more about FTMaintenance Select CMMS software.