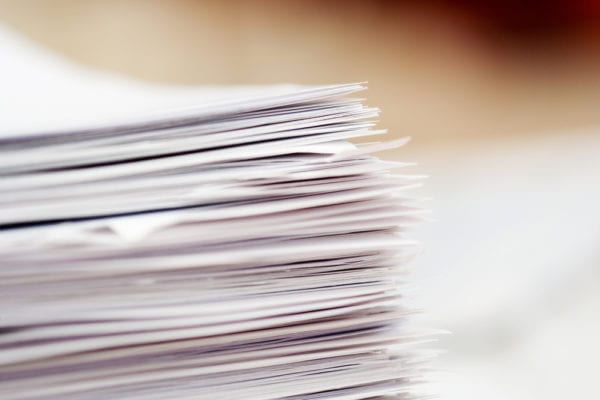 Clear communication is essential for business success. Often times, we communicate by talking with one another, but this can fail to get the message across. If you've ever played the game Telephone – where a message is passed verbally from person to person (slightly changing each time it's passed) – you know this to be true, especially if the message is long and complex. Written communications, such as work orders, help to close this information gap.
What is a Work Order?
A work order is a written means of communicating information about a task. For example, an electrician may receive a work order to complete a wiring project at a construction site. Production staff may be given a work order that instructs them to calibrate a machine. A work order may be used to tell the sanitation crew that equipment is ready to be deep cleaned. A maintenance work order provides details about maintenance, repair, or operations work, such as replacing a part, returning an asset to operating condition, or performing an inspection. In some organizations, work orders are also commonly referred to as "jobs".
Types of Work Orders
There are multiple types of maintenance work orders. Depending on the organization, maintenance work orders generally fall into one of the following categories:
Lifecycle of a Maintenance Work Order
A maintenance work order is a "living document" that goes through multiple stages throughout its life.
1. Creation: A maintenance work order identifies the work and resources necessary to complete the job. The job is then scheduled and assigned to a technician, setting a deadline for completion. Maintenance work orders may be created in a number of ways:
Customers or non-maintenance employees submit

maintenance requests

to the maintenance team when assets are not performing correctly. These requests are reviewed and turned into work orders.
A maintenance manager creates work orders for planned maintenance work or in response to issues that have been reported.
Maintenance technicians request or create work orders for issues noticed during their daily work.

Work order software

automatically generates work orders for regularly occurring preventive maintenance activities.
2. Performance: As the work is being performed (or shortly after it is complete), technicians document the resources (i.e., labor, materials, time) actually used to complete the work, and include any special notes about what was done.
3. Closure: Once the job is complete, the work order is approved, if required, and closed. The closed work order becomes a permanent record of what was done and what resources were used. Upon closure, the work order is filed away.
4. Analysis: An asset's maintenance history is comprised of the contents of all its associated closed work orders. The history is available to assist with future troubleshooting, fine tune procedures, prepare for audits, and evaluate the performance of assets and maintenance employees.
Information Included on a Maintenance Work Order
The information contained on a maintenance work order varies, but typically includes the following:
The name of the requesting party
A way to track the work order, such as a work order number
An explanation of the problem
The name and location of the asset(s) in need of service
Instructions for carrying out the work
The required parts
Who is assigned to the job
The desired completion date and time or recurrence schedule (for preventive maintenance work orders)
Cost estimates
Attachments such as documentation, images, etc.
Managing Work Orders
As crucial as work orders are to your maintenance operations, they are almost useless if not managed properly. Surprisingly, many organizations still use manual work order management systems, such as pen and paper, whiteboards and bulletin boards, or spreadsheets. These systems lack many important capabilities, such as comprehensive scheduling, automatic work order generation, automated notifications, and reporting. Computerized maintenance management system (CMMS) software is a much better option.
A CMMS provides a work order management system that helps you effectively track work orders through their lifecycle. Using a CMMS, anyone in maintenance can create, manage, track, complete, and analyze work orders. The software stores all maintenance information in one place, allowing you to quickly build work orders.
When work orders are assigned or due, the CMMS can automatically notify the appropriate employees. Maintenance managers can access the system to see a work order's status and see who is working on what. When completed and closed, the CMMS stores work orders in history where they can be analyzed using maintenance reports.
FTMaintenance Work Order Management Software
Choosing the right work order management system is just as important as the work orders themselves. FTMaintenance ensures that no work orders fall through the cracks by automating work order generation, activation, assignment, and distribution. Mobile accessibility expands FTMaintenance work order management to technicians on the go. Discover all the capabilities of FTMaintenance work order software.