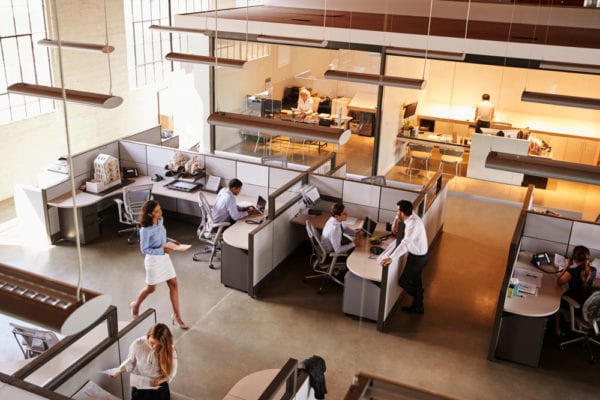 Key Takeaways:
Facility management encompasses the management of physical workplaces, people, and support services
Maintenance functions support the day-to-day and long-term operational goals of facilities
Facilities maintenance teams greatly benefit from using computerized maintenance management system (CMMS) software, like FTMaintenance
Whether it is a manufacturing plant, a hospital, or an apartment complex, all types of facilities must be properly managed to stay functional. Though the concept of facility management is not new, its meaning has evolved as buildings have become more complex. This article provides a brief introduction to facility management.
What is Facility Management?
First, let's define what is meant by "facility." While many people associate the word facility with industrial buildings and factories, a facility can be simply defined as "a place for doing something." Therefore, facilities include schools, hotels, hospitals, offices, and other spaces.
Now, we can define facility management. There are many definitions out there, including the following:
From the International Facility Management Association (IFMA): "A profession that encompasses multiple disciplines to ensure functionality, comfort, safety, and efficiency of the built environment by integrating people, place, process, and technology."
From the International Standards Organization (ISO): "An organizational function which integrates people, place, and process within the built environment with the purpose of improving the quality of life of people and the productivity of the core business."
While each of these definitions is correct, they are a bit technical. For this article, facility management (FM) is defined as the coordination of physical workplaces (facilities), people, and support services in order to support a business's goals in the most cost effective way possible.
Why Facility Management is Important
Simply put, facility management adds value to a business by addressing many of its immediate and long-term needs. When properly done, facility management activities reduce maintenance costs, ensure the well-being of employees, and protect the business from liability. Continuity planning helps organizations prepare for growth and develop contingency plans for emergencies. Ultimately, facility management creates a productive environment that allows the organization to focus on its core mission and goals.
Components of Facility Management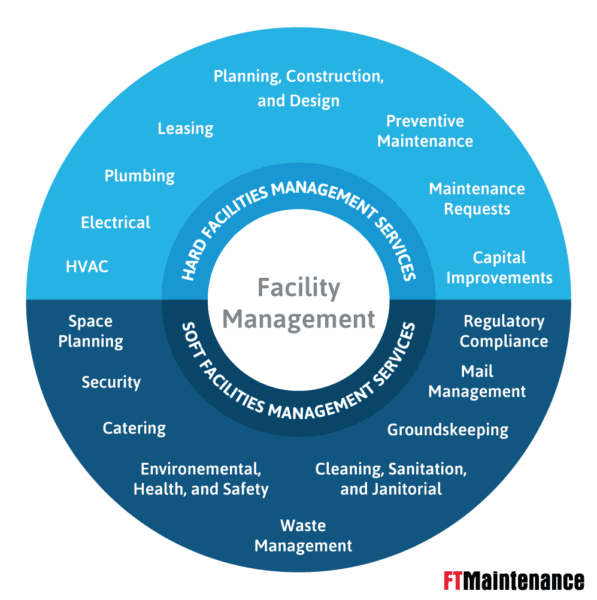 The components of facility management are commonly divided into two groups, hard services and soft services, which are described in the following sections. Keep in mind that the scope of facility management covers a broad range of functions and activities. The mixture of responsibilities is unique to each organization, and not every one performs each function.
Hard Facilities Management Services
Hard services relate to the maintenance and management of any physical part of a building, including assets, space, and infrastructure. These services are typically required by law and are essential to the workplace. Hard facilities management services include:
Management of planning, construction, design, and relocation projects
Management of building systems including HVAC, electrical, and plumbing
Real estate management and leasing
Preventive maintenance (PM) on buildings, interiors, and assets
Managing and responding to maintenance requests
Other capital improvements
Soft Facilities Management Services
Soft services are services related to people, whether they are employees, customers, or tenants. These services make facilities more comfortable, satisfying, and secure. Soft facilities management services include:
Building security
Space planning
Responding to environmental, health, and safety issues, including emergency planning and preparedness
Catering and food services
Cleaning, sanitation, and janitorial services
Groundskeeping, landscaping, and pest control
Educating others about

regulations and compliancy requirements

Mail management
Waste management
Facilities Management Operations and Maintenance
With the countless number of assets to maintain throughout an facility, there's no question that maintenance plays a key role in the facility management. Maintenance ensures that all moving parts of a facility's operations are well-kept and remain functional. Not only that, but operations and maintenance work together to provide an engaging, productive environment.
Maintenance functions assist with both day-to-day and long-term facilities operations. During everyday operations, the maintenance team resolves unexpected issues, such as repairing a roof leak or fixing a jammed machine. Ideally, facility managers will be alerted of maintenance needs via a maintenance request system.
Facility management also considers long-term maintenance needs. Building systems, such as HVAC, electrical and lighting, plumbing, and security services are monitored through regular preventive maintenance. Repairs can be anticipated through predictive maintenance (PdM), although this type of maintenance is typically only possible in very large organizations.
Aside from maintaining and repairing assets, maintenance inspections are vital to facility operations. Through inspections, facility managers confirm that a workplace is up-to-code and meets regulatory requirements. Doing so keeps people and the environment healthy and safe.
Given all that goes in to facility maintenance, one can imagine the difficulty of tracking maintenance activities by hand. Many organizations track their maintenance activities in computerized maintenance management system (CMMS) software.
CMMS for Facility Maintenance Management
Facility management professionals can greatly benefit from using CMMS software. A good CMMS stores all information about your equipment and facility assets, MRO inventory, and employees in one place. Listed below are other features and functionality that make CMMS an essential tool for managing facilities:
Automated Preventive Maintenance Scheduling
Though regular preventive maintenance is a high priority, it's easy for work orders to fall through the cracks. CMMS software organizes and automates your master preventive maintenance plan. Automated work order scheduling and activation ensures that preventive maintenance activities are performed right on time, every time.
Maintenance Request System
It is important to keep an eye on the maintenance needs across the facility. A maintenance request system allows non-maintenance employees, tenants, and customers to submit requests directly to the maintenance department. Instead of inundating maintenance staff with emails, phone calls, and pages, users submit requests through a simple, online form. By using a single channel to receive requests, unexpected maintenance needs become much easier to manage.
Vendor and Contractor Management
Commonly, organizations outsource some aspect of their facilities management operations. For example, it may be more economical for an HVAC service provider to fix rooftop units instead of hiring a specialist full time. A CMMS tracks vendors that provide maintenance supplies, parts, and services. Some solutions even provide invoicing, inventory purchasing, and receiving functionality.
Mobile Access
Today's maintenance technician is constantly on the go. It is inefficient, inconvenient, and at times, impossible for technicians to be tethered to a standard, desktop computer. Modern CMMS systems provide mobile accessibility that allows staff to access work orders and maintenance data on location from internet-connected devices.
Manage Your Facility with FTMaintenance
FTMaintenance CMMS software supports all industries that perform facility maintenance, such as manufacturing plants, government, hospitals, and property management. Learn more about how FTMaintenance facility maintenance software improves facility management.
Read Case Study: Greater Hickory Cooperative Christian Ministry