Organizations in many industries have fleets of vehicles to manage. Whether it's large semi-trucks that transport goods, construction vehicles that work on infrastructural jobs, cars used to transport personnel, or agricultural machinery that harvests crops, fleet maintenance management greatly impacts overall fleet availability. This type of maintenance is necessary, but can be challenging without the proper technology. Using computerized maintenance management software (CMMS) can greatly improve fleet maintenance management.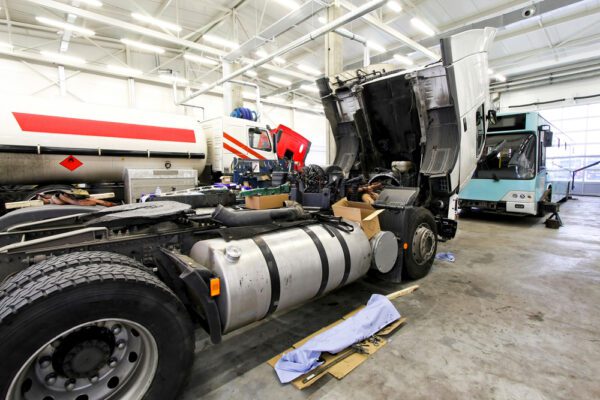 What is Fleet Management?
Fleet management is the actions taken to remove or minimize risks associated with fleet vehicle investment, improving efficiency and productivity, and reducing overall transportation costs for companies that rely on transportation for all or part of their business operations. These actions, which include things like tracking fuel costs, meeting lease agreement requirements, maintaining the condition and availability of vehicles, and ensuring driver safety, are activities that can be done by an in-house or outsourced fleet management department. Part of fleet management is fleet maintenance management, which we will largely focus on below.
What is Fleet Maintenance Management?
Fleet maintenance management is the process of managing the repair and upkeep of vehicles owned by a business or organization to minimize cost and maximize availability. The main purpose is to improve effectiveness and safety of the vehicles while they are being used to carry out work for the company, obtain supplies, or transport personnel.
In addition to controlling operational costs and ensuring safety of the vehicles, it's also important for the vehicles' resale values to be maximized if the company is leasing their fleet vehicles. If the vehicles do not meet certain standards set by the leasing company, the fleet manager will face additional fees at the end of the contract.
The Importance of Fleet Maintenance
Today's fleet maintenance has become more complex than in years past due to advancing vehicle technology, environmental requirements, and recently updated environmental legislation. (This legislation is regulated by the Environmental Protection Agency, or EPA.) These aspects make it even more important for fleets to receive all of the maintenance they need, when they need it. Well-maintained vehicles can stay on the road longer. Fleet maintenance is important because it ensures a better chance of getting good results and safety approvals following inspections and testing, resulting in maximum availability at minimum cost.
Frequent preventive maintenance (PM) of your fleet vehicles also maximizes their resale value if they are leased vehicles. It keeps drivers safe and minimizes risk of damage to parts or supplies being transported. Finally, PM of fleet vehicles reduces breakdowns that cause delays which impact the bottom line.
Adequate fleet maintenance is beneficial for organizations because when the vehicles run smoothly, other operations run smoothly as well. Companies that experience few problems with their fleet operations build a solid reputation with their customers, becoming a trusted brand.
Organizations must invest in fleet maintenance, whether in-house or outsourced, because it will save them money that they can spend on purchasing or leasing and maintaining the vehicles in the long run. Vehicles that are well-maintained can haul more supplies at a faster, more efficient rate.
Fleet Maintenance Management Roles and Responsibilities
One prominent role in fleet maintenance management is of course, the fleet mechanic. If the fleet is large, the organization may have a dedicated fleet mechanic who is in charge of regular maintenance of all fleet vehicles. This can be especially practical for fleets that have several of the same or similar vehicles. On the other hand, the fleet mechanic may be outsourced from another company as a contractor, and more than one mechanic may complete work for the same fleet. Alternatively, the fleet vehicles may be taken to an external maintenance company for service.
The fleet manager is in charge of others in fleet management, including the mechanic. They handle vehicle maintenance, scheduling of vehicle usage, and implementing maintenance programs that improve vehicle availability.
Drivers also have an impact on fleet maintenance. They perform visual inspections frequently before or after driving the vehicles and are responsible for reporting any issues to the fleet manager and/or mechanic.
What Makes Fleet Maintenance Management Successful?
High-quality fleet maintenance management relies on several factors working together.
Employing Skilled Technicians
Hiring and retaining skilled technicians that are experienced with fleet maintenance is an investment that will pay off for the organization. Training them on business policies and informing them of specific needs is essential for technicians to perform their duties efficiently and effectively. Providing ongoing training opportunities will be a competitive advantage for attracting skilled technicians in the industry. Once a reliable team of maintenance technicians has been built, the focus can be on assigning specific jobs to those with the most relevant skill sets, further increasing overall productivity.
Scheduling Regular Preventive Maintenance
A major contributor to successful fleet maintenance management is scheduling regular preventive maintenance. A good start would be to follow the schedule provided by the vehicle manufacturers. Regular maintenance can also be scheduled and performed based on operational use hours or mileage markers. Everyone involved in fleet maintenance should be able to view the upcoming schedule and some can make changes that are logistically advantageous. Note that fleet vehicles often require maintenance more frequently than the manufacturer recommends because they are used more heavily in fleets than they would be in consumer use.
For example, if a vehicle is in the repair shop for replacement of a flat tire, the service technician might look at the upcoming maintenance schedule. They may determine that an oil change is scheduled for after the vehicle has been driven another hundred miles or so. In this case, they would make the decision to change the oil early because the vehicle is already in the shop.
Read More: What is Time-based Maintenance (TbM)?
Performing Regular Inspections
Successful fleet maintenance management also requires performing regular vehicle inspections—both visual inspections done by drivers, and more in-depth inspections by maintenance technicians. This prevents unexpected downtime and breakdowns because problems are caught and corrected before the engine fails. When any problem requiring service or repair is found during an inspection, it ensures safe operation of the vehicle. Performing regular maintenance before any major breakdowns occur can also improve fuel economy, resulting in less money being spent on fuel.
How CMMS Software Contributes to Successful Fleet Maintenance Management
CMMS software is integral to fleet maintenance management. Once fleet management teams start using it, they'll wonder how they carried out their duties without a CMMS system.
Improves Workflow Efficiency
Using CMMS to carry out fleet maintenance management improves workflow efficiency. This is achieved through using all of the features and functions of the fleet maintenance management software to their full advantage. Automated notifications can be received by maintenance managers when preventive maintenance is due. Upon receiving the notification, they can quickly delegate tasks via email to the appropriate technicians. After fleet maintenance technicians complete work on a vehicle, they can complete and close out work orders on their mobile devices, saving the time and hassle of going back to an office computer.
Maintenance managers can receive notifications when work orders are closed, as well as view maintenance history in a few clicks. Troubleshooting guides, owner's manuals, and work instructions are readily available in the software. All of this streamlines communication and saves the time that would have been spent emailing back and forth or making phone calls to get status updates.
Integrates Inventory and Parts Management
CMMS software, when used for fleet maintenance and other types of maintenance, integrates inventory and parts management. Effective inventory management is a key element of a cost effective fleet maintenance program. Technicians will be able to repair and service vehicles within an efficient timeframe as long as the right parts are in stock. CMMS software helps to ensure this by automatically updating part quantity counts as used parts get allocated to work orders. Vendor contact information can also be stored in the software and automatic email or text notifications can be sent to fleet managers when it's time to reorder parts.
Automates Work Orders
CMMS software makes it easy to stay on top of preventive maintenance tasks. Planned maintenance work orders can be automatically activated in CMMS software. When regular maintenance is scheduled ahead of time, the corresponding work orders can be set to activate on specific dates, with notifications that occur when the work order is due and if applicable, past due.
Creates PM Checklists
CMMS software for fleet maintenance management allows for the creation of preventive maintenance (PM) checklists. These checklists can be applied to any work order and are especially useful for performing regular inspections. Work order templates can be used to save text that can be applied to multiple work orders, saving the time of manually creating these lists for every work order. These checklists also reduce inaccuracies and missed steps in processes.
Assigns Work to Appropriate Technicians
CMMS software makes it easier to assign work to the appropriate fleet maintenance technicians. As mentioned earlier, when a team of skilled technicians has been built, delegating work based on their specific strengths can be a focus of team management. CMMS software uses labor crafts to add the names of technicians and their certifications, and allow them to be selected to complete specific jobs. Technician pay rates, availability, and time spent on each job can also be stored in the CMMS system.
Allows Data-Based Decision Making
Fleet maintenance software such as a CMMS system helps fleet managers gain visibility into their operations through data analysis and reporting. The software leverages comprehensive data on assets found in reports to track key performance indicators (KPIs). This data is created through maintenance records and repair history stored in the software.
Ensure Successful Fleet Maintenance Management with FTMaintenance CMMS Software
FTMaintenance is CMMS software that ensures successful fleet maintenance management. Features such as mobile accessibility and maintenance requests allow fleet mechanics to complete and close work orders on the job site, and drivers to report problems to the maintenance department easily. To learn more about how our CMMS software will benefit your fleet maintenance management, schedule a demo with our sales team today.