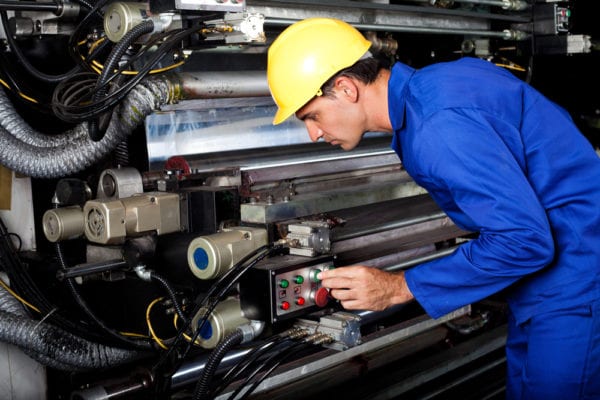 Total productive maintenance (TPM) is a high-level maintenance philosophy that has spawned much research and analysis from academics. Instead of doing a deep dive into all the tools, techniques, and methodologies involved in TPM, our goal is to introduce the main ideas of total productive maintenance in a simple, straightforward way.
What is Total Productive Maintenance?
Let's start with a definition of total productive maintenance. Total productive maintenance (TPM) is a system of maintaining and improving the effectiveness of production through assets, employees, and processes that maximize equipment availability. To truly appreciate why TPM was developed, let's add some context to our TPM definition.
TPM in Manufacturing
Manufacturing and other asset-centric organizations are highly dependent on equipment. In an ideal world, production would be perfect – you would produce high-quality, non-defective goods, as fast as possible, with zero downtime. In reality, there are production losses throughout the manufacturing process. Manufacturers want to reduce and control these losses as much as possible to achieve near-perfect production. (For organizations tracking Overall Equipment Effectiveness (OEE), this means achieving an OEE value that is as close to 100% as possible.)
In order to achieve optimal production, assets must be available when needed for production. Whether automated and run continuously or manually operated and run periodically, money is lost when equipment is stopped. At first, you might think it makes sense to hire additional maintenance staff that can be ready at a moment's notice. However, overstaffing or idling employees can be very costly as well. Now what?
What if everyone, not just the maintenance team, was responsible for the upkeep and maintenance of production equipment? For instance, what if operators were trained to perform simple preventive maintenance activities on their equipment so the maintenance team could focus on more critical maintenance projects? Taking this idea a step further, what if engineers and original equipment manufacturers (OEMs) modified their designs to make them easier to use and maintain? These questions led to the invention of the concept of total productive maintenance.
Who Invented Total Productive Maintenance?
The idea of total productive maintenance was first developed in the 1950's by Seiichi Nakajima, although the phrase wasn't widely used until years later. Nakajima, a Japanese engineer, served as an interpreter for presentations on preventive maintenance given by American George Smith, someone at the forefront of maintenance improvement philosophy.
Inspired by Smith, Nakajima combined concepts from American preventive maintenance with other maintenance practices such as reliability engineering, quality management, and operator-assisted maintenance into a new process called total productive maintenance (TPM). This early version of TPM was founded on 5S, a workplace organization methodology which includes the following steps: 1) sort, 2) set in order, 3) shine (clean and organize), 4) standardize, and 5) sustain.
The 8 Pillars of TPM
Going beyond the 5S framework set by Nakajima, the Japanese Institute of Plant Maintenance (JIPM) further enhanced his idea by incorporating lessons from lean manufacturing. This led to the development of the 8 pillars of TPM, focusing on proactive and preventive maintenance techniques. Let's briefly describe each pillar:
Autonomous maintenance: The responsibility for simple preventive maintenance tasks is placed in the hands of equipment operators.
Focused improvement: Small groups work together to identify and eliminate equipment-related losses.
Planned maintenance: Scheduled preventive maintenance is based on predicted or measured failure rates.
Quality maintenance: Spot checks, inspections, and root cause analysis (RCA) are used to identify and eliminate the causes of defective products.
Early equipment management: Changes to equipment design are informed by the knowledge and experience of the people most familiar with it.
Training and education: Operators, maintenance staff, and managers are cross-trained in order to fill in knowledge gaps between departments.
Safety, health, and environment: Safety-oriented tasks are performed in order to maintain a safe and healthy work environment.
Administrative TPM: Improvements are made to administrative functions and office spaces to reduce process losses and eliminate waste.
Who Uses Total Productive Maintenance?
In the 1960's, Japanese automotive parts supplier Nippondenso (now Denso) was one of the first organizations recognized for employing total productive maintenance, although the components of TPM have changed over time. Today, TPM strategies are still primarily used in the automotive production and supply industry, although elements of total productive maintenance may be used elsewhere in manufacturing and beyond.
Benefits of TPM
Less Unplanned Downtime
As machine operators become more familiar with their equipment, they can more easily recognize when things seem out of the ordinary. Because they are on the front lines and able to spot problems sooner, operators can alert the maintenance team before equipment breaks down. Maintenance can then be planned for a time when it will not interrupt production.
Acknowledges the Importance of Maintenance to the Organization
For too long, maintenance has been viewed as a cost center that does not provide value to the organization. Thankfully, times are changing. With approaches like TPM and reliability centered maintenance (RCM), maintenance is now viewed as vitally important to the business. TPM's maintenance-oriented approach helps to reinforce the perception that maintenance is something that adds value to the organization.
Safer Work Environment
TPM also brings focus to workplace safety. Introducing or improving safety-related maintenance tasks means that employees are able to work in low-risk environments. When accidents are reduced and potentially dangerous situations are avoided, employees' attitudes become more positive, which can improve job satisfaction and productivity.
Reduced Backlog
With everyone contributing to maintenance, less pressure is placed on the maintenance team. Over time, the backlog of preventive maintenance jobs and maintenance requests will shrink, freeing up the maintenance team to work on capital improvements and other projects.
Lower Maintenance Costs
Unplanned downtime is costly. TPM's focus on proactive and preventive maintenance reduces maintenance costs in many ways. For example, equipment that is regularly cleaned, lubricated, and inspected should experience fewer unexpected breakdowns, requiring less maintenance resources.
Predictable maintenance activities allow for better control over MRO inventory stocking levels, ensuring less overstock or expedited inventory purchases. Operators can identify emerging problems with their equipment before they become major failures, resulting in potentially low-cost, less significant repairs.
TPM can also help lower production costs. When equipment is not available, there is a domino effect that can result in stopped production, defective product, idle employees, and employee overtime, not to mention the increased stress of "catching up" when the problem is fixed. When maintenance is viewed as a team effort, production losses due to poor maintenance can be minimized.
Learn more about the advantages of preventive maintenance.
FTMaintenance Supports Total Productive Maintenance
In order for TPM to be successful, you must have a system for tracking maintenance activities. FTMaintenance is a computerized maintenance management system (CMMS) that supports any maintenance strategy by providing a single platform for documenting and tracking maintenance activities. See how FTMaintenance can help you improve your maintenance operations by scheduling your demo today.