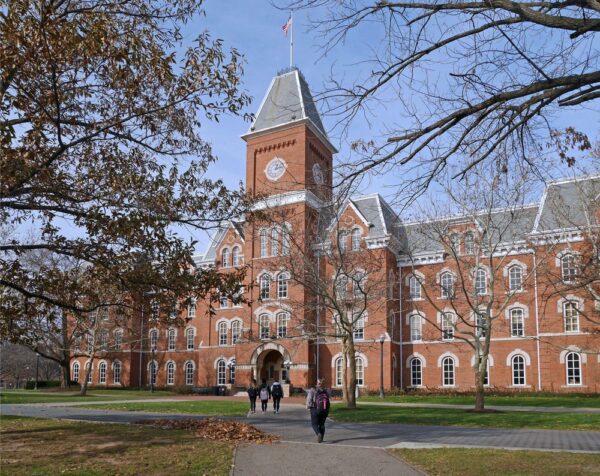 The education industry faces unique maintenance management challenges. School campuses, from elementary schools to colleges and universities, are different environments from other facilities or industrial buildings. Read on to learn more about the types of maintenance challenges found in educational facilities and how computerized maintenance management system (CMMS) software can address those challenges.
Education Industry Maintenance Challenges
Educational facilities require complex and thorough maintenance. In order to foster an effective environment for learning, campuses need to remain in excellent condition. Adding to this challenge, continued financial support for each school depends on how well capital investments are protected through security measures, insurance policies, and maintenance. Below are multiple reasons maintenance management challenges in educational settings.
Large Volume of Work Compared to Resources
Facilities management in schools is focused on grounds maintenance, including cutting grass in the spring and summer and salting sidewalks when it snows in the winter. School maintenance staff also has a lot of indoor tasks including mopping floors, minor mechanical repairs, unclogging drains, replacing tiles, and painting. On top of these standard jobs are unexpected repairs and maintenance requests from teachers, staff, and in some cases, students, that create a large volume of work to tackle.
Despite the high work volume, school maintenance departments often face shrinking resources due to a lack of funding. The schools are unable to hire the ideal number of maintenance staff members or outside contractors to meet demand. This results in older building elements such as worn insulation, outdated ventilation systems, and machine assets that are past their prime not getting repaired or replaced in a timely manner.
Read More: How to Combat the Maintenance Technician Shortage
Completing Urgent Jobs with Classes in Session
While most maintenance jobs are completed outside of school hours, urgent maintenance issues must be dealt with while students are in class. These can range from an overflowing toilet or power failure, to a burned out light in a classroom, or a spill that must be cleaned up immediately. The janitor or maintenance technician may need to get on a ladder, block off an area, or otherwise interrupt a class, which can be distracting for students. Schools must use discretion about which jobs truly cannot wait and which can be done when students are out of the classroom (i.e., during lunch, recess or after class).
Large Campuses with Different Maintenance Environments
Educational facilities, especially college campuses, can be hundreds or even thousands of acres in size and spread across multiple locations. Even some elementary and middle schools can be large for a small maintenance staff to walk around. Maintenance workers have to juggle the importance of each maintenance task with where each asset is located and map out their day accordingly to get work done on time.
Unlike in other industries, maintenance management in education requires the janitors and other maintenance personnel to perform maintenance in many different types of environments. Many large schools have computer labs, science labs, pools, gyms, and cafeterias to name just a few. Maintaining such a wide variety of assets requires a large array of skills and knowledge, which may warrant the help of outside contractors.
Dorms and Weekend Work on College Campuses
Colleges and universities have unique challenges not present in other educational settings. In elementary, middle, and high schools, students go home in the afternoon, leaving time for maintenance technicians or janitorial staff to work without interrupting students. On the other hand, many students live on campus or attend night classes, leaving less time for maintenance personnel to complete their work student-free. Dormitories also contain unique assets, including specialized HVAC systems, showers, small kitchen appliances, and laundry facilities that require specific skills to maintain.
Event Preparation and Cleanup
Schools at all levels have the added maintenance challenge of preparing for, and cleaning up after, events. These events can include sports games, theater performances, banquets, band and choir concerts, assemblies, dances, and school board meetings (to name just some). Maintenance technicians are often in charge of setting up seating if needed, and might be responsible for preparing, inspecting, and servicing sound and lighting equipment. After an event, janitors may need to clean up and remove trash, sweep and mop floors, and return chairs and equipment to their storage spaces. For outdoor events, they may need to mow the lawn, treat weeds, or remove leaves.
This can be challenging because it is additional work outside of keeping the school running smoothly during regular class hours. Maintenance teams must keep track of events schedules and plan the work they need to do accordingly.
Stringent Cleaning, Safety, and Indoor Air Quality Measures
Every organization has a checklist of stringent cleaning tasks that must be done regularly. Following the proper cleaning, disinfecting, and sanitizing guidelines is more important now than ever in order to mitigate COVID-19. There are also additional cleaning requirements to be completed during the summer and other school breaks. Books, computer keyboards, and science lab supplies for example, should be disinfected before each school year begins. Door handles and railings must be cleaned often since many people touch them frequently.
Proper water filtration management and waste management must also be high priority. This includes drinking water, cafeteria sinks, food preparation stations, plumbing systems, and drainage. When necessary, maintenance management must make the repairs or contact a local plumber to do so. Related to waste management, trash removal as well as grease trap cleaning in the cafeteria is also done by the maintenance department.
With so many people entering and exiting the building (or buildings), varying room sizes, and the large square footage of campus facilities, maintaining optimal indoor air quality (IAQ) is both important and challenging. Indoor air quality includes not only the air that passes through the HVAC system, but also radon gas, construction dust, mold, paint fumes, stack emissions, and asbestos. If the indoor air quality in a school is less than ideal, it can cause individuals to experience allergy symptoms, congestion, headaches, and nausea.
Maintenance during School Breaks and Summer
Maintenance management in the education industry includes executing appropriate maintenance tasks during winter, spring, and summer breaks when students, faculty, and staff are away from campus. In the winter and spring as needed, maintenance may scrub and wax tile floors, clean carpets and entrance mats, dust surfaces in all rooms, and deep clean the restrooms.
In the summer, these tasks are also done, but additional maintenance work is completed since there is more time with vacant facilities. Additional summer maintenance in education includes repairing cooling towers if needed, remediating mold, and washing all windows on the interior and exterior. High-dusting is also done in the summer, which includes light fixtures, high shelves, and anything near the ceiling. The walls, doors, furniture, ceilings, and desks get deep cleaned. If any renovations are needed, they are typically completed during summer, holiday, and in between term breaks.
Read More: Facility Summer Maintenance Checklist
How a CMMS Addresses Educational Facility Maintenance Challenges
The use of computerized maintenance management software (CMMS) in educational facilities helps to address maintenance challenges in this industry. Overall, CMMS can help to enhance overall safety and support a learning environment. A CMMS can help to balance the needs and demands of school maintenance with the available budget.
Schedule Work Ahead of Time
Using CMMS software boosts overall maintenance work productivity. The maintenance team needs to be aware of when classes, breaks, and events occur so that maintenance jobs can be scheduled accordingly. With that schedule in mind, maintenance managers can schedule one-time or reoccurring work orders, with customizable timeframes for daily, weekly, monthly, yearly, or other periodic preventive maintenance jobs. This planned maintenance can be assigned to specific technicians or contractors with the appropriate skills.
Bird's Eye View of Asset Relationships
CMMS software's asset management capabilities allow maintenance departments to organize and track assets in multiple locations, giving them a "bird's eye view". Documents and images can be attached to provide additional asset maintenance details where needed.
Service History
Asset service history can also be maintained and viewed in a few clicks to assist with troubleshooting. When maintenance technicians are attempting to determine the cause of an issue with a machine, reviewing what maintenance jobs were done on the asset in the past can help. The type of maintenance, specific job details, dates of previous maintenance, what tools and resources were used, and the time in between maintenance jobs can all be viewed in CMMS.
Tracking Inventory
Using CMMS software in educational facilities is helpful for keeping track of maintenance parts inventory, including tools and supplies used. Since many items get checked out, moved, and then returned, maintenance management software's inventory capabilities maintain records of which items are present, checked out, or missing. Every piece of equipment that comes in and out of inventory can be tagged with a barcode label. Barcodes can be used to scan in updated part quantities or check out items to be used in maintenance jobs.
Mobile Work Order Management and Software Access
CMMS software can be used on any mobile device, which enables maintenance technicians to start, perform, or at least earmark maintenance work as soon as a corrective maintenance issue is discovered. Work orders can be created, opened, and closed directly from the job site, saving the janitor or maintenance technician time they would have spent walking to and from a desktop computer. Mobile CMMS is especially convenient on large campuses with multiple buildings.
Maintenance Requests
School maintenance solutions such as CMMS software include the ability for faculty, staff, and where applicable, college students to make maintenance requests. This industry may receive more requests than in other industries, especially from colleges where there are dorm rooms that may need attention. CMMS software allows maintenance requests to be managed in an efficient, timely manner, prioritizing them according to severity and the date the request was made. Requesters can attach photos to provide more information about the problem requiring resolution. They will receive communication regarding when their request has been received and completed.
Maintenance Reports
Maintenance reports can help maintenance management in education to solve reoccurring maintenance issues. CMMS software contains reports, which allow tracking of maintenance operations, including assets, inventory, and work orders.
Vendor Management
CMMS software can provide a way for schools to manage their vendor and outsourced contractor information. It provides the ability to store contact information as well as update market prices for specific types of parts and services.
Maintain Your Educational Facility with FTMaintenance
FTMaintenance is CMMS software that is used by educational facilities to make maintenance operations more efficient, manage assets in multiple buildings on campus, balance maintenance jobs with student and faculty schedules, and keep track of outside vendors and contractors' contact information. Visit our education page to read more about how FTMaintenance works well for school campuses, or schedule a demo today.