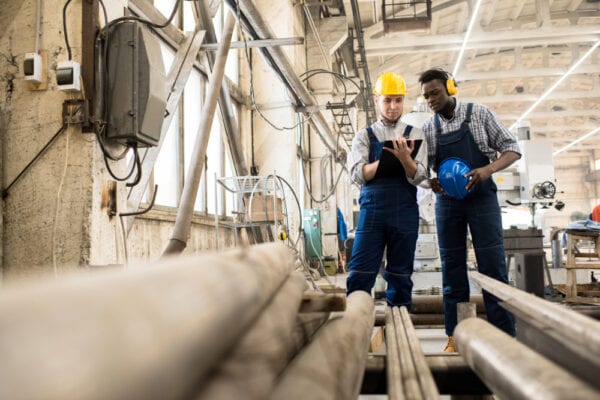 According to KPILibrary.com, maintenance efficiency is "a measure of the maintenance effort required to deliver required performance levels from equipment (or a plant)." More specifically, maintenance efficiency can be measured through a ratio of the total asset uptime divided by the total maintenance cost for that asset, which gives you an efficiency percentage.
In any organization, it's important to have an efficient maintenance workflow. There are some obstacles to maintenance management workflow efficiency, but using computerized maintenance management system (CMMS) software can help to address them. Improving the efficiency of your maintenance operations will save you money in multiple areas of your organization. In this blog post, we will discuss how common CMMS features address maintenance efficiency killers, solving your maintenance problems, and boosting productivity.
How CMMS Software Features Address Maintenance Efficiency Killers
While one goal of every maintenance manager is for the maintenance technicians to work as efficiently as possible, it's inevitable that sometimes, things come up. There's a reason why you cannot schedule jobs for every minute of the maintenance shift. If you were to plan a full schedule of preventive maintenance work for every technician, it would be likely that an unforeseen failure would require corrective maintenance, resulting in a delay of planned work. This is an inefficient, but unavoidable use of your staff's time. However, CMMS software features can address other, more avoidable maintenance efficiency killers.
Work Order Templates
When maintenance departments manage work without a CMMS, they rely on emails and paper documents to keep track of work orders and other maintenance related documents. This often results in maintenance technicians and managers scrolling through their emails, only to find the message containing the maintenance job instructions they need is gone.
With CMMS software, the ability to create preventive maintenance (PM) work order templates ensures you have instructions for each planned maintenance job readily available, which you can refer back to and use for future work. You don't have to memorize or reiterate specific job procedures every time.
Attachments
Before beginning a maintenance job, the maintenance team may need to rifle through stacks of paper to find a warranty or owner's manual, which can be stressful and time consuming. This can cause a delay in completing corrective, predictive, and preventive maintenance work.
CMMS software has an attachment feature which allows you to upload any supplementary documents that you need for various maintenance jobs. The maintenance team can look at equipment manuals, warranty information, diagrams, troubleshooting guides, and more directly in the software. These documents can be viewed on a smart phone or tablet so you never have to leave the jobsite.
Maintenance History
When maintenance teams do not use CMMS software, technicians may need to walk across the plant floor repeatedly to ask others questions about the status of work orders or previous asset repair information.
CMMS software has easily accessible, searchable, and reportable history you can refer to whenever necessary so you don't have to search all over for information you need. A CMMS system helps maintenance technicians and managers to be more prepared for executing work by having maintenance history readily accessible to review in minutes. CMMS software brings together all of the maintenance information you need in one place so you can make smarter decisions faster. This leads to more maintenance work getting accomplished quickly and therefore, less asset downtime. Anyone who works in maintenance management knows that minimizing asset downtime is crucial to maximizing production output.
Inventory Management
Maintenance teams that don't use CMMS software lack quick access to MRO inventory management data, such as part counts, purchase order history, and vendor contact information. Looking around the stockroom without knowing exactly where things are or if parts are available wastes time.
The inventory management capabilities in CMMS software help maintenance team employees know where MRO parts are and where to source them from. This information is always readily available and can be updated quickly to ensure accuracy at all times.
Service Requests
Managing incoming maintenance requests can be difficult when you don't have a solidified digital system in place. The process can easily get disorganized. When feedback regarding incoming maintenance requests comes from anyone and everyone, the maintenance team can be redirected to any job. When someone calls a technician, he makes an on-the-spot decision to prioritize the new work with the information he has directly at hand. When an email flagged as urgent comes in, he quickly goes to complete that job. If someone stops him in the hallway, he tends to that job next. This method will not satisfy management and is not productive.
When outstanding planned maintenance work and incoming new maintenance requests aren't being tracked, the maintenance team becomes reactive in nature. However, CMMS software drives maintenance efficiency with features such as maintenance requests, which standardizes the process. These systems are easy to use and manage. People outside of the maintenance department can identify potential problems and submit a request. When the maintenance request is received, maintenance managers can determine if the request should be approved to become a work order and if so, what the priority level is.
Additionally, a formal maintenance request system and process saves technicians time because they can review all maintenance job requests at one time, in one place. Checking work order statuses can be done in minutes and people outside the maintenance department are automatically notified when their request advances toward completion. It can prevent a small issue from going unnoticed and turning into a major, costly repair.
PM Scheduling
Without the proper tools, it can feel like an overwhelming task to create a preventive maintenance program or schedule. Without scheduled preventive maintenance for critical equipment, it is inevitable that there will be more equipment failures and downtime, creating a vicious cycle of corrective, on-the-fly work that can be difficult for the maintenance team to escape.
CMMS systems have easy-to-set-up preventive maintenance schedules that can clearly communicate work requirements. They also facilitate giving advanced notice of upcoming preventive maintenance tasks. With CMMS software, you can create a more efficient maintenance management workflow by keeping track of reoccurring jobs and their estimated durations. Maintenance managers can also schedule preventive maintenance work orders at any interval needed.
Corrective Maintenance Work Order Tracking
Another hindrance to efficient maintenance is lack of job time tracking for corrective maintenance work. This can lead to gaps of lost time when you know work was being done, but are uncertain of what the work was or how long it took. For example, a job that was supposed to take 20 minutes took 40 minutes, but there was no record of the reason for the longer duration, or whether or not the extra time was warranted. The timeframes of unexpected corrective maintenance jobs should still be logged after they are completed to maintain comprehensive maintenance history.
With CMMS software work order tracking, you can log an unplanned or emergency job's duration immediately afterward to ensure your labor hours were accounted for. Logging unexpected maintenance also helps maintenance managers delegate work more effectively when a similar situation arises again. Any time job duration is being tracked, it will help the maintenance department make more informed decisions about future scheduling and job prioritization.
Reporting
To run reports without maintenance management software, maintenance managers need to compile them manually. This process includes writing down the data on paper, entering this information into a spreadsheet, and then using word processing software to create charts, graphs, and images as needed. Going through all of these steps manually can take hours—hours that could be spent delegating, reviewing, or completing maintenance work.
With maintenance records and reports available in CMMS software, you will have easy access to electronic records, which saves you the time and effort that it takes to manually assemble data. For example, you can look at last month's air duct usage costs and you have data comparing that to any other metric you need to. All you have to do is query your report and you will have data to share with management.
Improve Maintenance Efficiency with FTMaintenance
FTMaintenance provides valuable tools for improving maintenance operational efficiencies to save your organization money. Documenting processes and automating workflows with FTMaintenance means that you and the maintenance team have digital records of every asset, inspection, and repair to refer to at any time. In addition to the maintenance work order process, FTMaintenance CMMS assists maintenance teams with asset management, inventory management, corrective and predictive maintenance tracking, and document storage. To learn more about FTMaintenance, schedule a demo with us today.