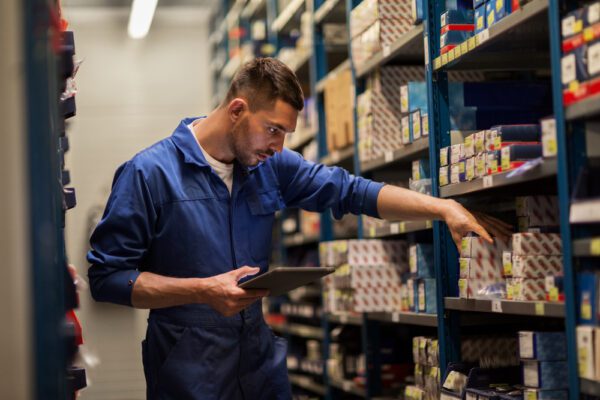 Choosing the right Maintenance, Repair, and Operations (MRO) inventory vendors, for both goods suppliers and MRO inventory services, is important for maintenance departments when it comes to managing their inventories. MRO inventory is spare parts, supplies, and tools that are required to perform routine maintenance in an organization. Partnering with a reliable vendor ensures maintenance organizations have the parts they need, when they need them, and at the right price.
Asking suppliers the right questions, knowing the do's and don'ts of selecting vendors, and knowing how to maintain a good vendor relationship will ensure success with managing MRO inventory.
Ask Suppliers the Right Questions
Asking the right questions will help organizations choose the right MRO inventory supply vendors. The answers that are given can qualify or disqualify vendors from the selection process. There may be some things that aren't a deal breaker, but are important to know when working with a vendor. These questions include, but are not limited to the following:
What discounts are offered when a large volume of items is purchased?
Do you offer same day delivery?
Do you have a wide breadth of products?
What are the terms of your contracts?
What are your supply chain's quality assurance policies?
Do you offer delivery and product quality guarantees?
Establishing a good partnership with a vendor is essential for smoothly managing MRO inventory. A bad relationship with a vendor, which occurs when the wrong vendor was chosen, can result in parts being delivered late or parts not being expedited when they needed to be. The quality of the products may be lower than what an organization is used to, or it may not meet their needs or standards. If a smaller vendor works with a large organization, they may become overwhelmed and provide poor service as a result.
MRO Vendor Selection Do's and Don'ts
With that said, in addition to the questions asked above, there are some MRO supplies and services vendor selection do's and don'ts that will ensure organizations find vendors that are a good fit for them.
Vendor Selection Do's
Define Existing Problems
The organization should define any existing problems with MRO inventory and set goals to eliminate them. Depending on what the problems are, the vendors may help to solve them, or the problem may need to be worked out independently from working with the vendor. These goals will vary greatly with each organization.
Agree on Clear KPIs
The first thing organizations should do is agree on clear Key Performance Indicators (KPIs) that have benefits for both the vendor and the organization, which may vary depending on if the vendor is a goods or service provider. On-time delivery, inventory reduction, and stock item fill rate (for a goods provider) are just a few examples that will make the most important items available at all times while keeping costs low. Other KPIs that may prove valuable to track include supply on hand (how many days of inventory are on hand) and which products currently have stock outs.
Make Sure Stakeholders are in Agreement
The next thing organizations should do when choosing an MRO inventory vendor is make sure all key stakeholders are in agreement that change in MRO inventory management is needed and will happen. Time should be allotted to get the changes put into effect.
Review Agreements Annually
If there is a vendor the organization is already working with, the maintenance department should review the agreement to determine if any changes need to be made or if they should find a new vendor rather than renew the agreement.
Vendor Selection Don'ts
There are also things an organization should NOT do when they select a vendor.
Don't Base Decision on Price Alone
First, they shouldn't choose a supplies vendor solely based on who has the lowest prices. The amount of money that could be saved through more reliable operations due to higher quality parts, resulting in less time spent on labor, should also be considered.
Don't Limit to Large Distributors
Vendor options should not be limited to large distributors. Smaller vendors, especially if they are local, can have a quicker turnaround time for orders. If a part is needed right away and the vendor is local, a maintenance employee can pick up the part the same day, no shipping fees or wait time required.
Don't Assume Who is on Board
Lastly, don't make assumptions about who is on board with the potential MRO supplies or services vendor choices and changes in inventory management. Communication is key and the maintenance team should make sure everyone involved is on the same page.
Maintaining an Ongoing MRO Inventory Vendor Relationship
For organizations that manage their own inventory, when it comes to MRO procurement, there are numerous things an organization should do to maintain the relationships with their MRO inventory vendors.
Learn Where to Source Items Economically
Learning where to source MRO items economically is important for building multiple vendor relationships based on the types of supplies an organization needs. Some large suppliers may have just about everything while specialized suppliers will have the highest quality brands of select items that are more specific or harder to find.
Negotiate Costs Annually
Costs should be negotiated annually. If it makes fiscal sense, MRO suppliers might need to be consolidated to keep costs down. Saving just a small amount of money in the budget can improve the organization's bottom line overall. Vendors may have fixed pricing and stick to the same or higher prices year to year. However, they may offer certain discounts or deals for long-term customers, which help to maintain a good professional relationship between the organization and vendor. It is worthwhile to evaluate MRO inventory costs each year to see where the organization can save money.
Ensure Clean Data Management
Clean data is an important part of successful MRO inventory management. While the vendor is not always involved with the management of the organization's data, having clean data will be beneficial for both parties. When the organization's maintenance team knows their data is accurate, it will ensure that they place orders on time for the appropriate amounts and keep track of vendor contact information to communicate with them as needed.
If necessary, the maintenance team can request inventory items to be expedited in an emergency maintenance situation. However, keeping accurate data helps to avoid the need to expedite products, which lessens pressure on busy vendors to get these orders out. Most of the time, the maintenance team will be able to give vendors more notice for their order deadlines.
When the starting point of MRO inventory management is measured through data, it can be monitored and processes can be modified for continuous improvement. Redundancies are eliminated and productivity increases.
Improve Upon Min/Max or Over/Under Approach
By analyzing data, specialized systems used by MRO providers can help to improve upon the minimum/maximum or over/under approach. The minimum/maximum approach is a method that strives to keep the current inventory on hand within a specific range, in which system users set a minimum stock level. Reorders are placed to reach the maximum stocking level of each item when needed. The over/under approach is similar—the maintenance team does not allow the stock of inventory items to go under a certain amount, and for cost savings  they do not want over a certain amount of an item in stock.
Looking at data helps to recognize patterns and plan for each part and process involved in the MRO product exchange process. Maintenance departments can discuss these strategies with their vendors to ensure they are on the same page. An experienced MRO vendor should have technology in place specifically to support their processes with their clients and provide optimal benefits to them.
Forecast Demand
Another way an organization can ensure they have a good relationship with their MRO inventory vendor is to accurately forecast demand to determine adequate MRO procurement. They should look at how inventory is used throughout each season and adjust purchasing to accommodate seasonal changes. This strategy will minimize the cost of carrying inventory and ensure products stay up to date.  By communicating these frequent changes to vendors, it will ensure they stay in the loop so they are better prepared to accommodate smaller, less frequent or, larger, more frequent orders.
Read More: What is MRO Inventory Control?
Benefits of a Good MRO Vendor Relationship
Of course, there are several benefits to having a good relationship with MRO vendors or else there wouldn't be a need to spend much time developing these relationships.
Smoother Operations with Less Downtime
An MRO supplier that provides good service can mean the difference between a lot of downtime and smooth operations. If a vendor has a lot of delayed deliveries, has products that are often out of stock, or ships products that arrive damaged, that can leave maintenance teams scrambling to find parts when a machine is down and waiting to be fixed. However, having vendors that get organizations good quality products on time will lead to smoother operations for production and the maintenance team.
Single Supplier with Multiple Locations
Rather than choosing a different local supplier for each plant location an organization has, if there's a single vendor with multiple locations near all of the organization's plant locations, could result in more consistent service. Having fewer vendors is also easier for accounting purposes and helps to keep costs down.
Helps Streamline Inventory Based on Criticality
Another benefit of a good MRO inventory vendor relationship is that it helps streamline inventory based on criticality. A professional vendor will come to know what items are critical for the organization and which are non-critical. Non-critical items can be delivered on an as-needed basis while critical items should be stored in the organization's stockroom in specified quantities.
More Consistent Pricing
When organizations have only a few vendors per MRO product type, it ensures consistent pricing for the organization and uniform product use with a standardized purpose. Maintenance personnel don't have to look up as much information when checking inventory and placing orders because they can remember what the pricing of specific products are from using only a handful of vendors.
Product Expertise and Technical Support
Some MRO inventory vendors have stronger product expertise and technical support resources than others. Organizations should determine if the vendor they are considering can provide the level of support that is needed. Some maintenance departments handle changes in the industries for each product themselves and others appreciate vendors who update them when changes in pricing, brands, and product design occur.
Using CMMS Software to Track MRO Inventory
Once the best MRO inventory vendors have been selected, computerized maintenance management system (CMMS) software can be used to track the inventory items. The inventory management capabilities help the maintenance team to quickly identify where items are located, what their quantities are, and the last prices that were paid for each product. Inventory can be tracked beyond the current cost.
CMMS software can automatically update inventory counts when items are used or shipments arrive. Vendor contact information can be stored to easily place orders or contact them as needed. Local vendors can also be identified to expedite orders when needed.
Keep Track of MRO Inventory Vendors with FTMaintenance Select
FTMaintenance Select has the inventory management capabilities you're looking for in CMMS software. Request a demo of FTMaintenance Select today to learn more.