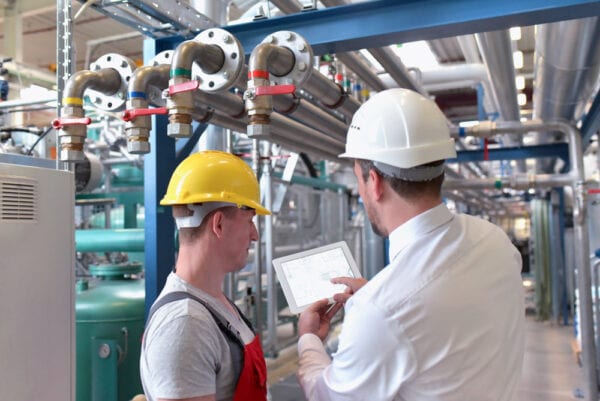 In today's fast-paced society, access to maintenance software from mobile devices is essential. It can be challenging to find devices that withstand the rugged industrial environment. You don't want to purchase new devices every few months. What is the right type of mobile device–phones or tablets? How do you know you're choosing the right device for your needs? Will you be able to easily update hardware and software?
In this blog post, we discuss the features you need for mobile maintenance management and highlight some of the best devices on the market.
Device Features Useful for Mobile Maintenance
So, what device features do you need to be successful with mobile maintenance management? Mobile devices have functionality that can improve the way maintenance is performed. When the right mobile device features are combined with a robust CMMS system, asset logs, meter reading history, parts inventory, and warranty information are all accessible at the job site.
Camera
There are many ways that your mobile device's camera can assist you in documenting maintenance work. You can use the camera to capture images or video of repairs and tasks, which can be sent back to a supervisor to review or make recommendations. You can photograph assets so they can be easily identified. Before and after photos can be helpful for many types of repairs. Use image editing software to create diagrams from your photos that highlight specific components, assets, locations, and more.
Voice Recognition
Smart phones and tablets have speech-to-text voice recognition, which enables you to fill in work order details and enter other data without having to touch the screen. This is convenient way to enter data when your hands are unavailable or dirty.
Barcode Scanning
Barcode scanning applications provide another touchless way to enter data. Data entry through scanning is faster and more accurate.
Light, Motion, Magnetism, and Sound Sensors
Mobile devices for maintenance have multiple lights and applications with sensors to assist you with maintenance tasks.
Flashlights on smart phones can be used in low lighting conditions.
Flashlights can also function as strobe lights. Strobe lights can be used to study rotating, oscillating, or vibrating equipment. Adjusting the strobe frequency creates an image that "freezes" motion, which helps pinpoint any abnormalities.
Built-in accelerometers can measure vibrations in machinery such as automobiles, aircrafts, or large manufacturing equipment. Simply turn on the smart phone or tablet and place it on the asset to be analyzed.
Some applications use built in Originally used by the onboard compass, these magnetic field detectors can sense the presence of magnetic items.
GPS Location Tracking
One of the most important mobile maintenance device features is GPS tracking. When used in conjunction with mobile CMMS software, it enables a maintenance manager to see where each maintenance technician is in relation to a jobsite, which can offer insight about work progress.
Rugged Phones and Tablets for Maintenance
At first glance, mobile devices for maintenance technicians may look like the typical consumer smart phones that you use every day to browse social media or text your friends. However, most technology providers also manufacture mobile devices specifically for industrial environments, known as "rugged" devices. The right devices will last a long time and require only occasional repair or replacement. Here are a few recommendations.
General Mobile Maintenance Device Considerations
When choosing one of these mobile devices, the first thing you should consider is your building's WiFi signal or cell service. If your facility is large and cell service is poor, you may need to install WiFi repeaters throughout the facility. Over time, you'll need to make sure you keep up with the extra hardware for industrial applications, such as a faster processor when needed. Replace the devices when something significant wears out such as the battery, you want to upgrade from 4G to 5G, or the device simply doesn't work anymore.
The most essential physical attributes to consider are a drop-proof case and protective flaps that cover ports, which will save you a lot of repairs or device replacements over time. The phones or tablets you choose should also have appropriate Ingress Protection (IP) ratings. These ratings tell you how well the device stands up to dirt, dust, and water. The scale for dirt and dust resistance is 1 to 6. The scale for water resistance is 1 to 9. Combine these two rating for the overall durability of the device. For example, a dirt rating of 6 and water rating of 8 is a combined rating of 68, which resists dust and survives submerging in 1.5 meters of clean water for 30 minutes.
You should also consider drop and puncture ratings to ensure the phones or tablets you choose resist damage at a job site.
Mobile Smart Phones for Maintenance Management
There are many rugged smart phones on the market. Visit Tech Radar, which offers several recommendations of rugged smart devices for maintenance. Below are a few of those recommendations.
The Blackview BV9900 Pro rugged smart phone is affordable and runs on an Android 10 operating system. It offers thermal imaging and 128GB of storage.
Ulefone's Armor 7E is another great choice for a rugged smart phone with a speedy processor, lanyard slot, wireless charging, and camera sensor positioning features.
The Cat S62 is built to last. It features a programmable extra button and 12MP rear camera.
Finally, the Doogie S95 Pro is a mobile device with 2 SIM trays and a fingerprint magnet. It also has a handset that is highly protected from the elements.
Tablets for Maintenance Management
This article on Tech Radar's website recommends several rugged tablets currently on the market, including the models listed below and many others.
If you're looking for a great tablet for mobile maintenance, the Getac UX10 is heavy and durable. It has a lot of storage space and the screen is well protected.
The Getac F110 rugged tablet is thin, light, and has a dual battery.  It does not have ports, so that is one thing you should consider when thinking about purchasing this model.
Another option is the Panasonic Toughbook A3. You can swap out batteries when the device is hot and program physical buttons. It has loud speakers so you can hear audio well even in noisy work environments.
The Dell Latitude 7220EX Rugged Extreme Tablet is large in size with a long battery life and sturdy screen protection.
The Panasonic Toughbook CF-33 Rugged Tablet offers a 2-in-1 design, excellent screen resolution, and detachable keyboard.
FTMaintenance is cloud-based maintenance management software that can be used on mobile devices. Learn more about mobile accessibility and request a demo to see FTMaintenance in action.