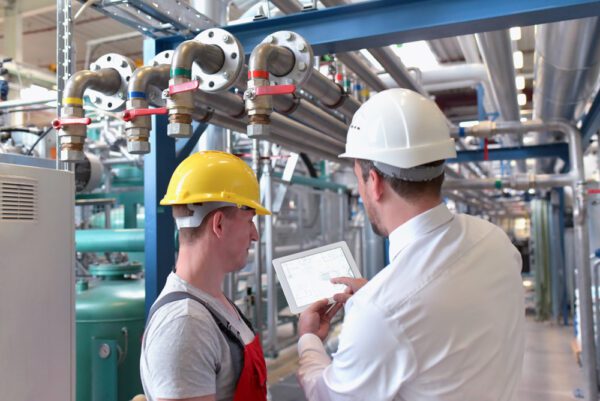 Mobile computerized maintenance management system (CMMS) software is becoming more prevalent in today's maintenance teams. While it may be convenient for employees to use their personal devices to log into CMMS apps and software, consumer-grade hardware is not designed to withstand harsh factory environments.
Thankfully, many technology manufacturers provide rugged hardware for industrial applications. This blog post provides an overview of what to look for when selecting mobile devices for your maintenance team.
What is a "Rugged" Mobile Device?
Industrial environments can wreak havoc on consumer-grade mobile devices. Therefore, organizations that wish to integrate mobile technology into their maintenance process need what are known as "rugged" devices. Rugged devices are designed specifically to stand up to extreme temperatures, moisture, dirt, and other environmental factors. Below are some attributes to consider when selecting rugged phones, tablets, or laptops.
IP Rating
Ingress Protection (IP) rating is an international standard, developed by the International Electrotechnical Commission (IEC), to grade the degree of protection against intrusion of dust or liquids. IP ratings are expressed as two digits.
The first numeral indicates protection against solid objects on a scale from 0 to 6, with 0 being no protection and 6 being no ingress of dust. The second numeral is the level of protection against liquids on a scale of 0 to 9, with 0 being no protection and 9 being protected against high pressure and temperature water jets. For example, an IP rating of IP65 means the device is dust tight and protected against water jets. Refer to the IEC website for more information.
MIL-STD-810 Compliance
MIL-STD-810 is a standard used by the United States Department of Defense to ensure equipment functions reliability while under real-world stress caused by vibration, shock, extreme temperature ranges, and other conditions. While this standard was developed specifically for military purposes, it is often used for testing rugged technology products as well.
To be MIL-STD-810 compliant, manufacturers must meet several guidelines, including sending devices to external testing laboratories. Because external testing can be expensive, some manufacturers choose to do in-house testing according to the official standards documentation.
Be warned that many manufacturers claim their products are MIL-STD-810 compliant even though they are not! Sometimes, products have not even been tested. Therefore, be sure to investigate any claims of compliance and ask about what standards the device passed, what test methods and parameters were used, and what the test results concluded.
Environmental Testing
Here are the most common types of tests manufacturers may perform on rugged devices to prove compliance with standards, determine specifications, or make marketing claims:
Drop and shock testing: Requires devices to withstand multiple drops from specified heights.
Temperature testing: Tests a device under normal operating conditions in extreme temperatures.
Liquid-resistance testing: Measures a device's water resistance.
Vibration testing: Shakes the device to simulate movement from being carried by vehicles or people.
Sand and dust testing: Tests the ingress of small particles and foreign bodies.
Humidity testing: Exposes a device to high heat and humidity to test liquid resistance.
"Ruggedized" vs. "Rugged" Devices
As a cost-saving measure, some organizations opt to install tough outer cases on otherwise standard devices. Beware that these "ruggedized" devices still have sensitive internal components and are not the same as true rugged devices. Rugged devices are specially designed, inside and out, to withstand harsh conditions.
Useful Device Features for Mobile Maintenance
Today's mobile devices have many features beneficial for performing maintenance. Many of these features are built right into the hardware or can be acquired by downloading apps. Listed below are common features used in mobile maintenance management for you to consider when evaluating rugged mobile devices.
Camera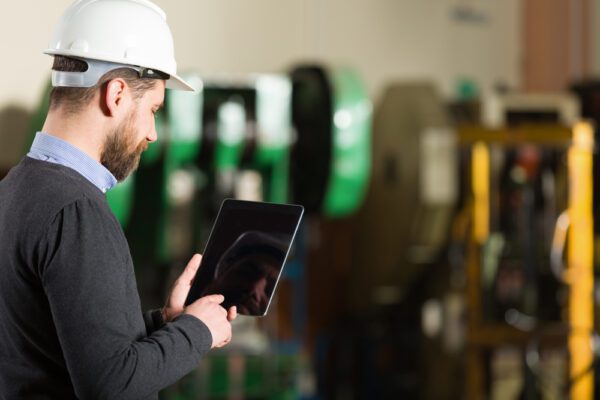 Integrated cameras make it easy to add visual context to maintenance documentation. Technicians can take photos or capture video of maintenance tasks for training or documentation purposes. They may also be used to show supervisors or other approvers how tasks were performed for verification. Before-and-after pictures also help demonstrate correct disassembly and reassembly.
Some organizations take photos of their assets to aid in identification. These pictures can be stored with asset records in a CMMS to help users accurately identify which asset requires maintenance.
Finally, organizations with photo editing talent may use software to modify images in order to create custom diagrams or highlight specific components, assets, or facility locations.
Voice Recognition
Devices with voice recognition features, also called speech to text, enable you to enter work order details while reducing typed data entry. Simply activate the speech-to-text feature, and the device will transpose any verbal input into text. This feature comes in handy when traveling between locations or when devices may not pick up touch input due to gloves, grease, or water.
Barcode Scanning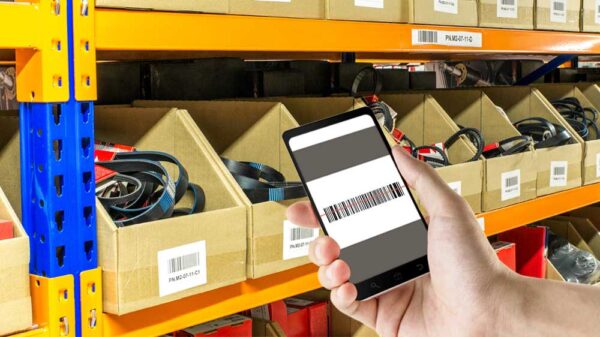 Barcode reading capability converts mobile devices into scanning devices. Barcode scanning uses the device's integrated camera to quickly read 1D barcodes and 2D barcodes, such as QR codes. Applications of barcodes in maintenance management include:
Tracking assets via asset tags
Looking up assets and inventory using a barcode scan
Checking tools in and out
Identifying the storage locations of MRO inventory items
Looking up purchase orders
Receiving inventory purchase into the system
Adding assets, parts, and tools to work orders
Increasing the accuracy of data entry
Units of Measure Converters
Units of measure conversion apps are ideal for quickly converting between imperial and metric measurements.
Flashlights
Flashlights allow technicians to see in low light areas, such as dark work areas or machine interiors. Using certain apps, flashlights can also function as strobe lights to inspect rotating, oscillating, or vibrating equipment.
Location Tracking
GPS and mapping technology allows you to easily identify the location of assets or employees. Maintenance teams servicing remote assets can also get directions to maintenance locations through maps. Location data also helps schedulers and planners see where field technicians are in relation to jobsites, determine if jobs are being completed on time or are delayed, and rearrange the schedule, if needed.
Condition Monitoring Apps and Hardware
Mobile devices find additional utility in maintenance environments by using existing hardware features in new ways or extending functionality through apps. A few examples include:
Using the built-in accelerometer or gyroscope with an app to measure acceleration and vibration.
Installing magnetic field detector apps to check for electromagnetic fields and power lines.
Leveraging sound level detector apps to measure sound pressure levels and detect frequencies that are too high to hear with the human ear.
Using a metal detector app to locate metal such as pipes.
While these apps are useful for non-critical measurements, the appropriate meters and instruments should be used when exact measurements are required.
Go Mobile with FTMaintenance Select
Introducing rugged mobile devices to your organization opens up numerous opportunities to improve your maintenance operations. FTMaintenance Select mobile CMMS software provides maintenance technicians with essential work order management functionality needed to document day-to-day maintenance activities. Request a demo today to learn more about our mobile maintenance management solutions.