In our blog post titled Stakeholders to Include in the CMMS Buying Process, we discussed which individuals should be included in the decision to purchase CMMS software. As a follow up to that article, we are now going to talk about things to consider when talking to these stakeholders to uncover their needs and address their concerns. We will also talk about steps to take when working with your stakeholders before making the final purchase decision.
Things to Consider
There are several questions to ask of stakeholders to determine which CMMS system the organization should purchase. These questions can also determine what concerns these stakeholders may have, as well as what goals they would like to achieve with CMMS software. Here are some things to ask various stakeholder groups during the CMMS buying process.
What features and functionality does each stakeholder (maintenance managers, technicians, senior managers, facility managers, IT, accounting, and controllers) need from a CMMS?
What is the biggest frustration with the current maintenance process that affects the organization as a whole?
What systems, processes, and resources will make it easier for each group to adopt a CMMS?
How can each stakeholder contribute to the CMMS project's success?
How does each stakeholder want the CMMS to improve company performance? (For example, facility managers hope a CMMS will help them manage the organization's buildings more efficiently.)
What reports would each stakeholder like to see in the new CMMS? (Accounting may want to see estimated versus actual labor hours for certain jobs. Maintenance managers will be looking for downtime by cause reports).
What do they want to achieve with a new CMMS? (Ask each stakeholder for their top three things. These will differ by role and department).
Including Stakeholders in the CMMS Purchase Process
During the purchase process, there are some important steps you should take before making your final decision:
1. Address Users' Concerns about Adopting a CMMS
Since the CMMS will be used to support users, upper level managers should support those who will be using the software during the purchase decision process. If the team has concerns about implementing the maintenance management software, management should listen to them. They should keep in mind that once a CMMS vendor is chosen and the software is purchased, most of these concerns can be alleviated through training.
2. Define Organizational Goals
Finding the right CMMS begins by defining organizational goals. Determine what defines short and long-term success. All involved departments and individuals should prepare for how implementing the CMMS will change business operations. You may want to hold interviews with each individual group or person involved in the process. At this stage of the process, you may also want to ask individuals in the organization who communicate with suppliers what they will need from a CMMS in terms of inventory management.
3. Categorize your Stakeholders by Influence and Interest
Here is a straightforward diagram to use to organize your stakeholder groups and visualize where they will fit in terms of their influence and interest in the CMMS software.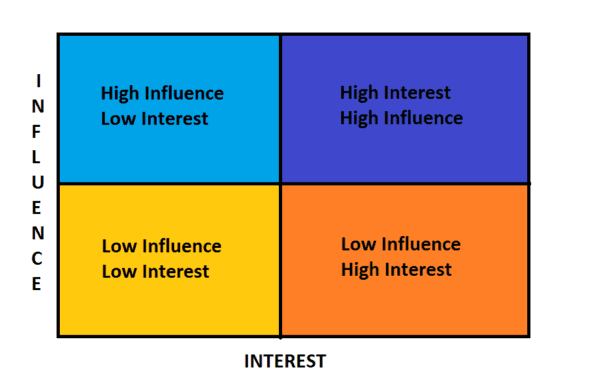 Use FTMaintenance to Meet All of Your Stakeholders' Needs
If you want to simplify your CMMS selection process, we can help. Get started by taking a tour to learn more about how FTMaintenance works, or request a demo to see our CMMS in action and speak to a representative. FTMaintenance focuses on asset management while offering work order and inventory management, a maintenance request portal, reporting, and more.