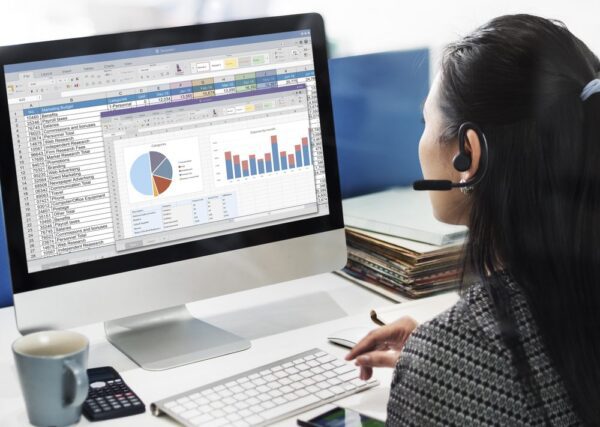 Finding the right software to meet an organization's maintenance management needs can seem overwhelming. When searching for a solution, buyers must compare specialized computerized maintenance management system (CMMS) software to other broader solutions, such as Enterprise Resource Planning (ERP) software. This article compares CMMS vs. ERP software to help you make the right decision for your organization.
CMMS vs. ERP Software
While CMMS and ERP software have some overlapping capabilities, they are distinctly different in what they help organizations do.
What is CMMS Software?
Computerized maintenance management system (CMMS) software is a computerized program designed for maintenance purposes, helping maintenance professionals with the management of their operations, and providing a defined system for documenting maintenance activities, managing the resources needed to complete maintenance jobs, and tracking the performance of the maintenance team. Common features of a CMMS system which are beneficial to maintenance management are:
Maintenance Requests
Work Order Management
Asset Management
MRO Inventory Management
Preventive Maintenance
Predictive Maintenance
Maintenance Reports
What is ERP Software?
Enterprise Resource Planning (ERP) software manages data of an enterprise or organization, helping to organize information and communications from multiple departments, including maintenance, human resources, accounting, inventory, shipping and receiving, production, and logistics.
ERP software integrates important parts of a business into a single system, managing multiple business processes. Enterprise Resource Planning (ERP) involves automated accounting, invoicing, and financial analysis. It also includes striving to improve asset management, human resources management, and customer relationship management. Some organizations also choose to add a supply chain module to monitor inventory.
To give you a better idea of what both CMMS software and ERP software do, let's compare their capabilities.
| | | |
| --- | --- | --- |
| | CMMS | ERP |
| Area of Focus | Focuses on maintenance | Covers multiple areas of operation |
| Work Order Automation | Automates work order processes, along with reporting and invoicing | Encompasses payroll, invoicing, and reporting along with work order processes |
| Reporting | Analyzes data about maintenance using reports | Analyzes data about organization using reports |
| Purchasing | Has purchase order capabilities | Tracks, stores, and analyzes accounting data |
| Maintenance Requests | Has in-depth maintenance request management capabilities | Has some maintenance request management capabilities |
| Employee Tracking | Contains maintenance employee records including skill level and pay rate | Contains Human Resources information such as compensation management, timekeeping, insurance information, emergency contacts, and benefits paperwork |
| Asset Management | Has in-depth asset management functions | Has in-depth asset management functions as well as supply chain management functions |
| MRO Inventory Management | Provides MRO inventory planning as well as maintenance and other tasks monitoring in a manufacturing environment | Provides inventory planning beyond MRO product planning and production monitoring in manufacturing or other types of environments |
Why Organizations Use ERP Software
ERP software has functions that apply to multiple processes within a business, including accounting, human resources, employee records, contracts, purchasing, and maintenance. ERP software can be an all-in-one solution for some organizations.
Using ERP software allows for data to be exchanged quickly and used on an organization-wide level. It is also quick and easy to integrate most ERP software programs with other software programs. Integration ensures that data from both is readily available and there are no compatibility issues.
ERP software does share some functions with CMMS software, including data analysis, reporting, and some maintenance management capabilities, including asset monitoring. Organizations that don't need in-depth maintenance management features might choose ERP software rather than CMMS software. However, if an organization is seeking only maintenance management capabilities, it is not worth the investment in ERP software because of its cost and complexity.
Why Organizations Use CMMS Software
Unlike ERP software, CMMS software has dedicated work order management and asset management features that ensure maintenance work and data can be tracked down to fine details. Because CMMS software is used for all facets of maintenance, it serves as a dedicated maintenance management tool, especially for carrying out a proactive maintenance strategy. It manages all preventive and reactive (or corrective) maintenance tasks. Keeping records of work order history and maintenance history is essential for adequate asset management.
CMMS software offers comprehensive and specific work order management features, including the ability to plan ahead using multiple calendar views. Work orders can be set to print and be emailed out automatically. Preventive maintenance work orders can be set to activate automatically and require approval for work order closure.
Another reason organizations choose CMMS software systems instead of ERP software is for the advanced MRO inventory management features. Inventory counts can be updated quickly, and purchase orders can be made directly within CMMS software.
CMMS software costs less to run than ERP software—it is easier to install, runs faster because it is a smaller scale application, and typically results in faster Return on Investment (ROI) than with ERP software. This is often because CMMS software results in decreased asset downtime and increased asset lifespan, saving money on unplanned production interruptions and premature asset replacement.
CMMS software uses advanced reporting features to improve asset management decisions. Reports about technicians' daily work volume can be created to compare to virtually any maintenance related metrics. All types of reports that can be created in CMMS software gather data from a common source so that there's no conflicting or repetitive data.
Many organizations choose CMMS software because of the detailed, maintenance-focused features. This allows maintenance managers and technicians to keep detailed records of maintenance activities, from work orders to maintenance requests. The work order management and asset management features go into much greater detail and provide more options for creating and viewing records than ERP software. Overall, CMMS software is easier to use because it is user-focused, providing simplified ways to use the system without having to deal with functions or information the user doesn't need.
Advantages of CMMS over ERP
CMMS software has several advantages for maintenance teams over using ERP software.
Preventive Maintenance Work Orders Managed More Easily
One major advantage of CMMS software is that it makes managing preventive maintenance work orders, along with service requests, much easier. Most systems have a simple workflow from receiving a maintenance request to creating a work order. Maintenance technicians can enter detailed information in the work orders about how maintenance problems were resolved for use in troubleshooting later.
Many details about preventive maintenance work order scheduling and creation can be added with CMMS software. This includes multiple scheduling frequency options, preventive maintenance work order checklists, labor hour tracking, records of inventory use, and inspection instructions.
Better Asset-Specific Data Management
CMMS software has better asset-specific data management capabilities. The collection and analysis of asset-specific data is far superior with CMMS software than in ERP software. This thorough data collection leads to increased productivity and efficiency.  Technicians can look at asset records to see what maintenance has been done on a machine in the past to assist with troubleshooting a current problem. Asset tags can also be scanned so that technicians can quickly look up information about an asset stored in the CMMS software.
More Seamless Mobile Device Accessibility
While both ERP and CMMS software can be accessed on mobile devices, CMMS software's mobile accessibility is more seamless. The dashboards and modules of CMMS software are easier to view and access on a mobile device than with ERP software.
MRO Inventory Functionality
While ERP software stores raw materials, work-in-progress, and finished goods inventory data, CMMS software offers more robust MRO inventory functionality. This makes a CMMS system essential for maintenance departments. Reorder points can be set so that MRO parts and supplies never run too low. Items can be checked in and out to keep track of where they're being used in carrying out maintenance jobs.
CMMS software inventory management enables purchase orders to be created and sent to vendors. Overall, when given the choice between using CMMS or ERP software for inventory management, maintenance departments will likely choose CMMS software.
System More Engaging for Users
CMMS software tends to be more engaging for users than ERP software. CMMS software interfaces usually have a more simplified, user-friendly design. There are guided prompts when needed to ensure data is being entered correctly. More maintenance management-focused communication such as messages, notifications, and emails are available with CMMS software.
Experience All Advantages of CMMS Software with FTMaintenance Select
In order to explore CMMS software further to best meet your maintenance management needs, the next step is finding the right CMMS software for your organization. Look no further than FTMaintenance Select. Our robust, easy-to-use CMMS system has everything you need to receive all the benefits that come with using CMMS software. Schedule a demo today to learn more.