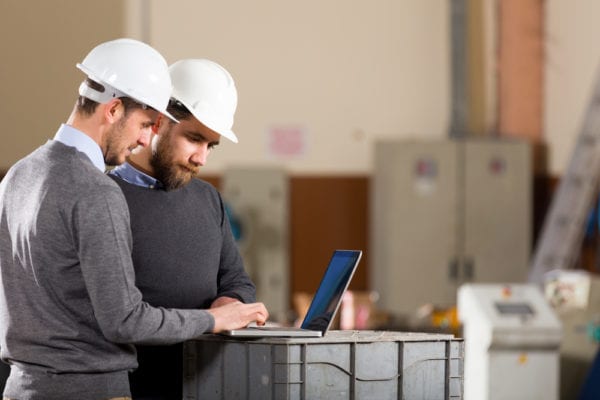 Humans are creatures of habit. That is to say, we are naturally resistant to change, even if we are motivated and there are clear benefits for changing our behavior. For example, can you recall your last New Year's resolution? Did you accomplish your goal or did you eventually give up and revert to how things used to be?
The introduction of computerized maintenance management system (CMMS) software is a big change for those who currently use manual methods for tracking and managing maintenance. In fact, a common reason why CMMS implementations fail is the lack of user adoption. In this article, we'll discuss strategies for increasing CMMS user adoption in order to achieve a successful implementation.
What is User Adoption?
CMMS user adoption is the process of end users starting to use a new software system. Obviously, your implementation will not be successful unless you and your team use the CMMS. In order to transition away from the old system, your team must "adopt" and accept the new system. While that sounds like common sense, gaining buy-in from employees can be easier said than done.
CMMS User Adoption Challenges
A CMMS promises to make life easier for the maintenance team, so it can come as a surprise when the software is met with resistance. Here are some of the most common contributors to poor CMMS user adoption.
Fear of Replacement
Technicians may fear that CMMS software may one day replace them. This stems from the concern that if all of their knowledge, gained over years of experience, is entered into a computerized system, they will no longer be valuable to the organization. Therefore, employees may withhold information from the software or refuse to use it altogether.
Lack of Experience with Technology
Organizations that currently rely on paper-based maintenance management may have employees that are uncomfortable using new technology. After all, making the transition from pen and paper to a fully computerized system is a big leap. Though as a society we are becoming more technologically savvy, there is still a significant part of the population that lacks basic computing skills.
Maintaining the Status Quo
Maintaining the status quo is best explained with the proverb, "If it ain't broke, don't fix it." Staff may be satisfied with the way things are working right now and see no reason for a change. Somewhat connected to this idea is a sense of tradition or that the way things are done now are the way things have always been done. In either case, workers are more prone to wanting to do things the same way as before.
Selecting a User Adoption Strategy
The level of user adoption can depend on how the software is implemented. User adoption strategies can range from an instant switch, to parallel use where the old and new system are used simultaneously for a period of time, to a phased approach where employees begin to use the system little by little over time. Ultimately, the best user adoption strategy will depend on your organization.
Based on his experience providing CMMS consulting and implementation services, Dave Dulak, an FTMaintenance Product Expert at FasTrak SoftWorks, recommends a phased user adoption strategy.
"I've always been a proponent of implementing a system in the simplest form with the easiest processes possible."
He advises that organizations should take "baby steps" when integrating the CMMS into their processes. Once the low-level, simple goals have been achieved, more advanced use can be introduced.
Tips to Increase CMMS User Adoption
Dave also offers the following suggestions for increasing CMMS user adoption.
Communicate the Benefits
Inevitably, employees will have some grievances with the current system. When switching to a new system, your staff will want to know, "What's in it for me?" Maintenance managers should focus on communicating the ways in which the CMMS will address their team's pains, make life easier, or give them something that they didn't have before. Doing so should create some enthusiasm for the new CMMS.
Involve Employees in the Selection Process
As part of the CMMS selection process, the software evaluation team should gather feedback from all stakeholders. The needs of executives will differ from those of maintenance technicians, who are the primary users of the software. If any stakeholder is left out of the process, they are less likely to feel like the CMMS will meet their needs and they will be less willing to embrace the system. Therefore, including maintenance technicians in demos and asking for their opinions on different software will make them feel like their voice was heard and increase adoption of the system.
Read Blog Post: What to Expect from a CMMS Software Demonstration
Amp up Training
CMMS training provides a boost in user adoption. Vendor-led, in-person training provides technicians with valuable face time with a knowledgeable, experienced software trainer. Employees can acclimate themselves with the software and practice using it in a friendly, no-risk environment. Online videos provide on-demand learning opportunities that teach users how to use system features. Live, web-based training allows users to follow along with an instructor from the comfort of their own facility.
Training can come from your internal team as well. Tech savvy employees can serve as an internal support network for others. Power users and system administrators can also make themselves available to answer questions, share tips via email, or hold lunch-and-learn sessions, if appropriate.
Increase User Adoption with FTMaintenance
At FasTrak, we understand that CMMS implementation can be tricky. We spend every day helping clients overcome implementation challenges including user adoption. FTMaintenance is an easy-to-use, easy-to-learn CMMS solution that allows you to be up and running with minimal training. We also provide complimentary implementation services and superior CMMS support to help make your entire implementation a success. Request a demo today.