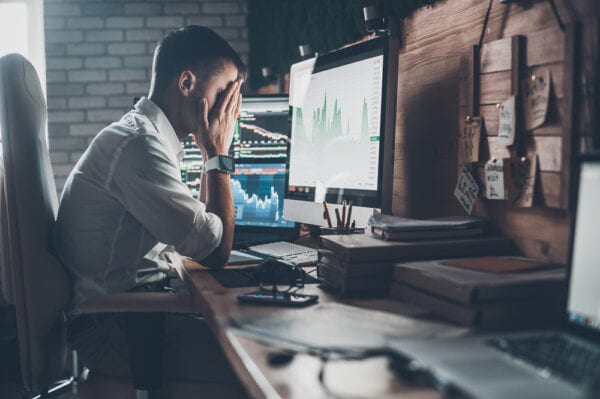 If your maintenance department is using computerized maintenance management system (CMMS) software that you're not happy with, you might need a new CMMS. There are a lot of good software vendors on the market, but not all CMMS systems were created equal—some may not meet your needs or grow with your team. Read on to learn about 7 reasons you may want to switch CMMS vendors.
Why you May Want to Replace your CMMS Software
1. ROI Not Realized
If your CMMS software was installed correctly and your team has been adequately trained  and proficiently using it, but you have not realized a positive Return on Investment (ROI) it's not your fault—it's the software. This is a strong indicator that the system is not meeting the needs of your organization.
2. Difficult to Use
Another common reason you may want to replace your CMMS software is because your current software is too difficult to use. If the interface is "clunky" rather than user-friendly, you and your staff may spend more time than necessary trying to figure out what to do. You should not have to navigate through multiple screens and functions to complete a simple task such as creating a work order. The software should be simple and have an intuitive workflow. If not, there are better options. You shouldn't have to enter a lot of data to create comprehensive records. The software should be able to link relevant information together from various modules.
3. Doesn't Scale Well
With a good CMMS system, you should be able to scale your software up or down easily when you want to accommodate a growing number of users (or remove users), add significantly more data, or expand the use of the software to new locations. If not, your CMMS may be holding the organization back from efficient growth.
Read More: How to Create a Vendor List for CMMS Research
4. It's Too Expensive
While the initial purchase price and implementation fees are unmistakable, the total cost of ownership of CMMS software extends well beyond the set up phase. If you're using a Software as a Service (SaaS) CMMS (which is the case with most modern CMMS systems), you're likely paying a monthly fee. Then there are additional costs for training and any new computers you need. Every vendor has their own pricing system, but if you're being nickel-and-dimed for everything you need, you may be missing out on saving money. Consider replacing your CMMS software with a product from a vendor that offers unlimited service requests, quick-response technical support and comprehensive implementation assistance, as well as user training.
5. Your CMMS is Outdated
One of the most common reasons maintenance teams switch CMMS vendors is because their current system is outdated. The dashboard should be updated regularly to continually provide a visually-engaging view of the maintenance department's data. Your CMMS vendor should remain abreast of current technology, graphic design, and software development best practices. Your current CMMS system may be missing features that other CMMS systems have. At a minimum, your CMMS software should have work order management, asset management, reporting, mobile accessibility, and preventive maintenance scheduling features. You should be able to quickly view work history whenever you need it. Without these features, hidden costs may arise from having inaccurate, incomplete, or missing records.
Another indicator of outdated CMMS software is when updates have failed to happen or stopped at some point. The software should run smoothly on any operating system, computer, or mobile device without crashing and continuous updates are necessary for that to happen.
6. Not Customizable
Your CMMS should fit your workflow and needs—you shouldn't have to adjust your workflow to efficiently use the software. Speaking of workflows, you should be able to add steps such as work order approvals and adjust the work order numbering schemes. You should also be able to create reports and forms for work orders. Customized screen layouts (the ability to adjust what is displayed) are a great customization option to have.
7. Doesn't Integrate Well with Other Software
The last reason that may indicate that you should switch CMMS vendors is that your CMMS system does not integrate well with other software. Maintenance management systems do not operate in a vacuum. You also need to share information to and from other software that helps you carry out all business processes. This software includes requisitioning, purchasing, receiving, location tracking, fleet and equipment maintenance tracking, invoicing, and asset availability. There may be others depending on your organization's industry. Your CMMS system should help all of your organization's processes run more smoothly, not hinder or interrupt them.
Learn Why Customers Switch to FTMaintenance
If after reading about all of the reasons to switch CMMS vendors, you feel like you need new CMMS software, consider FTMaintenance CMMS. FTMaintenance has helped many organizations fill in the gaps they had in their maintenance management programs. See our customer case studies to find out how. To learn more about why you should switch your CMMS software to FTMaintenance, schedule a demo today.