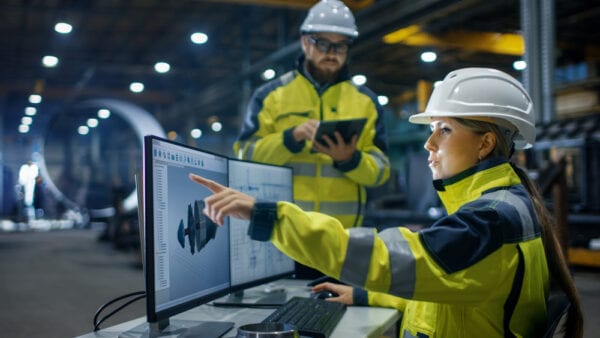 While some maintenance departments rely on a run-to-failure strategy, most want to do more preventive than corrective maintenance. The problem is that many organizations don't have the resources to expand their maintenance plan to include work that extends asset life and minimizes downtime. A computerized maintenance management system (CMMS) can help them do just that—but more about CMMS software later. While it is certainly the job of the maintenance department to take on a break-and-fix role, there should be a balance between this (corrective maintenance) and preventive maintenance work.
Key maintenance management objectives can reduce reliance on corrective maintenance and contribute to a more efficient and effective maintenance program. We alluded to some of these objectives in our blog post, What is Maintenance Management? Here, we will discuss eight maintenance management functions and objectives in more detail.
Objectives of Maintenance Management
1. Control Costs and Budget
The first objective to share with you is cost control and budgeting. The maintenance manager allocates the budget he is given to various areas of the department's resources to ensure everything works effectively. It's important to include funds for both planned and emergency or corrective maintenance in the budget.
The thing to keep in mind when budgeting for maintenance work is that when a major asset breaks down completely, most likely the asset will be replaced no matter the cost. Of course, a decision must be made between repairing the asset, replacing it, or purchasing a different type of machine. Maintenance managers are tasked with staying within the maintenance budget. However, when something like this happens, it justifies a maintenance budget overrun. They must make cost-effective, wise decisions when choosing parts, vendors, and new or replacement machines. They also need to balance the costs and benefits of preventive vs. corrective maintenance.
Labor resources are another area in which costs need to be monitored closely. When the budget allows, maintenance departments might outsource work to save time. In many cases, however, this is not feasible and corners get cut or tasks get delayed.
When there isn't enough time to complete all of the necessary corrective maintenance, there is no realistic way to implement a preventive maintenance program on top of what the team is already doing. For many organizations, they can implement this type of program only when they have the upfront resources and money available to invest in it. However, after they overcome that hurdle, the payback from this investment will come over time.
2. Comply with Regulations
There are different types of regulations to follow, which vary by industry. Organizations in the oil and gas industry must follow FERC and EPA regulations, in addition to OSHA regulations. There are many safety regulations that must be followed by the food and beverage industry, such as those advised by the FDA. Local, state, and federal regulation compliance standards must be considered by the production team at all times.
To maintain adherence to these regulations, it's important to make small plans that lead to accomplishing bigger compliance goals. Examples of these plans include:
 Making sure there are adequate safety guards in place on all machines
 Inspecting assets for damage
 Having a system in place to report damage to assets and parts
3. Plan Maintenance Work
Strategic maintenance management includes scheduling maintenance jobs ahead of time. This is important because it efficiently distributes the appropriate time and labor resources to proactive, preventive maintenance tasks, helping maintenance departments reduce the frequency major asset failures. Maintenance managers must have a clear understanding of the structure of the company in order to schedule work effectively. It will help determine the priority of various jobs.
For example, if a technician is working on installing new shelves in the stockroom and a pipe bursts in a bathroom, that is an emergency in which he may need stop what's doing and help to make that repair, unless another technician is available. There are other scenarios in which the job prioritization is less obvious, but an experienced maintenance manager should help make those calls each day. The truck needs to be in service to make sure deliveries of that product are made on schedule. If just a few tasks are prioritized incorrectly, the schedule can be thrown off for weeks. Maintenance work must be organized in a way that achieves optimal outcomes.
4. Ensure Personnel Safety
Another objective of maintenance management is ensuring the safety of all personnel, inside and outside of the maintenance department. This is done through regular inspections of boilers, compressors, material handling equipment, and other assets that could become dangerous if they malfunction. When maintenance is properly managed, safety increases for everyone in the organization. Many machines can be dangerous when operating normally, but even more so when it malfunctions. Proper training on the function of every asset, critical safety dos and don'ts, and emergency situation protocols are essential.
Facility management-related health and safety guidelines are also important. Just a few examples include:
Sanitation and janitorial services
Pest control
Waste management
Managing HVAC, electrical, and plumbing work
5. Minimize Equipment Failure and Production Downtime
Maintenance teams strive to maximize equipment availability, and they are better able to do so when preventive maintenance jobs are managed well. Maintenance technicians must be able to stay on top of preventive maintenance to keep machines running so that failure and production interruptions are minimized. At the same time, downtime cannot be avoided entirely, so when machines do need repairs, they must be done quickly and efficiently.
Read More About Minimizing Downtime
6. Extend Useful Machine Life
When maintenance tasks are properly delegated, prioritized, and completed quickly, machines last longer. Over time a good maintenance plan improves reliability, availability, and maintainability. This is done through proactive maintenance work, which can include preventive, predictive, and condition-based maintenance. Preventive maintenance includes minor maintenance jobs and inspections to prevent asset breakdowns. Predictive maintenance uses real-time asset data collected though sensors, along with historical performance data and advanced analytics to predict when failure will occur. Condition-based maintenance uses real-time data to identify when an asset's performance or condition reaches an unsatisfactory level.
7. Improve Product Quality
When machines are better maintained, the result is improved product quality and a decrease in the number or products that need to be scrapped or reworked. Improved product quality leads to better reviews of your product and in turn, more satisfied customers and in turn, more sales.
8. Develop Improved Policies, Procedures, and Standards
A final maintenance management objective included in this article is to continually develop and improve upon policies, procedures, and standards that lead to better maintained equipment and cost reduction. In order for this to be successful, there must be a mutual understanding between maintenance and other departments to plan, control, and direct maintenance activities. This includes procedures such as knowing how to report maintenance issues to the maintenance team, what system to use to communicate the production and maintenance schedules, and how others will be notified of asset repair status.
How FTMaintenance Helps You Meet Your Objectives
Cost Tracking
Strategic maintenance management requires smart budgeting. CMMS software enables you to budget for maintenance more accurately. FTMaintenance software can help track maintenance costs by tracking the costs of maintenance work and MRO inventory purchases. The software gives you the ability to drill into all levels of data. This includes specific assets and repair costs associated with them, such as supplies, parts, and labor. These cost factors can be used to make informed budgeting decisions.
With all of this information at your fingertips through maintenance reports and graphs, you can even use this information as a vendor negotiating tool. FTMaintenance reports can be used to view equipment cost history, inventory cost history, work order cost history, and YTD (year to date) and LTD (life to date) equipment cost history. The software also has cost center functionality for more specific cost tracking.
Preventive Maintenance Scheduling
One of the most important features of maintenance management software is preventive maintenance. FTMaintenance allows you to create a preventive maintenance program, scheduling tasks at any time and interval needed. It can be challenging for maintenance teams who have never had a preventive maintenance program in place to fully implement it all at once. With FTMaintenance Select, you can roll out the software at a pace that works best for you, with ongoing support from us along the way.
Safety, Minimizing Downtime, and Improving Maintenance Procedures
FTMaintenance helps you to keep up with safety standards through preventive maintenance scheduling, automatic work order activation, and notifications via email so you can stay on top of inspections. It can also be used to ensure communication of safety protocols on all work orders. FTMaintenance improves documentation of the fact that safety protocols were followed.
By using CMMS software as part of your daily maintenance routine, you will minimize equipment downtime and interruptions in production. Less downtime and smoother production leads to greater production value and better product quality. Finally, the daily use of CMMS software such as FTMaintenance can be incorporated into your maintenance procedures to improve organization of your maintenance process.
Curious to know more? Schedule a demo of FTMaintenance today.