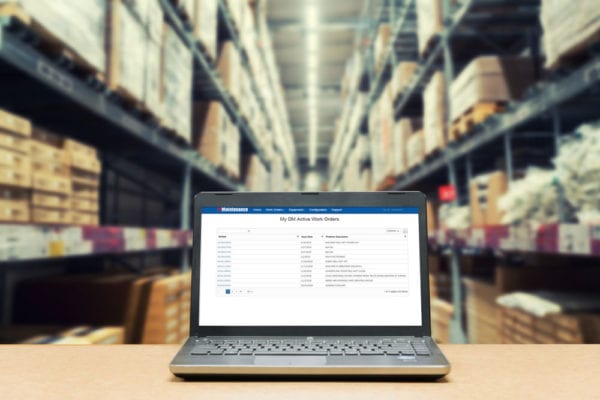 Organizations rely on the maintenance team to keep equipment and facility assets running smoothly, which helps the production workflow remain efficient. A great investment must be made into the maintenance department. Implementing a computerized solution for tracking maintenance is a step towards making maintenance more cost effective. This article goes over computerized maintenance management system (CMMS) software in-depth and answers questions first-time buyers have.
What Does CMMS Stand For?
CMMS is an acronym for computerized maintenance management system or computerized maintenance management software. Though CMMS is used to describe the software category, it also refers to the software itself. To better understand CMMS meaning; let's break down each word in the acronym:
Computerized – Stored on or processed by a computer
Maintenance – Care or upkeep of machinery and property
Management – Organization and coordination of business activities in order to achieve defined goals
System – Features, capabilities, and procedures that work together for a common purpose
Now, let's put it all together. A CMMS is a computerized program designed for maintenance purposes, helping maintenance professionals with the management of their operations, and providing a defined system for documenting maintenance activities, managing the resources needed to complete maintenance jobs, and tracking the performance of the maintenance team.
What is a CMMS used for?
While CMMS software is primarily used for tracking work orders, a CMMS is more than just a work order management system – it can be used to manage:
Assets and equipment
Preventive maintenance schedules
Corrective maintenance activities
Vendors and suppliers
Employees and service providers
Purchasing and receiving
Additionally, CMMS software can also be used to generate maintenance reports, which help you track key performance indicators (KPIs). Mobile maintenance features allow your team to use the system from internet-connected devices.
How Does a CMMS Work?
A CMMS works by serving as a relational database, connecting different types of data together. Users log in with credentials, and administrative settings are used to customize permissions. The user interface allows users to navigate between records, enter and update information, and generate work orders. There are also dashboards for reporting so that users have information available in an easy-to-comprehend format.
Why is CMMS Essential?
CMMS software is essential because it reduces machine downtime, which is every maintenance department's number one goal. Increased asset availability decreases down time. Having access to information about machinery ensures repairs get done quicker and more preventive maintenance is done, resulting in less production downtime. Automating manual tasks opens up more time in the workflow to get things done, and when more maintenance gets done, equipment breaks down less often.
Other things about a CMMS that contribute to less downtime include precise inventory management, ensuring the right parts in the right quantity are available at all times to keep up with preventive maintenance. Reports allow you to see where your team is doing well and in what areas you can improve to make maintenance more efficient. When you are able to significantly reduce downtime, you save money and increase your bottom line.
What are the Main Features of CMMS Software?
While every computerized maintenance management system is different, they all have similar features, including the following basic features.
Work Order Management
The most important function of CMMS software is work order management. Without this feature, it is difficult to gain any benefits from the system. The work order management features of a CMMS allow you to create, assign, update, and close work orders with just a few clicks. Prioritization and scheduling features allow you to communicate what is important and to set deadlines for completion.
Asset Management
The asset management feature in CMMS software helps the maintenance team to quickly identify what equipment, machines, and structural assets they have, know where assets are located and how they related to one another, and automatically track equipment maintenance costs. The system also helps you monitor asset health and performance through maintenance reports. Report examples include Mean Time between Failure and Equipment Cost History Report.
Preventive Maintenance
For most maintenance departments, a major goal is to do more preventive maintenance than corrective maintenance. Using CMMS software makes obtaining this goal easier. Preventive Maintenance (PM) software features allow you to schedule work orders quickly and easily. There are also work order templates available to allow you to define a reoccurring maintenance job once; then automatically generate fully detailed work orders when the work is due.
CMMS software also has a maintenance calendar, which gives you a bird's eye view of past, current, and future maintenance jobs. You can view the entire maintenance schedule at once and make changes to it as needed. Robust scheduling options ensure the balance of work orders will shift to more preventive than corrective maintenance.
MRO Inventory Management
A CMMS allows you to identify inventory by labeling every part with a unique identifier, or part number specific to the software. You can specify details about each part down to the material and diameter. Being able to quickly identify materials you need for a job is crucial for ensuring shorter response times.
CMMS software tracks MRO inventory across multiple locations. You will know which parts are being used in which jobs. The software automatically updates part counts and you'll be able to update part quantities quickly with barcode scanning. You can also track inventory usage and movement in the software.
Maintenance Reports
CMMS software also includes automatic cost tracking and report generation, allowing for better decision-making. Leveraging these features, you can analyze maintenance data, track key performance indicators (KPI), and monitor improvements.
Mobile Maintenance Management
In today's fast-paced production and maintenance environments, the ability to access your CMMS system and update work orders on the go is important. Mobile maintenance management allows you to open the software on any internet-connected mobile device at the work site. Using a streamlined, simplified interface, workers in the field can access essential CMMS functionality. No more spending time at a desktop computer at the end of a shift.
Discover FTMaintenance CMMS Features
Benefits of CMMS
Now that you know what CMMS stands for, let's go over some benefits. Computerized maintenance management system (CMMS) software offers numerous benefits to businesses, especially when it comes to time and cost savings. Below are just some of the benefits a CMMS provides:
Increased asset uptime and reliability
Shift from reactive to proactive maintenance
Standardized maintenance processes
Access to information in real time
Increased employee productivity
Smarter, data-driven decision-making
Improved regulatory compliance standards
Reduced maintenance costs
Automated service requests
Organization of maintenance across multiple locations
Who Uses CMMS?
Anyone in the organization can use CMMS software, but typically access is only given to those in the maintenance department and those that supervise employees in the maintenance department. Maintenance technicians will use CMMS software to complete and update work orders. Maintenance managers will use the software to schedule and assign work orders, upload materials such as user's manuals and warranties, and monitor inventory, placing orders with vendors as needed.
While executives don't usually use CMMS software directly, they use the information that the system provides. Reports about the overall progress of the maintenance department and reports that help determine CMMS ROI inform executives.
IT managers may be an admin in the system and log in occasionally to resolve issues, but they will not use the software on a regular basis. When it comes to using a maintenance request system, anyone in the organization may be given access to this portal to submit requests to the maintenance team.
Difference between CMMS and EAM
You have also heard the acronym EAM in relation to CMMS. While CMMS and EAM software are similar, they do have some differences. CMMS software is designed to track maintenance performance on assets. EAM stands for enterprise asset management, which is larger in scope than maintenance management. While EAM software tracks maintenance, is also used to track other parts of the asset lifecycle, including planning, acquisition, operation, and decommissioning. While CMMS can be used by any size business, EAM software is more comprehensive and sophisticated, and is primarily used by large organizations.
Read more about the differences between CMMS and EAM software in our blog post, CMMS vs. EAM | Difference between CMMS and EAM Software.
What Industries should use a CMMS?
CMMS software can be used for maintenance in virtually any industry. Whether your organization runs a busy production floor filled with expensive equipment, manages buildings and facilities, or operates in the public sector, you can greatly benefit from maintenance management software. There are many industries that use CMMS software to assist them in their maintenance operations.
How is CMMS Software Deployed?
CMMS software is deployed in one of two ways: 1) on-premise or 2) in the cloud. The difference between the two options is where it is installed. On-premise software is installed and run on your organization's server. Cloud-based CMMS is hosted on a vendor's cloud and accessed over the internet. To make the decision between each option easier, we cover both deployment options in our article, On-Premise vs. Cloud-based CMMS: Comparing CMMS Deployment Options.
How Much Does CMMS Cost?
While the obvious cost of CMMS software is the purchase price, there are other costs to consider. This includes implementation, training, computer system updates, data importation, and consulting if needed. Some CMMS vendors charge for technical support; others offer it free of charge. We provide an overview of the costs involved in a CMMS in our blog post CMMS Software Cost: Total Cost of Ownership.
FTMaintenance CMMS
With FTMaintenance computerized maintenance management software, you benefit from a full suite of CMMS features brought together in a low-cost, easy-to-use software package. FTMaintenance has unique benefits for executives, maintenance managers, and technicians. Learn more about our CMMS solutions that will work for you.