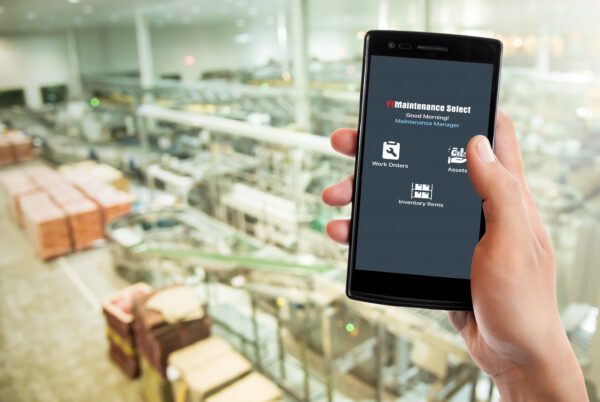 Today's technology-driven industrial environments have pushed organizations to find more efficient ways to manage their maintenance operations. Mobile computerized maintenance management system (CMMS) software has become an essential tool for optimizing maintenance performance and taking maintenance management to new heights.
To gain the most value from a mobile CMMS solution, one must understand and implement best practices. In this article, we explore mobile CMMS best practices and discuss key recommendations to optimize your CMMS experience.
This article is part of a series of articles related to maintenance management best practices. Read our other best practice articles:
Why Go Mobile?
Compared to other business areas, maintenance management has been left behind in terms of technology – that is, until recently. The 21st century has been defined by the ability to quickly access and share information, placing pressure on maintenance teams to abandon outdated maintenance tracking methods in favor of CMMS software.
Mobile CMMS takes maintenance management software beyond anchored computer terminals to the plant floor, providing access anytime, anywhere. This enables maintenance technicians to harness the power of CMMS from mobile devices and unlock new levels of performance and productivity.
Related Reading: How to Choose Mobile Devices for Your Maintenance Team
Mobile CMMS Best Practices
There are several best practices to consider when implementing or using mobile CMMS software. Follow these best practices to maximize the benefits mobile CMMS brings to your organization.
Operating System: iOS vs. Android
The operating system is the software that runs the basic functions of your mobile device, with the two most common being Google's Android OS and Apple's iOS. The operating system matters because it determines what devices will be used to run the mobile CMMS and your organization's IT team needs to support.
Android OS is supported on a wide range of devices, and those devices are usually lower cost. In comparison, iOS is only supported on Apple devices, which are narrower in range and generally higher cost. That said, there are many factors to consider when deciding which is operating system is best for your organization.
Many vendors offer both an Android and an iOS version of their mobile CMMS. Ensure that the CMMS can be installed and run on the devices you intend your technicians to use. Consult with your IT team to determine which platform is easier for them to manage and will be compatible with existing systems.
Devices
Mobile devices come in many shapes and sizes. From pocket-sized smartphones, to full-size tablets, to phablets (a middle ground between smartphones and tablets), there is no shortage of options available.
Gather feedback from your team about which devices they use in their daily lives, the size of those devices, and determine how that experience might translate into the workplace. Technicians who are moving about the facility all day may prefer a device that fits in their pocket. Maintenance managers or other administrative users typically find tablets or laptops to be more convenient.
Device Features and Accessories
Most mobile devices have a standard set of features useful to maintenance teams. To ensure the best mobile CMMS experience, select devices that have the following features:
A high speed cellular data and internet connection
A high-quality camera for taking pictures, videos, and scanning barcodes
Bluetooth support for connecting to hardware such as wireless barcode scanners, condition-monitoring sensors, wireless printers, or wearable devices for sending notifications

Global Positioning System (GPS)

location tracking
Long battery life
Fast device charging
Beyond standard features, ensure that your selected mobile devices can withstand industrial maintenance environments. While durable cases and screen protectors provide some protection, consumer-grade mobile devices are not designed to stand up to extreme temperatures, moisture, dust, and other conditions. When looking for mobile devices, search for rugged devices with an IP rating of at least IP65 or that meet MIL-STD-810 standards.
User-friendly Interface
The user interface – the way the mobile CMMS looks and feels – has a big impact on user adoption. Technicians will be reluctant to try or continue using a CMMS that is too cumbersome to use or difficult to navigate. Therefore, you must choose a CMMS that is intuitive and easy to navigate.
Mobile CMMS apps are designed to provide a simplified experience for everyday users, allowing them to perform essential maintenance management tasks such as updating and completing work orders and viewing asset information.
Depending on the technological skills of your maintenance team, what is considered to be "user friendly" can widely vary from one person to the next. Read our article What Makes CMMS Software Easy to Use to learn how to properly evaluate a mobile CMMS app's user interface.
User Training
Compared to its desktop counterpart, a mobile CMMS provides a scaled down, simplified experience. However, that does not mean that you should forego user training. Take advantage of vendor-provided user training, product documentation, and ongoing support to ensure smooth adoption of the mobile CMMS.
Provide comprehensive training to all users who will be using the mobile CMMS. Ensure they understand the system's features, functions, and how to navigate through it. Regularly update training materials to keep users up to date with any changes or new features.
Offline Capability
Maintenance work often takes technicians to areas where there is poor or no internet connectivity. This creates a challenge in environments where real-time access to maintenance data can save (or cost) the organization thousands of dollars. Select a mobile CMMS that offers offline access to work orders, asset details, and maintenance documentation to ensure that nothing gets in the way of getting work done.
Alerts and Notifications
Mobile devices provide technicians with access to text messages, emails, and other productivity apps. A mobile CMMS can send notifications about new work orders, urgent maintenance needs, and important updates directly to mobile devices. Look for a CMMS that supports multiple notification methods, such as text, email, and push notifications to keep your team informed.
Regular Updates and Maintenance
Vendors are always improving mobile CMMS software to provide more features and functionality. Maintenance teams using outdated versions of the CMMS will not get to enjoy these upgrades or gain any additional benefits of using the system.
It is recommended to keep mobile CMMS up to date by enabling automatic updates in your device's operating system settings. This ensures that your team has access to any new improvements to the software.
Additionally, make sure that mobile devices are kept in good working order and are upgraded as necessary. Faulty hardware, cracked or scratched screens, and other damage can hamper use of the mobile CMMS.
Collect Feedback
User feedback is a valuable source of information to maintenance managers and CMMS vendors. Periodically, check in with your primary mobile CMMS users to collect feedback on their experience. Learn about how they use and view the software, and report any issues or feature suggestions back to the vendor.
Go Mobile with FTMaintenance Select
There are several best practices to consider when implementing a mobile CMMS solution. Following these practices ensures that you choose a solution that meets your maintenance management needs and supports your organization's goals. FTMaintenance Select features a mobile CMMS app that provides maintenance technicians with the essential functionality needed to perform day-to-day maintenance activities. Request a demo of FTMaintenance Select today to learn more.