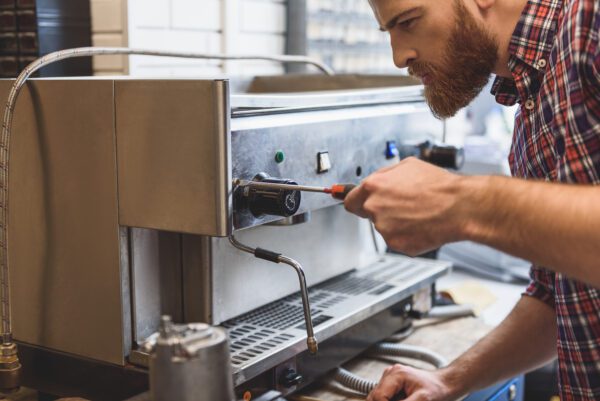 In addition to their standard maintenance work, maintenance teams must also address service requests from other departments, tenants, or customers. Your ability to properly manage service requests impacts your team's efficiency and other's satisfaction with the maintenance team. To improve your level of customer service, consider the following service request management best practices.
This article is part of a series of articles related to maintenance management best practices. Read our other best practice articles:
Why Following Service Request Management Best Practices is Important
It's fairly common for maintenance service requests to be communicated through phone calls, hand written notes, emails, or text messages. This type of service request management is disorganized, inefficient, and makes it easy for requests to be ignored or forgotten.
Comparing your service request management practices against best practices helps you identify shortcomings and areas for improvement. While the best practices listed in this article may not apply to every organization or industry, they are intended to help guide the continuous improvement of your maintenance management process.
Service Request Management Best Practices
Below are multiple ways you can improve your service request management process.
Implement Service Request Management Software
As you may have already experienced, trying to manage service requests without a formal system in place is challenging, if not impossible. Service request management software provides a single system for submitting and managing service requests, benefitting both requesters and administrators alike. Maintenance teams commonly use the service request management features of computerized maintenance management system (CMMS) software to manage requests.
For requesters, a CMMS provides a direct line of communication with the maintenance team. Requesters submit requests using a simple online form accessed from a web browser or mobile app. Some systems allow requesters to log in to check the status of their requests. Automatic notifications can also be configured to communicate a request's status to requesters as it changes.
For the maintenance team, CMMS software creates a single channel for receiving service requests, reducing the amount of phone calls, emails, and other interruptions. The request form can be customized to capture the exact information needed to evaluate and prioritize the requested work, reducing the amount of back and forth between the maintenance team and requesters.
By managing service requests within a CMMS along with other maintenance data, you can make better decisions about fulfilling requests including how the work fits in with the rest of the maintenance schedule and who should perform the work. You can also use asset data to see the last time maintenance was performed on the asset, what was done, and decide whether changes are needed to the asset maintenance strategy.
Make Request Submission Easy
Provide requesters with an easy way to submit service requests to the maintenance team. We've already discussed using a CMMS for this purpose, but other methods may include using a standalone web form, PDF, or even paper form.
No matter the format, requesters should be able to easily complete the form with ease while also providing you with enough information needed to address the request. This can mean reducing the amount of information the requester has to provide. Some organizations only care to capture contact information and a description of the problem, for instance. Service request management software can automate some data entry based on information such as who is logged in and their location.
Automate Service Request Notifications
Communication is not a strength of many maintenance teams, especially when it comes to following up with requesters. People who need maintenance assistance want their request to be acknowledged and to know how close their request is to being completed. CMMS software automatically sends status update notifications to requesters, providing such transparency. Maintaining good communication builds trust between the maintenance department and requesters.
Notifications are useful for the maintenance team as well. Service request notifications can notify administrators when new service requests have been received, reviewed and approved, or rejected. Many systems automatically route the request to the appropriate administrator based on the asset or location identified in the request. Notifications also alert technicians when they are assigned to service requests (or work orders generated from service requests).
Prioritize Service Requests
Responding to service requests in the order in which they are received is not an effective use of maintenance resources. Managing requests on a "first come, first served" basis causes the maintenance team to focus on minor tasks when more urgent needs exist. Instead, prioritize requests based on their severity. Common priority levels include: emergency, high, medium, and low. Your organization should decide the requirements for each level.
Another way to prioritize requests is by the type of requester. Depending on your industry, you may treat requests from tenants, employees, or customers differently. Similarly, the type of asset may determine a request's priority. For example, repairing production equipment takes precedence over an HVAC filter change.
Regularly Review Common Service Requests
Reviewing historical service requests in a CMMS makes it possible to look for patterns in what maintenance issues come up again and again. If the same issues arise multiple times, there is an opportunity to reduce them through increased preventive maintenance (PM). Having service request and preventive maintenance data together in a CMMS makes it easy to adjust the maintenance schedule to your needs.
Track Service Request Management KPIs
Maintenance management reports allow you to track key performance indicators (KPIs) related to your service request management process. Each organization may track different metrics related to their service requests. Examples of common service request KPIs are listed below:
Number of service requests in the backlog (i.e., the number of open requests)
Customer satisfaction rating
Total number of completed service requests
Percentage of service requests completed on time
Stay on Top of Service Requests with FTMaintenance Select
Service requests bring visibility to maintenance needs throughout the organization. Without an effective service request management system, it's easy for requested maintenance work to fall by the wayside. FTMaintenance Select provides a powerful service request management platform for creating, managing, and fulfilling service requests. Schedule a demo to learn more.