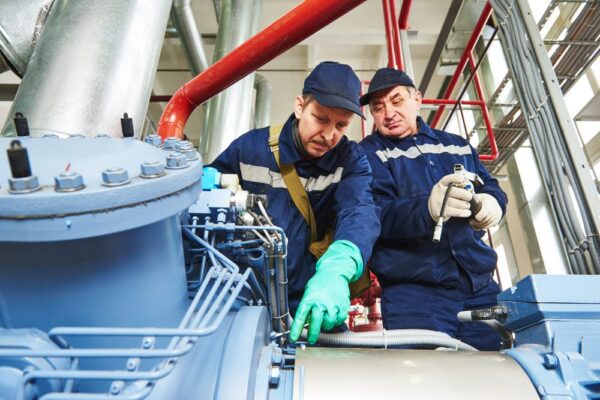 Following a set of best practices helps companies maximize the benefits of computerized maintenance management system (CMMS) software. This includes learning important functions of the software and using them correctly over time, along with adequate collection and analysis of data. All of this will help maintenance teams get the most out of their software and avoid CMMS and maintenance management issues in the long run.
This article is part of a series of articles related to maintenance management best practices. Read our other best practice articles:
CMMS Best Practices for Long-Term Use
Once maintenance teams have learned how to use CMMS software, maintenance managers should adopt a set of best practices for long-term use and instruct technicians on how to follow them.
Meet Organization's Needs First
One of the most important CMMS best practices is to ensure the organization's maintenance management needs are met first before the "wants" are implemented. Most maintenance departments start with using work order management capabilities before they implement other features. User adoption of the work order process, overall productivity, and process efficiency should be the focus of CMMS use in the beginning. Do not initially overburden the maintenance team with requirements the software is supposed to meet.
Instead, focus on getting familiar with the tasks that need to be done frequently in the software. This includes entering all asset information into the system and getting users used to creating, editing, and closing work orders. Once that is achieved, maintenance managers can decide what should be accomplished next with the software.
Build a Plan for Support after Implementation
After CMMS software is implemented, the mindset should not be to "set it and forget it." There should be a plan for any support that may be needed down the road. This includes knowing how to correct any errors made while using the software, as well as how to complete upgrades or updates to the software. Most CMMS software vendors have implementation and support teams available to answer questions and fix any technical problems at any stage of CMMS use. It's the organization's responsibility to stay abreast of the most recent version updates and any newly available features, working with the vendor to get them installed.
Other areas to include in the post-implementation support plan are long term data management, process compliance, and report development. Overall, a best practice of the maintenance team should be to gather feedback from end users on how to improve processes, including what needs to be added or changed.
Follow Up with Power Users
After CMMS software has been implemented, maintenance managers should follow up with power users who have been assigned to champion the software from the time of purchase. Power users should continue to work with hesitant users and new maintenance employees. Power users need to become experts in the CMMS so they can alleviate others' concerns and adequately promote the benefits of using it.
Read More: CMMS Power User Roles and Responsibilities
Set Up a Comprehensive Maintenance Schedule
Scheduling maintenance goes beyond marking the calendar with maintenance tasks to be done at specific dates and times. The reasons for performing specific maintenance work, inventory requirements and planning, and detailed work order instructions also go into maintenance scheduling. Data that has been collected about assets will become useful for maintenance work scheduling. It's important to learn how these areas of information work together for successful maintenance management. It's essential that all data be of high quality since much of the information about work order scheduling relies on data from other areas of the software.
Provide Adequate Training
CMMS best practices include providing adequate training, which extends beyond the initial implementation. Keystroke training to learn specific functions should be combined with overall process training. It's important for users to understand why they need to do specific things in the software according to their roles. Training should be revisited whenever there are new employees on the maintenance team, new features are being added or used, or when there is a pattern of mistakes being made with the software.
Ensure Accurate Data Collection
Another best practice for using CMMS software is ensuring accurate data collection. In order for data to be useful, it needs to be entered correctly. One way to make sure this occurs is to set required fields. It also may be useful to have someone review data entry early on until users feel comfortable with the system.
Once the maintenance team is accustomed to entering sufficient and accurate data, it will become useful for reporting and record keeping. Past asset data can be used to make repair versus replace decisions at the time of an asset break down. Reviewing past maintenance requests, corrective maintenance work orders, preventive maintenance work orders, and inventory parts used on the asset can help maintenance managers determine if it is more cost effective to repair the asset again or replace it.
Recent work order backlog data can be used to make hiring decisions. If important maintenance jobs are past due, being completed at the last minute, or being skipped, it may be because there aren't enough technicians to keep up with the current workflow. Having concrete data available can help justify the need for additional staff to upper management.
Work order history data can be used to back up warranty claims. If there is documented proof that corrective maintenance was required before the warranty period was up, the maintenance team may be able to get replacement parts or a new unit that is covered under warranty. This can be an area of significant cost savings, especially if an asset or asset component is defective.
Become Proficient in Entire CMMS System
Another CMMS best practice is to become proficient in the all areas of the software system. There are four software areas that need to be used correctly and efficiently to get the most benefit out of a CMMS.
The operator interface consists of methods by which the operator of the CMMS receives information from and provides commands to the software or device. With a CMMS, these include screen displays, keyboards, computer mice, barcode scanners, voice input devices, and printers. Of course, it also includes the devices on which the users access the software itself, such as smart phones, tablets, laptops, and desktop computers.
The interface enables activity in multiple areas including creating work orders, documenting asset information, sending notifications to technicians, and checking or updating inventory information. All users (technicians, maintenance managers, and administrators) should understand how the operator interface works together.
Reporting dashboards is another area of many CMMS software systems that will be primarily used by maintenance managers. Many CMMS software programs have customizable reports that can be created to compare various maintenance metrics. These reports can be used to solve problems within the maintenance management workflow, improve inventory management, and demonstrate Return on Investment (ROI) to the organization's upper management. Maintenance managers should know how to create and run a report, as well as what information they want to learn from the reports they choose to run.
The next area of CMMS software that the maintenance managers and IT should be proficient in is administrative settings. This includes things such as permissions for users, search term parameters, templates, and other areas to be accessed only by managers and technical support. Maintenance managers will have the ability to change them at any time and IT should be able to fix technical problems.
The last area of CMMS software to become proficient in is databases. This includes asset, inventory, work order history, maintenance request, and employee databases. All CMMS software users should be able to search for, find, and read information within any of these areas. Knowing how to use this and all other areas of maintenance management software is part of carrying out best practices for using CMMS software.
CMMS Best Practices to Apply in Areas of Maintenance Management
So far, we've looked at best practices for CMMS use that apply to the software in general. Some best practices can be categorized by the type of maintenance management being performed.
Work Order Management
CMMS workflow best practices include some for work order management. Work orders need to be scheduled and prioritized appropriately in a way that fits the requirements of the organization. It's important to ensure all information is complete before submitting a work order into the queue. Before closing a work order, users should document as much information as possible in the CMMS rather than, or in addition, to on paper.
Read More: Work Order Management Best Practices
Asset Management
When it comes to asset management, using CMMS software allows maintenance departments to track assets in real time. It's next to impossible to monitor hundreds of assets and their conditions without the assistance of software. Entering accurate, thorough data into the CMMS about all of an organization's assets will give the maintenance department the information they need to track, monitor, and make decisions about asset preventive maintenance and repairs.
Preventive Maintenance
Best practices for using CMMS software include using the preventive maintenance features correctly. Preventive maintenance work order templates can be used to pair tasks and parts together for multiple jobs at different frequencies. Multi-equipment work orders can be created to avoid entering redundant data. Preventive maintenance checklists can be used to ensure important details are not missed, especially when they apply to more than one task.
The maintenance schedule can be viewed quickly and easily, and preventive maintenance jobs are easy to distinguish from corrective maintenance work that comes up. Preventive Maintenance (PM) work can easily be rescheduled as needed, and the calendar can be shared with other departments. A CMMS can help prioritize preventive maintenance work with minimal interruptions in the production schedule.
Maintenance Request Management
When it comes to maintenance requests, make sure they are submitted formally and correctly. These requests need to be approved before they become work orders. Certain employees should be designated as work order approvers. The maintenance request system in CMMS software is utilized by members of the maintenance department as well as users of the various assets. It provides the organization with a single channel for making maintenance requests and receiving notifications about maintenance task status.
Read More: Maintenance Request Management Best Practices
Achieve Long-Term CMMS Success with FTMaintenance Select
FTMaintenance Select will help you achieve long-term success with your CMMS software. FTMaintenance Select is user-friendly and has all of the maintenance management features you need to improve maintenance processes over time. Schedule a demo today to learn more about how FTMaintenance Select can meet your CMMS needs.