Many maintenance workers are exposed to safety hazards and harsh workplace conditions on a daily basis. Organizations have a responsibility to protect the health and safety of maintenance employees by upholding OSHA standards. This article explains OSHA maintenance regulations and how they impact maintenance operations.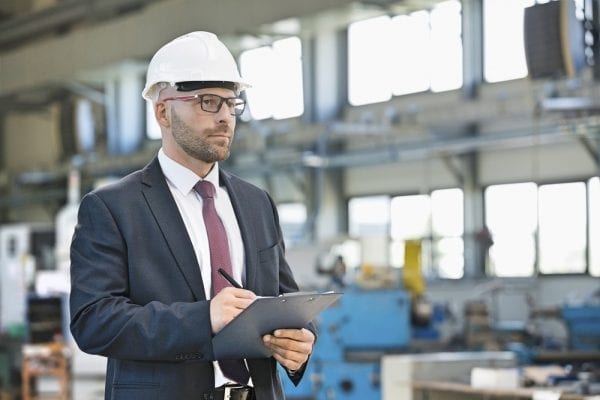 What is OSHA?
OSHA stands for Occupational Health and Safety Administration. This is a government agency created by congress to ensure safe and healthful work conditions for workers by setting and enforcing standards. OSHA also provides training, outreach, and education. They also enforce common sense standards and provide compliance assistance.
The frequency of updates to OSHA standards is not time-based. Rather, changes occur when executive orders are made by the president and subsequent actions are taken by the government. In some cases, standards are influenced through public engagement, as they will often ask the public for feedback on new standards. After consideration, OSHA decides what is feasible and enforceable.
How Does OSHA Impact Maintenance?
Some maintenance workers are exposed to safety hazards on a daily basis. It's important for employers to protect workers by providing information, a safe work environment, and a detailed process for those that are vulnerable to these hazards. Organizations have a responsibility to protect maintenance staff because of the nature of their job. Systems must be implemented and processes put in place, along with additional training that is specific to their department.
While there are many OSHA standards, the OSHA regulation areas that affect maintenance most are chemicals, lockout/tagout, and of 2020, protection against Covid-19. (Other important areas of OSHA standards for maintenance include air quality, noise levels, asbestos, lead, machine guards, and fall protection).
OSHA Chemical Regulations
It's important to choose the safest chemicals possible that get the job done to begin with. But all chemicals can be dangerous. Any chemicals and substances used by maintenance personnel need to be managed. Having the proper Material Safety Data Sheets (MSDS) readily available is an essential OSHA requirement.
These data sheets tell technicians what to do if they spill the chemical, get it on their hands, splash the chemical in their eyes, or accidentally ingest it. While it may be instinctive to wash the area with water (or drink water if ingested), that's not always the right thing to do. Even without any accidents like this with chemicals, there are still proper ways to use and store them that technicians must be aware of.
OSHA Lockout/Tagout Regulations
Aside from proper handling of chemicals, one of the most important OSHA maintenance regulations for teams to follow is the lockout/tagout (LOTO) procedure. OSHA's website defines this as "specific practices and procedures to safeguard employees from the unexpected energizing or start-up of machinery and equipment or release of hazardous energy during service or maintenance."
The lockout/tagout procedure has six steps: preparation, shutdown, isolation, lockout/tagout, stored energy check, and isolation verification. The person in charge of the procedure begins by investigating and understanding what type of energy can come from the machine while it is down. Next, the machine must be powered down.
Then the machine must be isolated from all sources of energy (outlets, power strips, etc). After that, the machine is locked in the safety off position and a tag is placed on the device indicating that it is out of order. Stored energy must be looked for and neutralized if needed. Finally, verification of the previous five steps must be done.
Keep in mind that with all the types of hazardous energy that could be in a machine—chemical, electrical, hydraulic, mechanical, pneumatic, and thermal—it is vital for employee safety to complete LOTO procedures. Failure to do so can result in serious injuries such as burns, amputations, crushed limbs, or electrical shock.
For more information about the lockout/tagout process, read our blog post, What is Lockout/Tagout?
OSHA Covid-19 Guidelines
All employers have an obligation to protect employees from COVID-19 in the workplace. Due to the nature of the work performed, the manufacturing work environment may contribute substantially to workers' potential exposures to COVID-19. OSHA and CDC guidelines must be followed to protect employees of manufacturing companies from the virus that causes COVID-19. Guidelines cover screening and monitoring, physical distancing, face coverings and PPE (personal protective equipment), facility disinfection, and other measures to keep workers safe. OSHA also requires employers to maintain a record of COVID-19 cases that are work-related.
In workplaces with processing and assembly lines, like most manufacturing environments have, where there are unvaccinated or otherwise at-risk workers, it's important to remember that people often have to work closely together. This is especially true in food processing, where many employees working together maximizes productivity. Proper spacing of unvaccinated and at-risk workers is important, or if not possible, using barriers will reduce risk.
For more information regarding the latest OSHA guidelines for COVID-19, visit this page of their website.
The OSHA Inspection Process
The OSHA inspection process is fairly straightforward. First, compliance officers are required to show their credentials to prove they are legitimate. Then they explain why the organization was chosen for inspection. The officer will go over the process, which includes walking around and visually looking at machines, speaking one on one with an employee who can represent the organization in the process, and interviewing other employees.
After compliance officers inspect the workplace for hazards and talk to the employer about their findings, the inspection ends in one of two ways. If no violations are found, the inspection is now complete. If they do find a hazard or violation, a citation or fine may be issued. Citations provide methods that can be used to fix any problems by a stated deadline. Fines are high and range in the tens of thousands to hundreds of thousands of dollars depending on the severity of the violation.
Read More: Why You Shouldn't Fear Maintenance Audits
Common OSHA Violations
While the total number of OSHA standards is large, there are some that are more relevant to maintenance. There are several ways you could inadvertently violate OSHA regulations, but listed below are some of the most common violations:
Fall protection
Lockout/tagout
Chemical safety
Ladder safety
Machine guarding
Personal protective equipment and lifesaving gear
Respiratory protection
Powered industrial truck safety
How Maintenance Contributes to OSHA Compliance
When maintenance managers define clear and specific health and safety policies, it helps to avoid any OSHA violations. Maintenance teams contribute to OSHA compliance by establishing work practices and policies early that ensure management and employee understanding. Maintenance teams create a safer work environment by keeping the facility, equipment, and personal protective equipment in good condition. Prominently displaying official OSHA requirements, citations, and injury or illness data is important. Most maintenance teams have a plan in place to prepare for emergencies.
OSHA standards are more readily kept when safety and health training is provided, identifying responsibilities of management and employees. Promoting accountability and compliance with education programs is also valuable.  Extra preventive maintenance work orders must be in place for checking fire alarms, smoke detectors, and CO2 detectors.
Finally, one of the easiest, but often overlooked ways to create a safe work environment and meet OSHA regulations is to take the time to carry out the proper procedures. When employees are rushed and want to save time, it can be faster to just use a chemical without reading the data sheet or reach into the machine and remove the obstruction without properly disabling it. These actions can result in serious injuries. Ensure all employees follow safety precautions every time—saving a few minutes but getting injured in the process is never worth the risk.
CMMS Software and Adhering to OSHA Standards
Using computerized maintenance management system (CMMS) software makes it significantly easier to adhere to the OSHA standards that apply to your industry. CMMS software can help you avoid paying steep fines by giving you the tools you need to implement a safety program. It can also help to schedule safety-related tasks such as making sure emergency-related assets such as fire alarm and extinguishers are working properly. (The safety team might use the CMMS to schedule emergency drills and practice evacuations).
CMMS software also helps to store lockout/tagout instructions through the attachment feature. In addition, the software allows you to keep track of compliance to the lockout/tagout procedure. This is done by making the process front and center in work order forms. Anyone can look back in work order history and see when and if the lockout/tagout procedure was followed. This is critically important for following OSHA requirements and proving safety compliance during an audit.
A CMMS can also be used to prepare for audits. There are health and safety features related to OSHA regulations, including inputting health and safety records for each employee along with safety training and skills, and attaching safety procedures.
Other things that can be done in CMMS software include associating standard operating procedures (SOPs) with work orders, assets, or tasks. Assets can be flagged according to safety priority codes. Finally, CMMS reports can be generated to prove OSHA compliance. CMMS software records, tracks, and manages key information.
Prepare for your Next OSHA Inspection with FTMaintenance
FTMaintenance will help you prepare for your next OSHA inspection. Request a demo of FTMaintenance now to learn more.