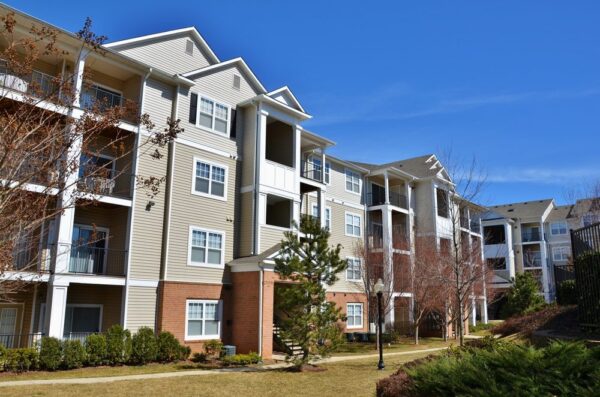 If you've ever lived in an apartment, worked in landscaping, or invested in real estate, you have experienced at least some aspects of property management. Though there are many components to property management, many of them rely on effective maintenance in some way. Read on to learn the importance of property maintenance management and how computerized maintenance management system (CMMS) software makes property maintenance easier.
What is Property Maintenance Management?
Property management is the operation, control, maintenance, and oversight of real estate and physical property, including commercial buildings, residential complexes, and land.
Property maintenance management is defined as any preventive or reactive maintenance action (service, inspection, repair, etc.) taken to keep a property fully functional and in optimal condition. It includes monitoring, caring for, and taking accountability for the upkeep of the interior and exterior elements of the building and the land it sits on. In most cases, property management teams are hired by landlords as a third party to maintain the properties for them.
Property Management and Maintenance
Property managers protect the landlord's investment, playing an active role in caring for the property while the landlord remains more passive. Their responsibilities include:
Knowing property management laws
Screening incoming tenants
Continually seeking new tenants and processing applications to keep units occupied
Collecting rent
Staying informed about up-to-date building codes
Aside from these duties, one of the most important responsibilities of property managers is of course, property maintenance. They have a team of technicians and contractors to carry out work under their direction. Property management and maintenance go hand in hand.
Preventive Property Maintenance
Property maintenance technicians carry out regularly scheduled preventive maintenance. This includes work on the exterior and interior of the property to prevent breakdowns or problems with the land or structures from occurring.
After each tenant moves out and before the new tenant moves in, the property maintenance team does general cleaning and disinfecting of the units before showings and move-ins. They also rekey the locks and touch up cosmetic details such as paint and trim.
There are several preventive maintenance tasks that need to be done outdoors on the property. Maintaining grounds appearance and tending to landscaping elements is part of regular property maintenance management. This includes mowing the lawn, trimming trees and shrubs, and tending to gardens. Property management repairs and maintenance also include swimming pool and hot tub cleaning, if applicable. Garbage and recycling removal, drain and gutter cleaning in common areas, and sidewalk power washing, are often on property maintenance technicians' lists of tasks.
Finally, preventive property maintenance includes interior and exterior safety inspections or testing for things like fire alarms and extinguishers, updating or changing signs, and checking carbon monoxide detectors.
Corrective Property Maintenance
Regularly scheduled maintenance also includes planned corrective maintenance that isn't an emergency. Like with preventive maintenance, the following examples are not all inclusive.
Carpeting, flooring, and door repairs are common corrective maintenance tasks in rental units. Appliances must be in good working order and safe to use, so regular repairs and replacements are necessary. Plumbing and electrical repairs can be corrective or emergency tasks depending on their severity. Drywall replacement is another common repair property maintenance technicians need to make.
When it comes to the exterior of the property, seasonal snow and leaf removal as well as grass cutting is usually done by property management. As needed, property maintenance technicians may do parking lot cleaning, storm cleanup, and graffiti removal. They also repair windows, sidewalks, and roofs.
Maintenance Requests and Emergency Maintenance
In addition to regular, scheduled maintenance, property managers must also handle maintenance requests from tenants. A work request system allows tenants to submit requests for repairs or service directly to the maintenance team. Tenants will receive status updates about their requests until the work is completed. Tenants submit requests for non-emergency maintenance work. However, they usually call property management for emergency repairs that can't wait, such as a gas leak, burst pipe, or rodent removal.
In both non-emergency and urgent, emergency repair scenarios, it is essential that property management responds promptly and appropriately. For large properties it can be challenging to prioritize emergency repairs if a lot of them are needed at once. However, most property managers and technicians are knowledgeable and work to get their tenants back to living comfortably again as soon as possible.
Benefits of Property Maintenance Management
Having a third party perform regular maintenance on properties has many benefits for both the property manager and the tenants, including:
Reduced emergency repair costs
Savings on multiple contractor fees and cost of unscheduled repairs'
Increased property value
Extended working life of structural assets and appliances
More control over assets
Avoidance of floods, fires, and safety issues that could cause tenant injuries or severe property damage
Managing Properties with CMMS Software
In property maintenance management, computerized maintenance management software (CMMS) makes it easier to balance preventive, corrective, and emergency maintenance work. While there is other software property managers need as well, CMMS serves as a valuable addition for the maintenance aspect of managing properties that will integrate with other programs.
Maintenance Service Requests System
A good CMMS system provides tenants access to an online system where they can submit their maintenance requests to the maintenance team directly. Depending on the software product, the request system may be part of the CMMS software itself, or it could be a separate portal.
Asset Tracking & Management
Asset tracking is a feature of CMMS software that is especially beneficial for property maintenance management. It allows maintenance departments or 3rd party maintenance managers to track work orders for buildings, equipment, fixtures, and furniture, as well as store information about the age, type, and number of assets.  Aside from tracking assets, asset management capabilities include interactive checklists that can be stored in the software, guaranteeing inspection requirements are met.
Tool Management
Tool management is another CMMS software feature that property managers use frequently. It's important to keep track of where tools are located, how many of each there are, and when rental fees are due or contracts require renewal.
Vendor Management
Vendor management is also a key feature of CMMS software for property managers. It helps them find contractors who can assist with difficult maintenance jobs as needed. Records of local vendors can be maintained so that complex activities can be completed in a prompt manner.
Storage of Technician Credentials
Licenses, certifications, and qualifications can also be stored as part of vendor management to ensure the appropriate technicians are given the jobs they have ample experience doing. These can be easily scanned or uploaded into the software and updated at any time as employees gain new certifications or new employees are hired.
Reporting
Property managers use reporting capabilities in CMMS software to create reports that reflect groups of properties by type or location, and the maintenance data regarding them. There are many different reports that can be used to make well informed maintenance decisions.
Mobile Accessibility
Mobile accessibility is especially valuable in the property management industry. Being able to log into and use CMMS software directly from any Internet-connected mobile device is essential for productivity. Property management companies also integrate their CMMS system with GPS or GIS technology to get their team to the right locations at the right time. Property managers will also have visibility at-a-glance of where their technicians are assigned to be so that they know who is available to respond to urgent calls.
Make Property Maintenance Management Easier with FTMaintenance
FTMaintenance is CMMS software that offers all of the features discussed here and more. Property management companies use our CMMS software to manage their properties in an organized, comprehensive way. Our staff can assist you with data importation for all of your properties and vendors. We also offer implementation assistance. To learn more about how FTMaintenance is a valuable solution for managing maintenance of your commercial or residential properties, request a demo or contact us.