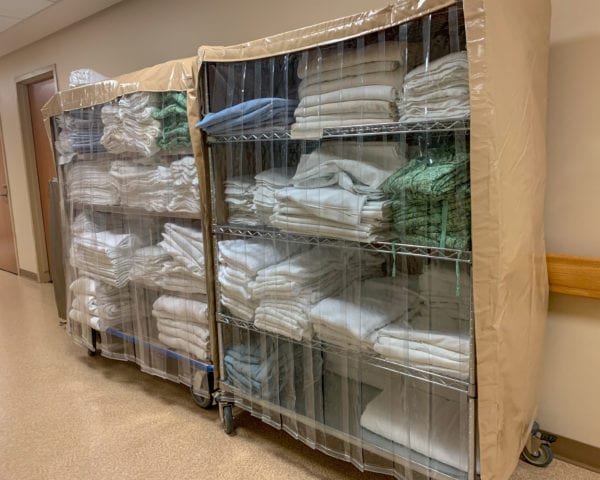 Companies Producing Medical Supplies
When supplies need to be made quickly during a shortage, activities that normally take months must be completed in weeks or even days. The only way to do this is to sacrifice efficiency for effectiveness, meaning companies need to step back and evaluate each step of their process, from reviewing existing solutions to defining requirements, designing product and supply chains, developing the product, and figuring out how to ramp up production before proceeding.
Many companies in the beauty industry have stepped up and decided to focus their production on medical supplies. LVMH and L'Oreal have switched from making perfume and hair products to producing hand sanitizer. Estee Lauder is making less perfume to accommodate production of hand sanitizer as well. Garnier is also producing other sanitation products for food distribution companies.
In the food and beverage industry, Bacardi is redistributing some raw alcohol materials from their normal spirits production to aid in making hand sanitizer. They have partnered with Olein Refinery to provide the raw materials needed for Olein Refinery to produce over 1.7 million units of sanitizer in their facility. Half a million units will be donated to communities in Puerto Rico.
Olein began this shift in production on March 17th and will continue it as long as there is a need. It will not disrupt the production of Bacardi's rum products. The rum manufacturer is used to stepping up in times of crisis—they have donated money during Hurricane Maria and Irma, and have donated to disaster relief organizations around the world as well.
Jose Class, VP of Supply Chain and Manufacturing, said in a press release,
"In the 158 years of Bacardi, we've endured our share of challenging times and have learned that resilience, optimism and community are what will help us come out stronger."
Jose Gonzalez, President of Olein Refinery also discussed his thoughts in the same press release: "We are extremely grateful to Bacardi for adjusting its production to provide us with raw material so that we may ramp up production of the disinfectants we need to help keep the people of Puerto Rico safe."
Companies Producing Medical Devices
In general, there are few things to keep in mind when organizations shift their production to creating medical products, including lifesaving devices. Repurposing manufacturing lines to produce medical devices takes time and is a complex process. Meeting new production standards and receiving regulatory approval are challenges faced by these companies. Without this, organizations could face lawsuits when the pandemic is over. Despite these challenges, organizations have not hesitated to move forward.
The automotive industry has some of the best machinery and raw materials to be able to manufacture ventilators and many automotive brands have done just that since the COVID-19 crisis began. Ford and GM have been producing ventilators and ensuring they are shipped to hospitals quickly and affordably.
Though Nike is not an automotive company, they are also making ventilators, in this case, with air purifiers in them.
Another company that has switched their production to ventilators is the popular vacuum brand Dyson. CEO James Dyson designed a ventilator in 10 days and is now working towards the goal of producing 15,000 of them. They will be distributed in the UK first, and more will possibly be distributed to other countries as they are able to produce them.
James Dyson told CNN Business, "The new device can be produced quickly, efficiently, and at volume." It has been "designed to address the specific needs of coronavirus patients." They started production in mid-March and the ventilators went on the market in early April.
James also said in the CNN article, "The core challenge was how to design and deliver a new, sophisticated medical product in volume and in an extremely short space of time." So while they are in a time crunch and also need to make sure the product meets safety requirements, the company is working hard to get as many units out as quickly as possible.
Companies Producing Personal Protective Equipment
Assistance during this crisis is coming from organizations in all industries. Baur, a hockey equipment manufacturer, switched from creating hockey masks to making medical shields. When hockey games came to a halt, Baur faced the possibility of closing. To save their business and help out the community, they came up with a prototype for the medical shield within two weeks. Starting in early April, they were able to make 2,000 shields a day, then 3,000, and have perfected the process enough to make up to 4,000 shields per day as of now.
Mary-Kay Messier, VP of Global Marketing, told Associated Press, "There's a real shortage, a dire shortage of medical devices and gear that's needed to keep people on the front lines safe. We all want to figure out how we can make a difference." Though it was challenging to put aside their need to compete with other similar manufacturers, they did so to come together and offer an example for other organizations to follow, putting helping medical professionals before their typical marketing efforts.
Carhartt is making gowns and masks. On their website the company states their reasoning and passion behind this shift in production to help everyone they can in this crisis. "Our factories in Kentucky and Tennessee have successfully completed the first of 50,000 gowns! These gowns will be delivered to all of those who continue to fight on the frontline. We are so honored to help and will continue to do everything we can to contribute. This kind of fight is in our heritage, having produced for the frontline during two World Wars." It did not take long to adjust their production process since they had the materials already—they just needed to be sown in a new way.
The challenge for Carhartt was to bring in enough employees from their closed retail stores to both give them a job during this time and produce enough PPE while maintaining safe social distancing. They overcame this challenge by creating a rotating weekly schedule and modifying production line components to keep workers six feet apart. After a few weeks of adjusting starting on April 6th, they perfected the process by April 20th and will continue to produce PPE as long as the need exists.
American Apparel, Zara, Prada, and Eddie Bauer are all making masks to protect medical professionals and the public. Zara is also making medical gowns for professionals and patients, while Prada is producing medical overalls in addition to masks. Gap, Inc. and Brooks Brothers are making gowns, masks, and scrubs. Under Armour is busy making masks as well as fanny packs filled with hygiene and other care package supplies for doctors and nurses. Vera Bradley is making masks and scrubs while KEEN is making shoes for medical professionals.
Not only is Ralph Lauren making isolation gowns, they have also donated a total of $10 million to people affected by the pandemic. Nike is also making masks. My Pillow is making masks along with mattress manufacturer Eclipse International. Protolabs, Inc. of Minnesota, 3M and Apple are also producing masks. Johnson & Johnson is busy making goggles. General Motors of Shanghai has been making masks from material previously used in car interiors since the pandemic started.
Doing our Part
As a provider of industrial software to essential businesses, FasTrak SoftWorks is here to support manufacturers as they face the challenges of shifted production.