Today's maintenance teams are comprised of workers representing multiple generations who must work together to accomplish daily tasks and company goals. Each generation faces different challenges when adapting to new technology, such as a computerized maintenance management system (CMMS), and will influence the software implementation process. This article discusses how you can gain buy-in for a CMMS by addressing the expectations, communication styles, and perspectives of each age group.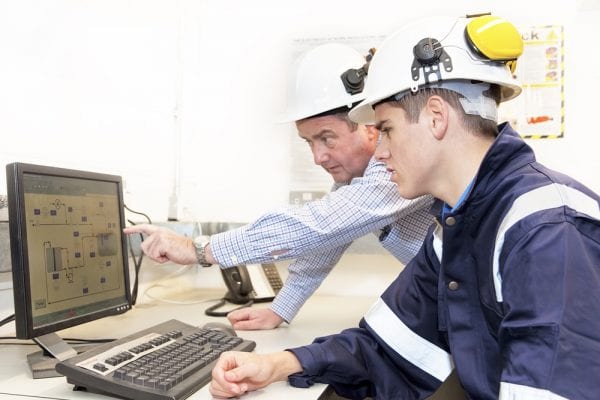 The Four Generations in the Workforce
The four generations that make up the vast majority of today's workforce are baby boomers, Gen X, millennials, and Gen Z. While individuals vary within each generational group, in general these generations can be described as follows.
Baby Boomers
Baby boomers were born between 1946 and 1964.They grew up just after World War II ended and experienced the Vietnam War. The youngest of this generation will reach age 65 by 2029.The population spike that occurred as they reached adulthood resulted in overcrowded schools and steep job competition. Therefore, they learned to be competitive and resourceful to get where they needed to be. Baby Boomers have a strong work ethic. They are independent and self-assured, competitive, goal-centric, resourceful, mentally focused, team oriented, and disciplined.
Baby boomers are more likely to hold on to the traditional way of doing things and maintain the status quo. They did not grow up with technology, so they may be hesitant to use it. They may struggle to keep up with more tech-savvy counterparts. Baby boomers are good communicators. They watch the news on T.V. to be informed and talk to friends and family over the phone. They are conversant with using the internet, own cell phones and desktop computers. Some use tablets, but not as many as other generations. They aren't into using social media because they believe in face-to-face relationships.
Gen X
Gen X, the generation born between 1965 and 1980, saw the start of both parents having to work outside the home and the deterioration of the nuclear family, which is why they are nicknamed the "latchkey generation". They saw the end of the Cold War and the rise of computers. Gen X is hardworking and manages their money well. They like to work independently, but hold meetings in person to discuss projects and ideas.
This generation is also self-sufficient and resourceful, as well as individualistic. They are used to caring for themselves since before reaching adulthood. They value freedom and responsibility to overcome challenges on their own. Gen X communicates through email and phone. They surf the web to compare prices when shopping and more of them use social media than baby boomers.
Millennials
Millennials were born between 1981 and 1996.This generation went through 9/11, the rise of social media, and the Great Recession in 2008 just as they were entering the workforce. They are financially challenged by student debt and take longer to afford large purchases such as homes. Millennials thrive on collaboration and job flexibility.
They are the digital pioneers, since they were the first generation to transition from life without the internet to using the internet daily. They seek skill-structured training programs and positive feedback as they desire leadership roles and career progression. They care about performance quality and value work output over the number of hours worked.
Millennials use text and social media to communicate. They are more likely to use a laptop, tablet, or smart phone than a desktop.
Gen Z
Gen Z, born between 1997 and 2012,make up 24% of the workforce in 2021.They saw their parents struggle a bit financially amidst America's participation in conflicts in the world virtually their entire life. They are digital natives since they always had social media and the internet. Therefore, they learn and experience the world best through technology. Gen Z greatly values job security. They like to promote diversity and equality in the workplace. They enjoy working independently.
Gen Z uses smart phones and watches, and handheld devices. They communicate through text and use voice command apps. They use social media to communicate often.
What Each Generation Looks for in CMMS Software
There are many aspects of computerized maintenance management system (CMMS ) software that contribute to its usefulness. Each of these is more or less important to workers in different generations.
Baby Boomers: Ease of Use
Baby boomers look for ease of use in CMMS software. Their mindset is, if the power goes out, the CMMS cannot be used, but a pen and paper or phone can. Using a CMMS gives them something new to learn that is intuitive and user-friendly. Many baby boomers are highly skilled, specialized maintenance technicians. They can be counted on to show less experienced technicians the ropes of a specific machine or asset.
They are interested in knowing that using CMMS software makes managing a team easier. It will also speed up administrative tasks so the team can have more wrench time. Baby boomers will also appreciate that a CMMS gives them one place to store all documentation. When combined, these benefits will save the baby boomer time.
Gen X: Recognition and Accountability
Gen X likes that using a CMMS establishes accountability. When maintenance work, asset information, things that went wrong, inventory used, and more are recorded in a CMMS, it ensures that no one can play the blame game. Less human error and low risk of losing documentation saves them time. Communication can be streamlined since there are less emails and phone calls back and forth about jobs. This allows Gen X employees to work more independently and get more accomplished during each shift.
Millennials: Ability to Work Independently
Millennials need to feel like their employer is up to date on technology, and CMMS software can reassure them. Since this generation recognizes that the technology is needed, it's not hard to get them on board with implementation. A CMMS system drives maintenance efficiency. Work orders can be completed on the job site rather than having to go back to a desktop computer to enter data. A CMMS for millennials makes it easier for them to communicate.
Another thing that appeals to millennials is the reporting and data analysis features because it gives them data they can use to make decisions. A CMMS makes them feel like they are contributing to common goals as a member of the team.
Gen Z: Latest Technology
It is important to Gen Z to keep up with technology, even more so than millennials. They want to contribute to process improvement whenever possible. They want the ability to enter data in the software from anywhere such as their home, jobsite, or en route.
Gen Z needs to know that CMMS software is contributing to the success of their organization. They want to know that they have a personal stake in the success of the company. It is easy for Gen Z to learn how to use a CMMS since they grew up with digital technology. They like how a CMMS allows them to quickly and easily send digital communications regarding their work.
Training Each Generation on CMMS Software
With a CMMS in place and employee buy in, your staff will need training. There are various ways to effectively train employees in each age group.
Baby Boomers
Everyone, including baby boomers, will need training on CMMS software. It may require more patience and time to train them because they aren't as adept with technology. Hard copy manuals and in-classroom learning may work best for this group; however, it's important for them to know how to learn online as well. It's also important to remember that baby boomers thrive in a team environment. Once they understand how to use the software, if they are paired with a millennial that they can mentor, they will feel empowered.
Gen X
Gen X is trained best on CMMS software when they have a lot of activities to complete. They want to be able to report back often. Giving them short tasks to complete and have someone check their work will help them learn. It's also important to relate all training, including CMMS software training, to how it will help accomplish the company's mission. Allow Gen X to provide feedback on the software itself, the training process, and other processes the organization follows.
Millennials
If possible, e-learning is the best method to train millennials on CMMS software. Make any training flexible and on-demand and allow them to choose their own path to completing training when it is feasible to do so with regular, detailed feedback. Information should be presented in small amounts frequently. Provide continuous learning opportunities and use video whenever you are able.
Gen Z
Gen Z is used to learning new technology all of the time, so they catch on quickly. Gen Z and maintenance management software pair up easily. They learn by doing, and enjoy a social environment for learning, meaning they like to work with a group, or at least be seated near others during individual online training. Video is highly effective for training Gen Z, and if they can do training on their mobile device, that is ideal. They may be able to help train others in the software since they can easily pick up on new technology and show others how to use it.
The ability to effectively train different generation on CMMS software is one way you can "sell" them on the importance of its use. When users of the system can understand how it works, they can learn why it is important and how it can be used to improve maintenance. The maintenance team works together to achieve common goals, and being proficient in a CMMS system is one of those goals. In any case, you are promoting maintenance management software to the next generation of CMMS users.
Your Multi-Generational Team Will Buy Into FTMaintenance CMMS
FTMaintenance is a CMMS platform designed to meet the diverse needs of today's multi-generational maintenance workforce. The intuitive interface empowers your team to easily perform and document maintenance activities with minimal training. For organizations that require more in-depth instruction, FasTrak offers onsite and virtual CMMS training options. To learn more, request a demo with our team today.