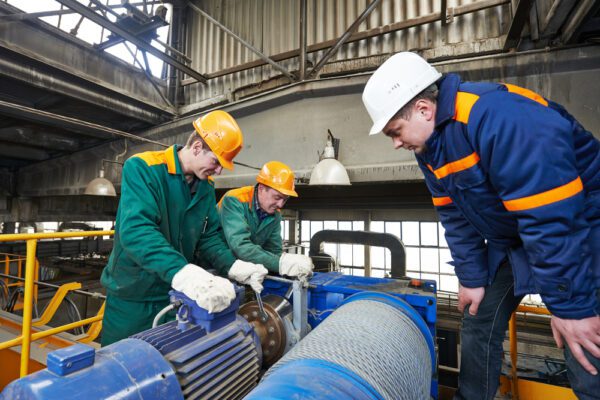 Maintenance teams are made up of multiple roles that contribute to high-quality asset maintenance. Frontline maintenance technicians are perhaps the most important of these roles, as they execute the maintenance work that ensures optimal uptime and reliability. Because of their importance to the organization, it is important that the maintenance team consists of highly skilled, experienced maintenance technicians. This article helps you identify what makes a good maintenance technician.
Maintenance Technician Responsibilities
Maintenance technicians have numerous responsibilities related to installing, troubleshooting, repairing, and maintaining production and facility assets. These responsibilities vary from one organization to the next. Typically, a maintenance technician's duties and responsibilities include the following:
Assisting in the installation of new equipment
Responding to maintenance requests submitted by other departments, tenants, or facilities
Responding to alerts and breakdown events
Carrying out corrective maintenance (CM)
Repairing or replacing broken parts and components
Performing routine preventive maintenance (PM) work, including inspections, cleaning, lubrication, and testing
Performing basic diagnostic tests to detect problems
Investigating the root causes of equipment failure
Disassembling and reassembling equipment
Testing equipment and systems to determine whether repairs are successful
Reading technical manuals and maintenance documentation
Documenting maintenance work
Updating computerized maintenance management system (CMMS) software
In larger organizations, the maintenance technician role is more specialized to a specific craft, area, or set of assets. For example, technicians may possess skills related to machining, plumbing, or HVAC. In smaller organizations, the maintenance technician role is more generalized. Technicians are expected to know a little bit about multiple types of systems, tools, devices, and maintenance processes.
Maintenance Technician Skills
Good maintenance technicians possess a range of hard and soft skills that make them successful.
Technical Knowledge
Perhaps the most important skill maintenance technicians can have is technical knowledge.
Good maintenance technicians have knowledge of hydraulic, pneumatic, mechanical, and electrical systems. An awareness of custodial, janitorial, and sanitation service is useful as well. Such knowledge allows technicians to develop a deep understanding of the assets they maintain and more easily tell when something is "off".
Good maintenance technicians should also have basic knowledge of the hand tools, power tools, and other devices used to complete maintenance work.
Physical Ability
Maintenance work is physically demanding. Technicians must go wherever maintenance work is needed, whether on rooftops or in tiny spaces, or in extremely hot or cold conditions. Going to and from assets, technicians often lift or drag equipment, repeatedly climb up and down stairs or ladders, work in awkward positions, and carry heavy objects.
In addition to strength and endurance, good maintenance technicians also have finesse. They must be good with their hands, handle tools in a skillful way, and manipulate tools and instruments with precision.
Problem Solving
A maintenance technician's job requires him to resolve complex problems, work with a sense of urgency, and consider many different variables. Good maintenance technicians are natural problem solvers and take a systematic approach to troubleshooting failures. Below is an example troubleshooting process one might follow:
Collect information based on direct observation, information reported by requesters, or documentation stored in a CMMS.
Consider the evidence and determine the most likely causes of failure first.
Implement a solution.
Test the solution. If the issue is not resolved, continue collecting data and repeat.
Verify that no new problems have been introduced as a result of the repair.
In emergency situations, technicians may need to install a short-term, stopgap solution.
Attention to Detail
Attention to detail goes hand in hand with other skills, such as technical knowledge and problem solving. Any maintenance professional knows that overlooking small issues leads to bigger problems down the road.  Detailed-oriented maintenance technicians can quickly spot abnormal conditions and performance.
Paying attention to minute details also comes in to play when dealing with safety and compliance issues. For example, overlooking a step in lockout/tagout procedures, hazard communication protocols, or asset reassembly can have life-threatening consequences. Good maintenance technicians ensure their work is compliant with OSHA maintenance standards and any other regulatory requirements.
Communication Skills
Verbal communication skills are necessary to help understand maintenance issues that are reported by phone or in person. To fully grasp the issue at hand, good maintenance technicians must ask the right questions in a way that both parties can understand. They may even provide the requester with clear instructions for resolving the issue. At times, maintenance technicians may also provide verbal status updates to requesters. It is important that requesters know what is going on.
Maintenance technicians rely on an assortment of maintenance documentation to inform repairs. To ensure efficient and high-quality results, technicians must be able to accurately read and comprehend user manuals, owner's guides, schematics, and other maintenance documentation. Good maintenance technicians also create detailed, accurate maintenance records and update existing documentation when necessary.
Basic Computer Skills
In today's world, it is essential that maintenance technicians have some degree of computer aptitude. Basic computer skills are required for day-to-day productivity, such as checking email and navigating supplier websites. Good maintenance technicians also need to be proficient in using the organization's CMMS, whether it's accessed from a desktop computer, tablet computer, or smartphone.
The Evolution of Maintenance Technician Qualifications
Like many roles, the expectations placed on maintenance technicians have evolved over time. Being a good maintenance technician today requires a wider range of skills than ever before.
For example, expectations of basic computing skills have increased with the prevalence of mobile devices in our daily lives. Whereas in years past technicians were tethered to a permanent workstation, mobile CMMS allows work orders and other maintenance documentation to be accessed within apps or via web browsers.
The digitization of assets has also changed the maintenance industry. Machines have become "smarter" and are able to self-report errors and malfunctions. Troubleshooting is commonly based on integrated computers that display fault codes.
To keep pace with changing maintenance demands, organizations place increased educational expectations on prospective candidates. Today, employers prefer that maintenance technicians have a Bachelor's degree in a valid technical field or an Associate degree with two years of experience. They tend to favor technicians with an advanced diploma, specialized on-site training, extensive work experience, or multiple certifications.
Empower Your Maintenance Technicians with FTMaintenance Select
FTMaintenance Select is a powerful CMMS platform that empowers good maintenance technicians to perform their best. It provides an easy-to-use system for documenting, tracking, and managing maintenance work orders. Putting all maintenance data in one place, FTMaintenance Select makes it easy to access up-to-date, accurate maintenance data that leads to efficient, effective, and high-quality maintenance work. Schedule a demo today to take your maintenance team from good to great.