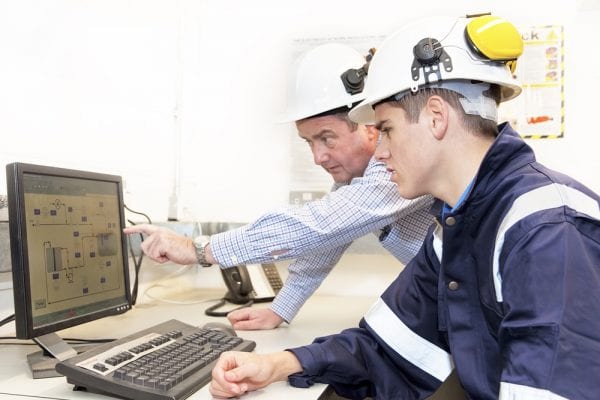 Many maintenance teams are comprised of workers representing multiple generations who must work together to accomplish daily tasks and company goals. Each generation faces different challenges when adapting to new technology, such as a computerized maintenance management system (CMMS), and will influence the software implementation process. This article discusses how you can gain buy-in for a CMMS when working with a diverse team.
The Four Generations in the Workforce
The four generations that generally make up today's workforce are Baby Boomers, Gen X, Millennials, and Gen Z. Each generation has different strengths and weaknesses, preferred communication styles, perspectives, and expectations. Knowing more about each generation helps you develop strategies to increase user adoption. Below are the approximate birth years used to define each generation, as defined by the Pew Research Center:
Baby Boomers (1946 – 1964)
Gen X (1965 – 1980)
Millennials (1981 – 1996)
Gen Z (1997 – 2012)
Keep in mind that the descriptions provided in this article are not universally accepted nor do they apply to all maintenance teams. The habits and attitudes of some employees may more closely reflect that of a generation that is different than their own.
Baby Boomers
Baby Boomers were born between 1946 and 1964.They grew up just after World War II ended and experienced the Vietnam War. The population spike that occurred as they reached adulthood resulted in overcrowded schools and steep job competition. Therefore, they learned to be competitive and resourceful to get where they needed to be. They are independent and self-assured, competitive, goal-centric, resourceful, mentally focused, team oriented, and disciplined.
Baby boomers are more likely to hold on to the traditional way of doing things and maintain the status quo. They did not grow up with technology, but have developed basic skills using the internet, cell phones, and computers. However, they may be hesitant to use moderately complex technology and struggle to keep up with more tech-savvy counterparts.
What Baby Boomers Want from a CMMS
Baby boomers value ease of use when it comes to technology. Though they aren't shy to adopt new technology, it must be intuitive, user-friendly, and allow them to perform tasks in a practical way. Another motivator for Baby Boomers is the potential to simplify their day-to-day work and automate administrative tasks.
In terms of maintenance performance, many baby boomers are highly skilled maintenance technicians. They demonstrate their experience by maximizing their wrench time and showing less experienced technicians "the ropes" on specific equipment or systems.
Further Reading: What Makes CMMS Software Easy to Use?
Training Baby Boomers
Training baby boomers may require more time and patience because they aren't as adept with technology as others. Hard copy manuals and in-classroom learning may work best for this group; however, it's important for them to participate in hands-on training with the software as well. It's also important to remember that baby boomers thrive in a team environment. Once they understand how to use the software, if they are paired with a millennial that they can mentor, they will feel empowered.
Gen X
Gen X, the generation born between 1965 and 1980, saw the start of both parents having to work outside the home and the deterioration of the nuclear family, which is why they are nicknamed the "latchkey generation". They saw the end of the Cold War and the rise of computers. Gen X is hardworking and manages their money well. They like to work independently, but hold meetings in person to discuss projects and ideas.
This generation is also self-sufficient and resourceful, as well as individualistic. They are used to caring for themselves since before reaching adulthood. They value freedom and responsibility to overcome challenges on their own. The Gen X generation prefers to communicate through email and phone.
What Gen X Wants from a CMMS
Gen X likes that using a CMMS establishes accountability. When maintenance activities, asset information, and work order history are documented in a CMMS, it ensures that no one can play the blame game. Additionally, the system can hold others accountable for entering more accurate or timely information, which only increases their satisfaction with their job.
Gen X employees also like that CMMS software streamlines communication through real-time access to information and notifications. This allows them to work more independently and get more accomplished during their shift with less time-wasting, back-and-forth communication.
Training Gen X
Gen X is trained best on CMMS software when they have a lot of activities to complete. They want to be able to report back often. Give these employees short tasks to complete and have someone check their work to help them learn. Allow Gen X to provide feedback on the software itself, the training process, and other processes the organization follows.
Millennials
Millennials were born between 1981 and 1996.This generation went through 9/11, the rise of social media, and the Great Recession in 2008 just as they were entering the workforce. They are financially challenged by student debt and take longer to afford large purchases such as homes. Millennials thrive on collaboration and job flexibility.
Millennials are the digital pioneers, since they were the first generation to transition from life without the internet to using the internet daily. They seek skill-structured training programs and positive feedback as they desire leadership roles and career progression. They care about performance quality and value work output over the number of hours worked. In terms of technology, Millennials are more likely to use a laptop, tablet, or smart phone than a desktop computer.
What Millennials Want from a CMMS
Millennials need to feel like their employer uses modern technology, and CMMS software can reassure them. Since this generation recognizes that technology is needed in the workplace, it's not hard to get them on board with implementation. With mobile CMMS software, Millennials appreciate that they can maintain access to critical maintenance data from their devices when out in the field and communicate in real time.
Another feature that appeals to Millennials is reporting and data analysis capability because it gives them data they can use to make decisions. A CMMS makes them feel like they are contributing to common goals as a member of the team.
Training Millennials
If possible, e-learning is the best method to train Millennials on CMMS software. Make any training flexible and on-demand and allow them to choose their own path to completing training when possible with regular, detailed feedback. Information should be presented in small amounts frequently. Provide continuous learning opportunities and use video whenever possible.
Gen Z
Employees of the Gen Z generation, born between 1997 and 2012, make up 24% of the workforce in 2021.They saw their parents struggle a bit financially amidst America's participation in conflicts in the world throughout their entire lives. They are digital natives since the internet has always been a part of daily life. Therefore, they learn and experience the world best through technology. Gen Z greatly values job security. They like to promote diversity and equality in the workplace and enjoy working independently.
What Gen Z Wants from a CMMS
It is important to Gen Z that organizations keep up with technology, even more so than Millennials. They want to contribute to process improvement whenever possible, including the ability to enter data in the CMMS from anywhere such as their home, jobsite, or en route.
Gen Z needs to know that using CMMS software is helping them contribute to the goals of the organization. They crave a personal stake in the success of the company and want to be recognized for their contributions and accomplishments.
Training Gen Z
Gen Z and maintenance management software pair up easily.  Employees of this generation are used to learning new technology all of the time, so they catch on fairly quickly. They learn by doing, and enjoy a social environment for learning, meaning they like to work with a group, or at least be seated near others during individual online training.
Video-based training is highly effective for training Gen Z – even better if training can be accessed from their mobile devices. They may be able to help train others in the software since they can easily pick up on new technology and show others how to use it, providing them with a sense of importance.
FTMaintenance Select: A CMMS Solution for a Diverse Workforce
Maintenance teams consist of employees from many age groups and walks of life. Successfully implementing a CMMS requires organizations to consider the attitudes, habits, behaviors, and needs of employees from many different cohorts. Only then will you be able to maximize your CMMS ROI and fully achieve your maintenance management goals.
FTMaintenance Select is a CMMS platform designed to meet the needs of today's multi-generational maintenance workforce. The intuitive interface empowers your team to easily perform and document maintenance activities with minimal training. Contact us to learn more about implementing FTMaintenance Select at your facility.