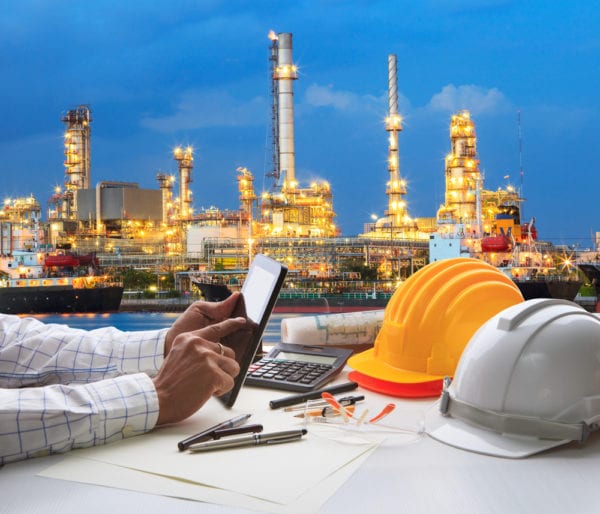 Due to their numerous similarities, CMMS and EAM software tend to be grouped together. However, they are actually quite different. Unfortunately, this causes much confusion for people who are unfamiliar with either system. In order to choose the best solution for your organization, it's important to know the differences between CMMS and EAM software. The goal of this article is to help you do just that.
CMMS vs. EAM
What is CMMS Software?
CMMS stands for computerized maintenance management system, which is software designed to manage maintenance activities and resources as well as keep detailed maintenance records on all equipment and MRO inventory within an organization. CMMS is focused on asset maintenance.
What is EAM Software?
EAM stands for enterprise asset management. EAM software is software that facilitates the process of managing the lifecycles of an organization's physical assets, including fixed assets (buildings, plants, machines) and mobile assets (vehicles, ships, mobile equipment) to maximize their usable life and financial impact. It provides comprehensive information about assets and facilities, from design and procurement to replacement or removal from service. EAM software may include some of the same functions as a CMMS, but is focused on the full asset life rather than the maintenance stage.
One way to think about the relationship between CMMS and EAM is by visualizing a circle within a circle. Asset management is the area within the outer circle, where EAM software "lives" while maintenance management occupies the inner circle where CMMS software comes into play. EAM software can have a maintenance module as one of its components, but a CMMS is all about maintenance.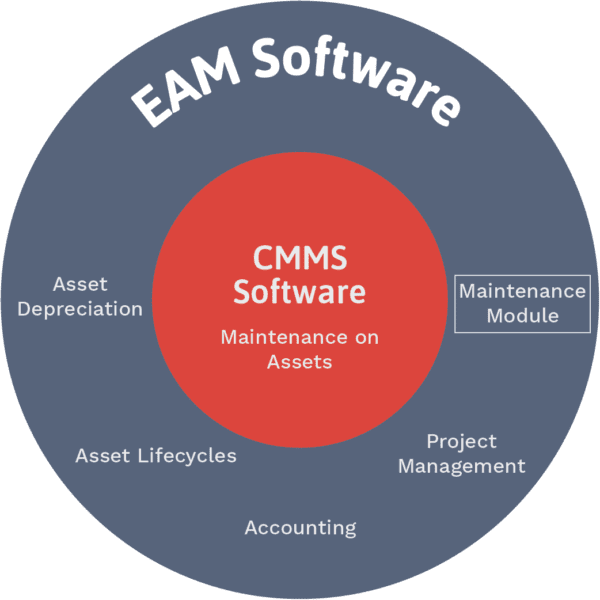 Differences between CMMS and EAM Software
As we mentioned earlier, there are some distinct differences between EAM and CMMS software that you should be aware of.
EAM software has broader functionalities than a CMMS, with a focus on asset management, across the entire life cycle of the asset. EAM software also provides broader functionality to support needs of departments beyond maintenance, For instance, EAM software will typically track finances related to assets such as depreciation, accounts payable and receivable, invoicing, and enterprise resource planning (ERP). While EAM software will include work order features, it is also used by asset planners, engineers, and production staff.
If an organization is looking for software that focuses on managing a maintenance work group and not solely on assets, they would choose a CMMS over an EAM system. CMMS software is all about communication and coordination between the members of the maintenance department and other departments they may work with, such as operations. Since a CMMS is used primarily by the maintenance department, work order management is a core functionality of CMMS software. CMMS tracks more than assets—it can be used to manage maintenance labor, MRO inventory, preventive maintenance, and maintenance part and supply purchasing.
CMMS vs. EAM Software: How to Choose
If you are an organization looking into purchasing software to assist you with asset management, you may be wondering whether you should choose a CMMS or EAM software system. The best way to determine which type of software is right for your business is to consider the benefits of each approach and look at the scope of your needs. We'll discuss a summary of the benefits of each next.
CMMS Software Benefits
CMMS software simplifies maintenance processes by storing all data in a digital format. It gives you access to comprehensive data, and work orders can be submitted as soon as issues are found. Preventive maintenance jobs can be scheduled in advance with set activation reminders, ensuring you have plenty of time to complete the work before the deadline. Equipment service history, along with reporting, gives you information you need to make smarter long-term business decisions. You'll be able to access your CMMS from mobile devices, which ensures important details get logged right away. This saves time that would otherwise be spent at a computer at the end of the day.
EAM Software Benefits
EAM software provides and analyzes data for your asset performance, (for example, energy consumption and asset depreciation) to help you make informed budgeting decisions. It is designed to provide useful data to other departments in addition to maintenance, as it tracks asset costs and sources as well as equipment specifications. It also maintains records about how the assets were built and from which vendor or manufacturer they were procured. Many EAM systems closely monitor equipment conditions to ensure organizations comply with safety and health regulations. Enterprise asset management software also has asset lifecycle management which helps plan for asset updates and replacements based on where they're at in their lifecycle.
When it comes to price, EAM software is typically more expensive, but it usually has broader capabilities. If your needs are largely based in the maintenance department, CMMS software will likely serve you well and fit a smaller budget. It's important to weigh your options as the prices for each type of software vary. In summary, it all boils down to what you want your software to accomplish. If your needs are maintenance focused, a CMMS will be a better fit. If your needs are focused on assets as a whole, you may choose EAM software. Once you decide which of these benefits (and more) are most important to you, you can determine which type of software might be a better fit.
FTMaintenance Meets Maintenance Needs
Is FTMaintenance CMMS or EAM? Actually, it is a full featured CMMS that additionally provides some EAM capabilities, such as the ability to track assets in multiple locations and create parent-child equipment relationships. FTMaintenance software is a best of breed product that improves your maintenance management. Functions such as work order management and preventive maintenance scheduling are the core focus of FTMaintenance, making our CMMS software polished and easy to use for maintenance operations. FTMaintenance can serve all of your maintenance needs from work order processing to reporting, inventory management, and more. Take a tour to learn more about how FTMaintenance can become your maintenance management solution.