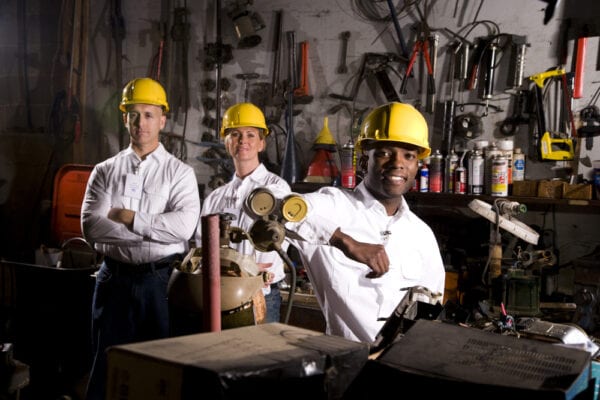 In maintenance management, a good or bad maintenance culture affects morale and can impact workflow. If your culture needs improvement, begin by asking the question, how can I change the culture of the maintenance department?
Take a minute to think about the culture you see within your maintenance team. What do they do well? Does your team feel positively about the work they're doing? Are there certain behaviors that help them succeed or cause them to struggle?
The Maintenance Culture Definition
Before you can change the maintenance culture, you need to be able to define it. Maintenance culture is a particular set of attitudes among maintenance department personnel regarding actions taken to prevent an asset from failing and to keep it in proper working order. This includes behaviors, perceptions, and underlying assumptions that affect the team, department, and organization.
Signs of a Poor Maintenance Culture
Now that you know what maintenance culture is, let's address the signs of a poor maintenance culture, which unfortunately, is not uncommon for an organization to have. Once you identify the signs, you can determine if they apply to your maintenance department and work towards making changes. Many of these things are common to all organizations, including teachers in a school or grocery store workers, but can certainly be applied to maintenance culture. It's important to note that behavior issues can be at the root of neglect and mediocrity. Other signs of a poor maintenance culture:
Indifference among staff members
Tension between Operations, Production, and Maintenance
High staff turnover
Wasted time and resources
Lack of proper data entry
Unscheduled preventive maintenance work
Slow response to critical equipment failures
Low task completion rates
Aging work order backlog
Contributors to Poor Maintenance Culture
After you've identified the signs of a poor maintenance culture, you need to understand what's causing them. Culture drives behavior, and behavior influences work quality. Quality maintenance work is vital to maximizing equipment availability and production. Maintenance staff reliability builds stakeholder value. If any of these components is lacking, this leads to a negative or poor maintenance culture.
Another complaint that many organizations with a poor maintenance culture have can be summed up in what's called The Peter Principle, in which superiors rise to positions of authority with understanding of the work technicians do, but not the department management skills it takes to lead their team. As a result, they become too hands-on instead of letting their team do the work independently. These bosses have little credibility and no respect from the people who keep the plant running.
Management and leadership can make or break a maintenance department's culture. It's important to avoid or stop the "management revolving door". It takes time to build trust between a maintenance team and maintenance manager, which is tough to do if the person in that manager role keeps changing.
Another contributor to poor maintenance culture happens when the plant manager's sole focus is keeping costs down. This leads to the plant manager viewing the maintenance department only as a costs center. Lowering costs then becomes a point of focus for the maintenance manager, and this is often reflected negatively on the maintenance team.
How to Change Maintenance Department Culture
Now that you know how to recognize a poor maintenance culture, you can learn how to change maintenance department culture for the better. As a maintenance manager, think about what type of culture you would like to see for years to come. While there may be others, here are seven steps you can take to positively change your maintenance department culture:
Create a vision for a better maintenance culture.
Focus on that vision at all times.
Set the example by achieving the same performance level you demand from your team.
Set goals that will move the maintenance department forward.
Set high expectations, but reward constructive failures.
Perform your role with discipline and dedication.
Hold yourself and others accountable.
Creating a Positive Maintenance Department Culture
When the attitudes of maintenance personnel are positive, a good maintenance culture is developed and maintained. As a maintenance manager, you can help to create a good maintenance culture by:
Providing opportunities for your team to continually learn, including ongoing training
Having a willingness to go outside of your comfort zone
Putting procedures in place that can be changed when needed
Providing tools to enable condition-based and predictive maintenance
Adequately planning, scheduling, and organizing
Recognizing and rewarding good work
Committing to long-term investments rather than short-term monetary gains
Keep in mind that having all of the things above would create an ideal maintenance culture, but that is often far from reality. Implementing as many of these as possible will create a positive maintenance culture.
CMMS Software Can Change Maintenance Department Culture
Computerized maintenance management system (CMMS) software is a tool that can be used to positively change maintenance department culture. It will create more transparency between departments and will ease tension. The ability to assign jobs to specific technicians will help to evenly spread out work according to areas of expertise and may reduce employee turnover. Automating, storing, and being able to quickly edit work order, equipment, and inventory information will lead to efficient collection and use of maintenance data. Finally, CMMS software will greatly reduce or eliminate emergency maintenance work by allowing you to schedule preventive maintenance work in the software's calendar.
Even though implementing a CMMS will have a positive impact on maintenance department culture, there may still be some resistance from staff. Using CMMS software may be seen as yet one more thing to do that disrupts the usual workflow, or as a way for management to watch over technicians.
To encourage buy-in from the maintenance team, any new software or process should be introduced in phases so that it's not overwhelming. It's also important to demonstrate that the data collected in the CMMS such as tool lists, part locations, and descriptions of repairs can make their job easier. In the process, be sure to remain open to feedback and ideas from technicians. People are more accepting of new processes when they have some control over them rather than feeling like it's being forced upon them.
Read More: Creating a Culture of Accountability with CMMS
FTMaintenance Will Positively Impact Maintenance Culture
CMMS software such as FTMaintenance will have a positive impact on your maintenance department's culture.  FTMaintenance is a platform that fosters better communication about maintenance tasks and procedures, providing information for better decision making. It helps you create a master maintenance management plan to avoid surprises (unscheduled maintenance work).  You'll be able to use reporting to quickly look back on previous maintenance work to identify problems and compare data. There's so much FTMaintenance can do for your maintenance team—schedule a demo today to learn more.