While other things also come into play, (hiring the right staff, training, and trusted vendors to name a few), CMMS software is an important tool to use to achieve your maintenance management goals. It will also help you track progress towards reaching these goals along the way. In the paragraphs below, we will further discuss how a CMMS can help you reach several maintenance management goals.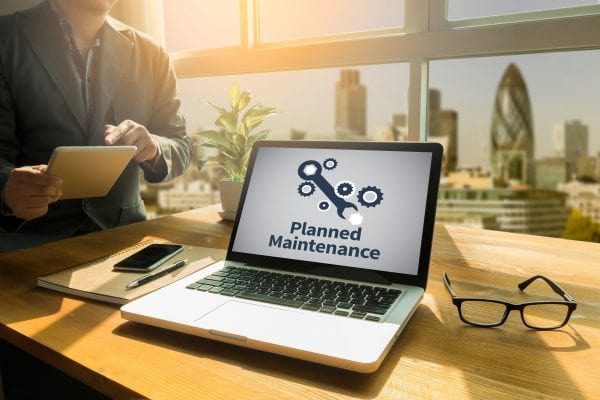 Goals Directly Impacted by CMMS Software
Most organizations have maintenance department goals that CMMS software can directly impact. These are goals that will be reached if a CMMS is properly leveraged, and they don't require any further work within the software.
Cost Reduction
All organizations want to reduce maintenance costs. You will see some of these costs reduced shortly after CMMS implementation and others will be reduced over time. These areas of cost reduction include lower corrective maintenance costs because technicians are able to do more preventive maintenance. Assets will last longer, delaying replacement purchases.
You may also save money on overtime, since planned maintenance can always be done during regular shift hours (whereas emergency maintenance might need to be done after normal hours). Corrective maintenance will take less time when done using the resources available in CMMS software, such as work order management, asset management, and scheduling capabilities. Other areas of cost reduction include inventory shipping and carrying costs.
Read more about reducing the cost of unplanned downtime.
Streamlined Processes
A common maintenance goal, which will improve the organization overall involves streamlining maintenance processes. These processes include work order fulfillment, communication amongst the maintenance department, and the maintenance request process to name a few. There are likely more processes you will want to streamline which vary by organization.
Using CMMS software directly streamlines maintenance processes because of the way you can digitally create, edit, approve, and close work orders. Rather than keeping a record of work orders on paper, spreadsheets, or email, everything you need to know about work order history is stored in the CMMS system.
Extended Equipment Lifecycle
Extending asset life spans or equipment lifecycles is another common goal with using CMMS software. When you are able to do more preventive maintenance, your assets last longer and break down less often. While it may take time to realize longer asset lifecycles, it is something that will happen when you correctly use CMMS software regularly.
More Wrench Time, Less Paperwork
Maintenance technicians and managers alike want to focus more on hands-on maintenance and less on paperwork. With a CMMS system, you can create, update, and close work orders from the job site. You can also email work orders to technicians. No spending extra time at a desktop computer at the end of the day or printing out paper work orders that need to be filled out, signed, and filed.
Goals a CMMS Can Help You Track and Quantify
Additionally, there are goals that may not be directly impacted by using a CMMS, but they can be tracked and quantified within the software.
Decreased Downtime
A maintenance goal that can be tracked in a CMMS is decreased downtime. Maintenance teams should set objectives for decreasing downtime that are specific to their needs and issues they wish to resolve. For example, an objective might be to reduce equipment downtime by 15% in the next 12 months. During that time, you would look at metrics such as equipment downtime in hours, meantime between failure (MTBF), and meantime to repair (MTTR).
Better Data Tracking and Reporting
Maintenance teams want to do more comprehensive reporting and track more data. With CMMS software, you can quickly generate accurate reports. You can create cost centers in the software to track your budget. Over time, you can use data from your CMMS to improve maintenance efforts and productivity. Tracking various KPIs helps maintenance teams meet their goals.
Less Unplanned/More Preventive Maintenance
Another goal that can be tracked using CMMS software is achieving a better balance between scheduled and unscheduled work orders. Emergency and corrective maintenance cannot be eliminated completely. However, by improving preventive maintenance through the use of CMMS software (and tracking the progress), you can reduce these costly, unplanned repairs.
This can be tracked with a KPI (Key Performance Indicator) such as Planned Maintenance Percentage. A specific goal related to scheduling might be to obtain a 30% preventive to corrective maintenance ratio within a year and increase that amount until you reach a point where you're doing more preventive maintenance than corrective maintenance—usually within 3 to 5 years.
Read More: How to Measure Preventive Maintenance Effectiveness
Better Asset Insights
As you're setting maintenance management goals, they may include the desire to have better insight into your assets. Keeping records of repair history and previous preventive maintenance jobs while being able to generate reports on that activity will improve the health of your assets. Some examples of asset-related goals include:
Creating a PM (Preventive Maintenance) schedule for a set percentage of all assets within 6 months
Lowering MTTR (Mean Time to Recovery) for critical assets by 15% by Q3
Read More: 3 Important Asset Management KPIs and How to Use Them
Better Inventory Insights
Another maintenance goal to be tracked with CMMS software is lowered inventory costs. You can gain inventory insights through the use of a CMMS. The cost of carrying inventory is a significant one that may be overlooked. Just because items are sitting in your stockroom unused doesn't mean they stopped incurring costs after purchasing them. You also have to consider depreciation and warehousing costs.
CMMS software can help you keep track of part counts in real time, as well as maintain a directory of vendors to get the lowest shipping costs and product prices. Some examples for specific inventory related goals include:
Lowering MRO inventory costs by obtaining just in time inventory to reduce storage costs
Reducing emergency orders by performing more preventive maintenance
Reducing the number of stock outs by activating low stock email notifications to reorder in advance
Reducing or eliminating obsolete parts to free up space for new inventory
Improved Safety
One way CMMS software helps maintenance teams meet the goal of improved safety is by keeping track of asset warranty information, user manuals, and safety guides through the attachments feature. Having procedural and troubleshooting instructions readily available increases safety around assets. You can also store compliance regulation documentation in the software to prove you are following safety guidelines during an audit.
Indentifying Goals along the Way
It is important to identify the goals you want your CMMS system to help you accomplish before you purchase the software. This will help you frame your purchase and get the product that will best meet your needs. However, it is also helpful to evaluate your goals post-purchase to focus on how you can use your existing system better. You may find that you have outgrown it and it is time to make a change. If that's the case, there are many modern CMMS solutions out there to choose from.
In FTMaintenance's Definitive Guide, page 14 talks about setting goals for using CMMS software. Download our Definitive Guide to learn more.
Meet Your Maintenance Management Goals with FTMaintenance
FTMaintenance will help you meet your maintenance management goals and track your progress toward goal completion. Contact us today to learn more about using FTMaintenance in your organization.